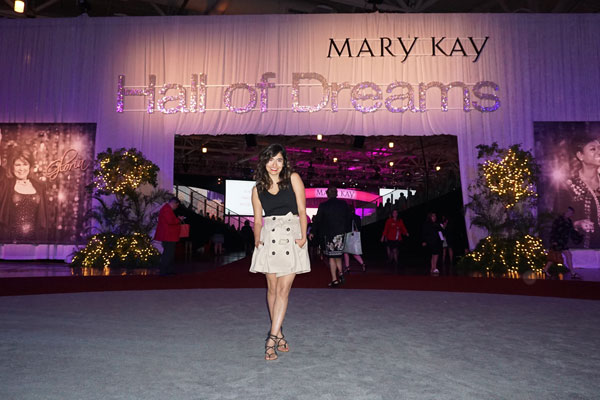 The Mary Kay sales directors and national sales directors will twist your arm to attend all the events….
Prior to joining Mary Kay, you're told about all the money you'll make, and how you'll be able to stay home with your family.
Then you start working, and it's not happening. You're not making money. And the little that you were making on some product sales is turned into even less because you're encouraged to recruit your customers and earn 4% from them instead of 40-50%.
You find yourself gone all the time. Every time you turn around, there is another meeting or event you're expected to attend. Oh sure, they're "optional". But if you don't attend and bring guests, you're just a loser. But after a while, conforming to this behavior becomes old.
You want to make money and stay home, just like they told you. So the lies have to get more elaborate in order to convince you to spend hundreds or thousands of dollars on events which really do nothing for your business. Events like the Mary Kay seminar in Dallas, TX or Mary Kay Career Conference in a city near you.
Here's one way to convince you to waste your time and money on these events:
Myth: I just need to stay home and work.
When evaluating the BIG 4 (Seminar, Career Conference, Fall Retreat and Leadership (for directors only). The biggest MYTH OF ALL is: I don't need to attend I just need to stay home and work.
People who say that need more money or have a lack of money. That is a result not from lack of work but from thoughts about their work. They have had plenty of opportunities to work but their work has not produced results. Everything begins with thoughts.Thoughts then create action and action creates income, not work.
I remember vividly the turning point day in my leadership when I came to this realization. I actually said out loud to my NSD "I know I could do what you do if I knew what you knew." I understood that day I couldn't be a NSD until I thought like a NSD. I knew that above all else I needed to attend every thing I could so I could learn to think differently.
Even if the funds came from my family or I had to do without something personally, events took priority over everything else. Staying home, driving the same roads, eating the same foods, listening to the same people, looking at your life through the same eyes does not create more income.
No one in the history of my national area has ever stayed home and made more money. In fact time and time again those who believe this isn't a MYTH move further and further down scoreboards and provide less and less income to their family. That is a fact not myth.
Myth Busted: Staying home costs your family money.
She's probably right. Those who stay home don't get wrapped up in the rah rah of the business and start recruiting and frontloading like crazy.