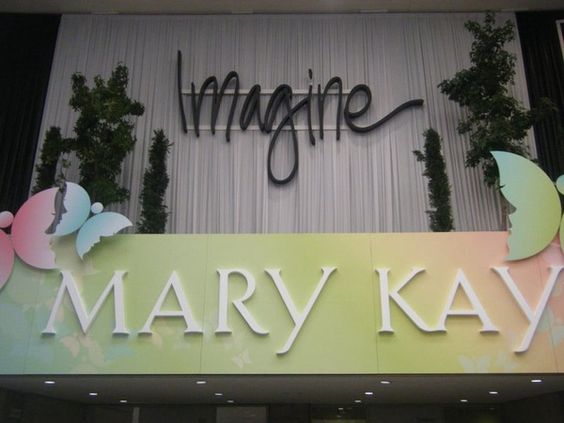 Written by SuzyQ
Seminar!!!
Get ready for the excitement (and the heat). Remember when we used to have to wear pantyhose and closed toe shoes? Mary Kay is so modern that now you can wear sandals! (But still all skirts, all the time. It's what Mary Kay asked of us, you know.)
So you made it to Dallas in one piece and there are sooooooooo many other women there! Maybe, not so many as in previous years, but still it's pretty packed and the lines are pretty long, but they move fairly well. But let's talk about the aftermath of seminar.
The training is pretty simple all in all… book sell book recruit. Earn your pearls of sharing. Move up to red. Move into your "free car." Move into the SUIT. Make plans to become a national. It's all a matter of working the numbers. It IS a numbers game and the only reason you were not one of those on stage this year is because you didn't work the numbers, didn't beelieve enough, didn't take God as your business partner, or simply didn't work hard enough. These are all easy things to change.
All you need is an attitude adjustment. I mean, really, look at those top achievers. They don't have anything you don't have. They aren't smarter, they aren't prettier, they just did more. When you talk honestly to yourself on the way home, you KNOW you didn't work hard enough. There was always something left on the table, whether it was money or a recruit.
But, that's all changed now. You have been "reborn." The new and improved you has taken a solemn vow, you have made an irrevocable decision that THIS YEAR is YOUR year. You needed your batteries recharged. You needed to go to seminar because you needed to hear something. And once again, the magic worked! Watch out MK world, because here YOU COME!!!!
Massive goal setting and planning goes on during the trip home. Meeting ideas were shared and will now be incorporated into your meetings. Suggestions for moving your consultants up the career path more quickly were taken to heart. Sales ideas were discussed, and you have determined your unit will be a strong selling AND recruiting unit. You have made an honest appraisal of those women in your unit and have picked the ones you will work with to move into directorship.
You have a clear vision of your national area. The name, the song, the values… it's all there, all you need are the people. There's so much to process, your thoughts are all jumbled. It's exciting, there's hope and this year, it's finally going to turn around! All the nagging doubts and the nagging doubters will have to eat crow, because you are going to show them. Along with your list of "do's" for the year, there is an equally long list of "don'ts." And number one on the list is to avoid negativity anywhere and everywhere. No more, no how, no way. Your dream has been refreshed and you will keep it that way!
So, you are home, you are still excited. People ask you to describe seminar and all you can do is smile and say "Awesome! The very best one yet!" You can recapture the feeling easily. You give yourself a day or two off to regroup, see the family and catch up on email and phone messages, and you are OFF!
You are going to work your personal business like nobody has worked their personal business before! To the phone! You are a booking machine and a recruiting magnet!!! Except that nobody takes your call, or they are busy, or they are going on vacation, or they just got home, or the kids have to get packed for camp, or that stupid summer cold is going around again, or they are hot, or they are tired, or they don't need anything right now, and on and on. But, that's OK. This is a part of your plan. They told you this might happen, and you just say "Next!"
Until you run out of names and leads. Off to warm chatter, fish bowl, David's Bridal, referrals from customers, church directories, school phone books, neighborhood skin care "surveys," carnations sprayed with perfume and with samples attached, a model contest, posting like crazy on social media (they all want the #mymklife you have, after all).
At some point, sooner, rather than later, the realization that this just really isn't going to work hits again. Nobody will interview with you, or if they agree to, and seem nice, they wait until you are to the last five "killer questions" to inform you that they have a sister/ aunt/ mom/ niece/ roommate/ cousin/ bff who sells Mary Kay.
The consultants are then pressed for names of their potential recruits! NO PREJUDGING, just give me names. And give you names they do. Sometimes, more than one. Sometimes there is some interest. Usually, not so much. But just as you are about to give up… you get a firecracker! A superstar! A go-getter who is sugar sharp and rarin' to go! This is all you need. The answer to your prayer. It just takes one, and you just got one! The pink Cadillac is coming to your driveway sooner than you had dared to hope. The bonuses! The bar pin! The trip! The extended trip! New blouse color! Dream big—you deserve it!!! Whoooweee!!!
Except she fizzles. She has booked, and you have recruited all of her friends, and she is at a loss as to what happened and what she is supposed to do now. So are you. You want to talk about this, but it's negative and nobody wants to be around a negative Nellie. You know it is you, and the guilt eats you up. The bills keep coming in along with the chargebacks and the copays and the events and the meetings and the conferences and the retreats. It's all the same, all of the time.
Every month it will turn around and get better. Every event is held to help you move along in your business and will help you grow. Every set back is a set up for a come back. Nobody is where they want to be. School is never out for the professional. When you don't want to go, that means you need to go. If you can't afford to go, you really need to go. You might have the message someone needs to hear to help them move up and you not going or participating would be selfish. Where is your "Go Give?" You just need to stretch and beelieve.
God would not have put your feet on this path if you weren't supposed to be doing this. You know in your heart, this is where you are supposed to be. Think of what a great "I" story you are building! If it was easy, everybody would be doing it. You are in the TOP 2% of this wonderful company, and you didn't get here by accident! What you think about you bring about. Achieve and believe. It's a numbers game, just work the numbers. Don't leave money on the table. Bind up evil and negativity. Visualize your dreams. Make goal posters and hang them everywhere. Tell your goal to everyone you meet. Do affirmations. Cut off distractions.
Are you tired yet? Discouraged? Questioning? THINKING??? Analyzing? If so, it must be time for another company or area event. Count on one at least every three months. Another seminar, the best one yet! Another turn around year, your best one yet!
After I left Mary Kay, I experienced many emotional upheavals as I worked through my past, present and future (no thanks) with Mary Kay. Once I started letting reality in, it was harder for me to get back into the pink bubble, until one day I couldn't do it at all anymore. I was so pink, so deep into the pink bubble, I was a lifer, Mary Kay was my mission field. I loved everything about the woman and the company. I was in awe of NSDs and top directors. I pitied women who wouldn't see this for the grand opportunity I knew it could be. I loved it when consultants held me in some sort of awe because I was a director. I could not understand why people would return product, or "step down" as directors. I thought of them as losers and whiners and if they had worked their businesses correctly, they could have been on top, too, because there is always room at the top in Mary Kay.
Every woman involved in this company has to come to terms with her truth, in her way, in her time. Few of us can actually walk in someone else's shoes, and because we tend to judge ourselves harshly, we judge other people harshly, too. If you are lurking, you are looking for information. It's here. Keep reading. If you are here to judge or are really really pink, we are just going to make you mad and defensive– this site is not for you. If you are corporate, you might want to consider substantive change… we are onto you.
Getting into and getting out of Mary Kay is a process, and I wish you all a safe journey. And, have a great seminar if you're going.