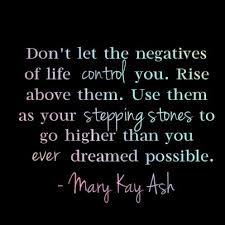 Here are a handful of comments from Pink Truth critics. It's fun to be reminded how negative we are. It's a good thing we're really so positive… positive that Mary Kay Sucks!!!
From Giovanna:
the negative comments make me sick! everything is so negative when you want to see it like that…. it's better to get over and move forward . If Mk is past, leave it in the past… my advise! don't live regretting things! it's life and nothing is perfect! for those who claim that the MK is free ad. of course, but you are the one who is driving it.. so i guess that's is a good thing in life, being able to drive a car! don't be so negative…
From Renee:
Why does the Pink Truth go on and on with such negativity? If you don't like Mary Kay that is your choice but your raging ragging is over the top!! Why not take all that negative energy and try to start your own business doing something else? Little, medium, big businesses succeed OR FAIL everyday in the US. That is called Capitalism and Freedom. Get over your failure as Mary Kay reps! Move on!! This is a sick sight! Sorry I stumbled on it but interesting to see how many like to blame someone else for their failures.
From Linda:
None of your negative comments get to me. You are ALL catty females that thought MK was a get rich quick scheme. from the looks of it. I just joined MK in November, but at 60 years of age, with a Nursing career behind me (which ultimately messed up my back) and babysitting my God son four days a week for 24/7, how is it that I am doing sales of a MINIMUM of $100/wk. WITHOUT really putting out a lot of effort?
In the course of my lifetime, I have known a LOT of women. The negative thinkers NEVER succeed at ANYTHING as long as they MUST pick apart anything that they didn't succeed at themselves.
I've learned that these negative thinkers can only find validation in themselves if they put others down, be it groups or individuals. Only those who failed at their endeavors because of their own lack of effort and positive drive in life will cluster together, because MISERY LOVES COMPANY.
So, ladies, having stumbled upon this site, and gaining nothing but sour grapes, I will take my leave of your bitter negativity, because when one is not being lifted up, one is wise to extricate oneself from the trappings of being surrounded by unhappy people.
Au revoir, Mes Amie's! Auf Wiedersehen!
From Yasmine:
ok, i have like a billion things i would like to say and i dont even know where to start, but what you do is wrong, i dont know if you worked or not(which must have been the case) but your trategy was the wrong one. you should keep this kind of things to your self, this make you look like a b%$#. mary kay really changed my life, im not in mary kay but my mom is, she is an excecutive sales director, and i live from mary kay, and believe me that the life style that she gives me i dont think she can afford it in another job. shou should think before oppening your mouth. i live from mary kay and i live good.