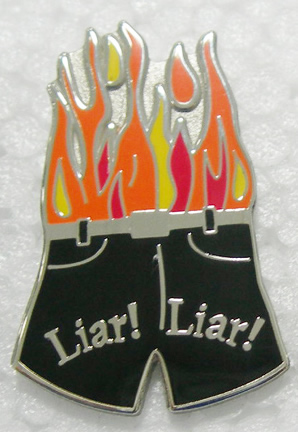 Ashlee posted this comment in response to an old Mary Kay article on my business site. Have a look and then read my comments below. It's curious that Ashlee objects to me calling Mary Kay ladies liars.
I will commend anyone for feeling led to do their research and "expose lies" that they feel would benefit the public on any subject, but I feel it's unnecessary and unprofessional to call a large number of women "serial liars" and that the business structure is a scam.
It is unfortunate that in any business that there are going to be bad apples that give companies bad names.
I can only speak for myself when I say that I'm a former 11 year Federal Government employee (talk about a crooked scam) who just willingly left my position Last month because my Mary Kay business is doing so well for our family, soon to surpass a GS-12 pay scale.
Self employment is not for everyone, very true, and each consultant has the ability to rise above the person who shares the opportunity and business plan with her. To each their own, but my experience has been a wonderful journey, in which I've surrounded been surrounded by positive, educated women who wanted to create a life that revolves around their family, and not have to live a life that revolved around their career.
It is very obvious that you are also educated and have done quite a bit of research, however, only seem to be focusing on the women who have not been successful in the business or have had a negative experience due to varying reasons. To those women, I am sincerely sorry to hear about, because I have not experienced that in my 15 years of involvement with the company.
Thank you for doing what you do and exposing fraud, because I can only imagine the situations you uncover. I do want to end by saying, however, that the foundation that this company was founded on is not lies and if women will follow those principles of integrity and honesty in all aspects of their business, positive changes can come into their lives. It's obvious that your thoughts on subject are not the same, though, by your insistent use of calling a large group of individuals who you've never met "scammers" and "liars" ~ so there's no point in beating that dead horse. My point is that I love my life now and I've never been healthier and more financially sound.
So Ashlee has been with Mary Kay for 15 years and has just quit her job as a government employee with pay at a GS-12 level. That pay level starts at $64,490. After 15 years, Ashlee would have been making more than $70,000. So she wants us to believe that she is making about $6,000 per month with Mary Kay.
Except she's just a consultant. So in order to make $6,000 per month, she'd have to be selling something on the order of $15,000 retail per month. Making her queen of everything in Mary Kay. We all know that's not the case. Interesting that she quibbles with the use of the word liar….