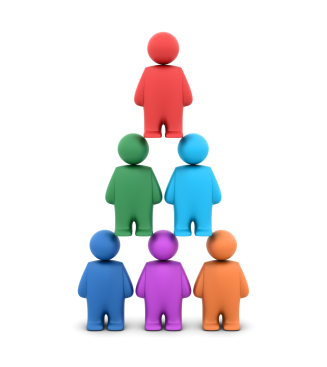 Last month we heard how easy it is to earn a Mary Kay car in 3 months. All you have to do is recruit 7 women in the first month, 7 in the second, and 9 in the third. Never mind that almost no one is able to do that in MK.
What if you recruited "only" 3 new women a month?
Everything in Mary Kay depends on the downline. You can't make a living by selling products, so you must recruit if you want to make this your real job. You have to ignore the fact that your recruits won't be able to sell a lot of products either. (You'll actually have to pretend they can!) It is nearly impossible to sell the products consistently at any level that gets you something more than a little extra pocket change. But your director and recruiter have one goal in mind: to get you to order on a regular basis, regardless of what you are selling (or not selling, as the case may be).
Retiring NSD Linda Toupin provides the following wisdom on The Value of 3 Personal Recruits a Month. Please understand that the numbers are completely fabricated. Pieces like this are produced with fake information in order to keep recruiters and directors on the hamster wheel. Give them fake numbers and they may just stay on the wheel a little longer, thinking "if only I can get to that level.."
The company average for a new recruits' first order is $1000.
3 personal new team members @ 26 % commission on $3,000 is $780 a month additional income.
Additional personal recruiting bonuses for the year $3,600
If your 36 new personal new recruits never ordered again your additional income for the year would be $12,960
(The chances are excellent that the additional $3000 a month in production would increase your production bonus on your unit by an estimated additional $300 a month which would add an additional $3600 a year)
WHAT IF…
If 12 of your recruits quit after their initial order.
If 12 of your recruits ordered an average of $200 a month for a year=$7488 commission.
If 10 of your recruits ordered an average of $650 a month for a year=$20,280 commission
If 2 of your recruits were members of the National Court of Sales=$8320.
Commission
This "what if" scenario adds an additional $36,088 to the already $15,360 for a total of $51,448. (without production bonuses figured in.)
It's so easy, isn't it? "Just" recruit 3 a month and you're going to make all sorts of extra money. They forget that the problem is finding enough women who will hold classes, agree to an interview, allow themselves to be talked into signing up, and then order an inventory package.
If it was so easy, everyone would be doing it.