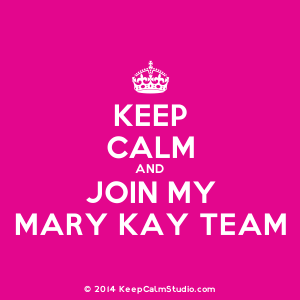 This was written by a woman who has been in Mary Kay for over 23 year. At the time she wrote it, she was a Future Executive Senior Sales Director. Now she's a lowly consultant who works very part time, and she has a real job with real benefits.
She suggests it is a privilege to be recruited into Mary Kay, and by treating it as such, you will have better success getting women to sign up. I wonder how that worked out for her?

Recruiting is a privilege. It is a form of flattery. When you realize that you are offering an awesome opportunity to someone with whom you'd like to grow and you help her realize that she should feel honored that you would CHOOSE her over so many others, then you will accept recruiting for what Mary Kay Ash meant it to be: an awesome opportunity.
Recruiting is not a burden. Don't apologize to me, to yourself, to those you interview. Don't have a burdensome feeling or an apologetic feeling in your heart or it will come out in your voice and body language and mannerisms.
You can even say to her, "You bet your bottom dollar we want to recruit you because we LIKE you. We want to work with you. You are the kind of person we WANT to spend time with. You know you are exactly the kind of person I am looking for. I really do believe we have something to offer you and you have something to offer us. I'd like to lay everything out on the table for you, so you can see what we have to offer you and tell me what you have to offer us. Allow me to share information with you so you can make an informed decision."
Offer it in a professional way, with a professional attitude, and your potential recruit will "rise to the occasion" and listen with an "intelligent mind!" When she joins your team, she will be an asset to your team and the company, in word and action, because you entrusted her with information you are not sharing with just any woman who passes by.