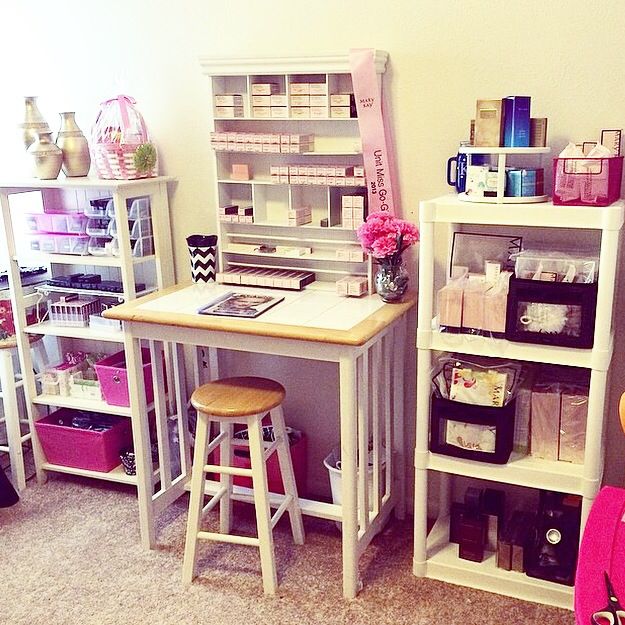 Mary Kay lives and dies by initial inventory orders. That is where corporate makes their money, because the initial order is almost always the MOST a consultant will order in their tenure with MK. Sales directors make their money with initial inventory orders. This is what sustains a unit.
So there is a huge incentive to get new consultants to place big orders. Below is a typical piece used by recruiters to convince you that you must have inventory. (Of course, no one held a gun to your head. You made the choice to place the order. But remember that choice was made based on false information like this.)
Benefits of stocking inventory in your home:
Higher Sales – Women want their products as soon as they try them. Your sales will be 50% higher if you carry inventory to give immediately to your customers.
Less Returns – Women do not usually change their mind once they have the product in their hands. If they have to wait for product they can change their mind about their order due to money stress, or husband.
Confidence – You are more likely to actively work your business if you have product on your shelf. You will feel like a professional and have more confidence in your sales ability.
Motivation – Your inventory will motivate you to do your business when you lack self-motivation. Product sitting on your shelf will get you out there selling! It's instant cash!
Profit – You will see a profit quicker from carrying inventory. If you have to place orders, it takes longer to see profit. Also you can see a higher commission level from your sales, since you will need to order less often,
Higher Reorders and Less Customer Drop-off – If you are able to immediately service your customers once they run out, they will learn to depend on you. If you have to place an order to the company, they may look for another consultant who carries inventory.
Less Frustration – The consultants who do not carry products tend to get frustrated with their business and sometimes to the point of quitting. Not carrying inventory is one of the most common reasons for consultant dropout.
My favorite is the lie about more profit. What? You profit more because you don't have to wait for an order? And a higher commission because you need to order less often? That's just silly. You profit the same amount on an order whether or not you have thousands of dollars of products in your basemen.

Having inventory eats away at your profit each day due to interest charges on your credit card. It eats away at your profit every time a customer orders something you don't have, and you have to place another order that will likely include other unneeded stuff just to make the minimum order.