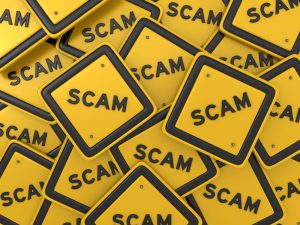 Written by CoralRose
At first I was shocked by what I read on Pink Truth. How can Mary Kay be a scam?!
I mean, of course making money as a consultant was harder and took more time than I expected, but the word scam seems a little harsh. But, when I reflected on my short time in Mary Kay, I realized the warning signs were there all along, I just didn't recognize them.
Here's a few:
1. During one of our "training" calls, my director used an example of recruiting someone who wasn't interest at first but eventually signed up and "she came in with a $800 order! Look how exciting that is for the consultant! She'll get a Love Check from the company, just for doing an interview! So, ask everyone you know; don't prejudge, you never know, blah, blah, blah."
I thought it was really weird the director mentioned the new consultant's initial order amount. And, that $32 "Love Check" is not really worth getting excited about. Now, I realize my director was so excited because that's $800 of product SHE doesn't have to buy at the end of the month in order to make production. Also, she needs to find some way to motivate us to recruit, because initial orders of new recruits are where the money is.
2. My director would always tell us "I JUST KNOW the limited editions are going to sell out, so get them on your shelves now before it's too late!" But they never sold out. And, my customers never wanted them. I thought my director was just making an honest mistake or being too optimistic. I even thought that eventually she'll realize these products won't sell out! Hahaha. After Pink Truth, I realized that her paycheck depends on how much her consultants buy, and pushing ordering of the limited editions is one way to get us to buy more. All directors push these products, my director wasn't just overly optimistic.
3. During a conversation my director said something like "I never push people to order unless they're selling. I never want my girls to buy their star." I thought that was so weird! Who would order more product just to get a prize?! Why would ANY director push consultants to order if they weren't selling? Little did I know that it's commonplace in Mary Kay, and MK Corporate designed the system to encourage women to do exactly that.
4. And, of course, there's the Mary Kay math. I assumed my director was just not financially savvy, or maybe bad at math the first time she over-estimated a consultant's earnings at a party, and under-estimated the amount of time spent working. I shake my head thinking about that. Pink Truth made me realize that, that too, was part of the manipulation designed to get consultants to order more inventory. And that directors are trained to talk that way about income.
The subtle signs were there all along that this was a scam. Reading Pink Truth finally put the pieces together for me of the things that just seemed a little off.