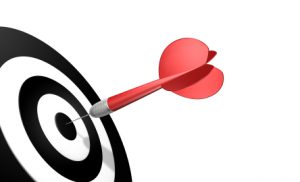 Written by SuzyQ
We have our own vocabulary in Mary Kay. Along with the overused words like awesome and great and beelieve, we find ourselves ON TARGET for any number of things. The whole concept of being on target is meant to keep pushing you to the next level. You aren't there yet, but you will keep ordering to get to the next level. These mini-levels are incentives to order to the next level. They're the carrot and the stick, and you never actually get there…. there is always a next level!
When we have one new recruit, we are ON TARGET for our red jackets!
When we come in as a new consultant with an $1,800 inventory order we are ON TARGET for a Ruby Star.
As a new Red Jacket we are ON TARGET for Team Leader.
Future Directors are ON TARGET for directorship and are ON TARGET for their free car.
New Directors are ON TARGET for Honors Society, Fabulous 50s and On the Right Track.
Seasoned directors are ON TARGET for Unit Clubs, Trips and Cadillacs.
NSDs are ON TARGET for Inner Circle.
When we order massive amounts of product, we are ON TARGET for the court of sales.
When we bring lots of personal qualified recruits in we are ON TARGET for the court of sharing.
With just a little more effort from our unit… if we all pull together… the team work makes the dream work… we can get ON TARGET… it's never too late.
ON TARGET is one of Mary Kay's most subtle and effective manipulative techniques.
It appears that you are being congratulated for achieving ON TARGET status, but the reality is that you will be required to do more. More recruiting, more ordering. Most of us remember getting the first "You're ON TARGET for______!" call from our director and how excited she was for us. Most of us had no idea what that meant, but we picked up on her excitement and enjoyed the attention. And then, we are told what we need to do to "Make this happen!" The false recognition is a set up for the manipulation to follow.
Being ON TARGET for something in Mary Kay really means that YOU have become the target.