The lies about the money made in Mary Kay are rampant. Almost no one makes money in MLM. But they'll convince you that if you make it to sales director, THEN you'll be making BIG GIRL MONEY. After all, it's the top 2% of the company!
This graphic was made about 5 years ago, as evidenced by the sales director suits, but they're still circulating it. Lies like this are widely circulated, even by NSDs like Dacia Wiegandt, who should know better. Notice they say that sales directors make $5,000 to $25,000 monthly. Even if you assumed you were going to make the lower end of earnings, you would believe you're going to make at least $60,000 per year as a director. (And that's before expenses!)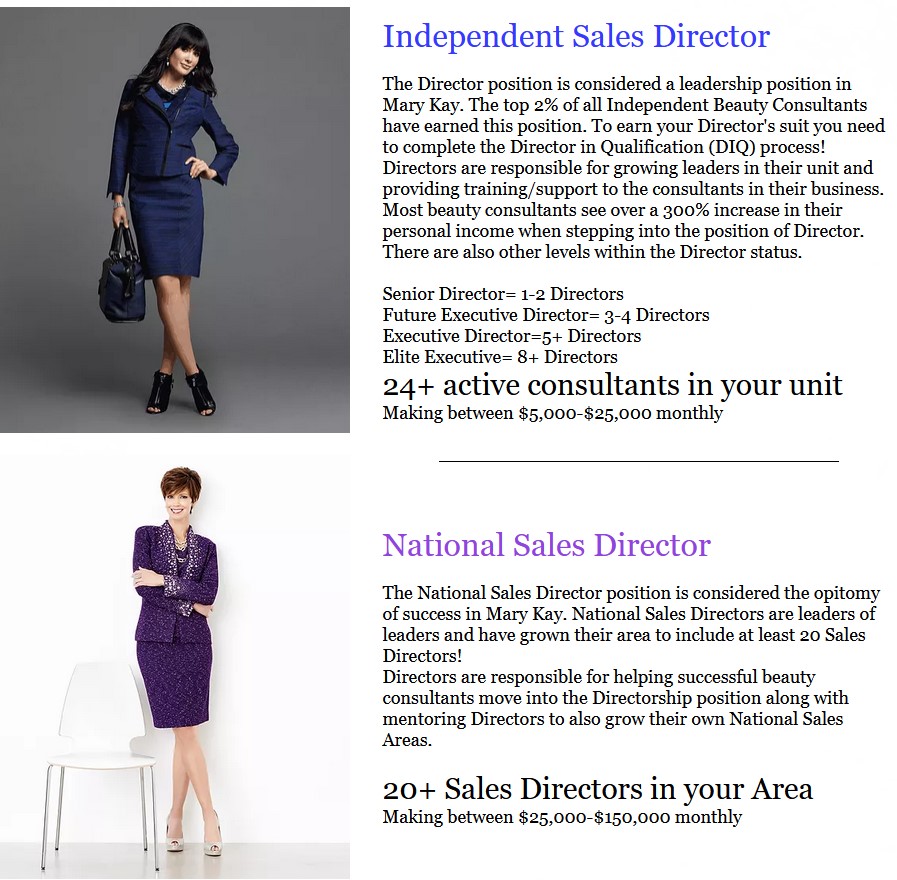 But the truth is that you will mostly likely make MINIMUM WAGE as a sales director. At last count, there were 9,000 sales directors in the U.S.
At least 5,100 of those directors (i.e. more than half of all sales directors) make less than $16,800 per year. If you worked 40 hours per week for 50 weeks out of the year, that's $8.40 per hour. Don't let anyone tell you things like "oh they only work part time" or "they make a ton of money from product sales too." Those are both lies.
About 3,000 sales directors make between $16,800 and $40,800 per year. (Remember: the numbers I'm quoting here are gross commissions BEFORE paying any business expenses.)
Add it all up and you see that 8,100 sales directors (90% of them) make $40,000 or less a year. Most of them much, much less. So the statement that directors make between $5,000 and $25,000 monthly is a blatant lie.
And national sales directors making $25,000 to $150,000 monthly?
Half of NSDs don't even make $10,000 per month!!! If you take a look at the numbers in this article, you see that in June 2020, 30 Mary Kay NSDs made $25,000 or more, out of about 220 NSDs total. And $150,000 per month? The highest earner in MK is Gloria Mayfield Banks with $124,074. Sure, that's a lot of money (all made by swindling hundreds of women per month into buying inventory packages), but the point is that the claim in the promo piece is a big lie.
For the millionth time I ask: If the Mary Kay opportunity is so wonderful, why do they have to lie about it?