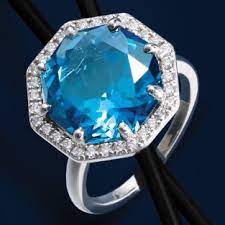 Written by SuzyQ
Mary Kay gives out REAL diamonds! You just have to be willing to work for them. Really, you just have to be willing to order for them. Order $40,000 of retail value of products during the year, and you get a ring of your choice with real diamonds.
But who would have thought that "gorgeous" Court of Sales ring would be worth so little money?
I earned a ring for Queen's Court of Sales. I worked all year for that ring. I did sell some product, but not the entire amount. At that time, the court was $36,000 retail.
I put the extra on a new credit card to finish. I mean… coming close and not finishing was simply not an option for me when I was in the fog. And double credit was not offered that year.
I was planning to sell the "extra" product later. It appears that there are others who will shake their heads in horror when reading that… after all, no one put a gun to my head and made me do it. Looking back, I wonder why I thought I needed the recognition that much.
To receive all of my recognition in true MK fashion, I had a new dress with perfect accessories, hair color touch up, fake perfect tan, toned arms, great manicure and perfect make-up. I was taken to the Royalty Reception in a limo (split the cost with others) and received my sash after I showed them my stage card. There were several very attractive tables of appetizers and fruit punches. I was fascinated by the mashed potatoes served in a wine glass.
We were all herded back into the Convention Center and resumed our seats waiting for the stage call. It came and I carefully picked my way down the stairs to go back stage. Many many super excited women were there with me. We were again herded (quietly) to the back stage area. When my turn came, I gave my stage card to someone and climbed up yet another set of stairs to await my golden moment. Someone else held their arm in front of me (like when you come to a sudden stop in the car and you instinctively throw your arm across your passenger who thinks you have lost your mind.)
Then, it was my turn. I think I heard my name, I was blinded by the light, did my wave I had practiced, and went down the stairs helped by those nice young men. I received my empty ring box and left the stage.
After all of that grand excitement, at least a minute's worth all in all, I was directed to the lower concourse where I was asked to get in a line to receive my ring. I traded the empty box for the ring that I had to let the company know I wanted prior to seminar. Of course it didn't fit, but I expected that. It wasn't exactly as spectacular as I thought it would be… I had been looking at the picture of it all year, but again, that was probably just me. It was all still very exciting with much hugging and picture taking.
I wore the ring home, of course, and played with it in the sunlight coming through the car window to watch it sparkle. There's a huge part of me at that point that knew I was a fraud. I didn't sell all of the product I needed to in order to EARN the ring.
In fact, I bought the ring. I took it to get resized, and the jeweler said something to the effect that the quality of the stones wasn't that good, did I know that? We are friends and he is always honest with me. I proudly state that I earned that ring and I have an appraisal at home that states the ring is worth $450. He said "Okay."
So, I wore it for awhile. It was sort of awkward in that it was pretty flashy as opposed to the other option, which was more of an everyday ring. I put it in my drawer and wore it less and less, until not at all.
And then one day after I left Mary Kay, I decided to sell it. I was never going to wear it again, so why not get some money for it? I sold it for $50 to a company that bought it for the gold weight only. The stones were worthless.
Ask yourself if you are worth more than a ring that is literally only worth its weight in gold. I think you are.