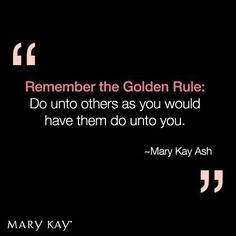 I'm sending this email as a call to change in regards to pink truths practices on spelling out the "deceptive practices" of this company.
I'm not really sure of anyone's true walk or experience in this buisness, however, after researching your site it seems that all of your articles are filled with great disdain toward the buisness. Then again that was the whole point of it, but how can anyone try save another person from their own personal insecurities, failures, mishaps, etc; by being negative.
I am a proud Marykay Beauty Consultant, before that I am a believer in Christ! I did not come to know Christ through my directors, but I know that with Him, through Him I can be successful.
I also wanted to express that this site is distasteful, since we cannot control freedom of speech, the authors of this site has every right to post what they may. Moreover, I have that same freedom as well to speak freely and to state that though you are strong in opinion and have a great message of caution to share, the manner in which you do it, could fall on bad soil, in which you may block your own blessings. Often times we feel the need to safeguard others, from negative experiences , but the reality is your feeding your own spirit with negativity.
The Bible says in Phil 4:8 "whatsoever things are true, whatsoever things are pure, whatsoever things are honest, whatsoever things are lovely, whatsoever things are of good report, think on these things."
So think on what you may say to expose a lie, but also examine yourself to make sure that you are in right standing to judge what's right. I pray that you will receive this my in light &love, but to know that though you are no longer part of MaryKay, The Golden Rule is a lifestyle and not a tagline
God Bless you!