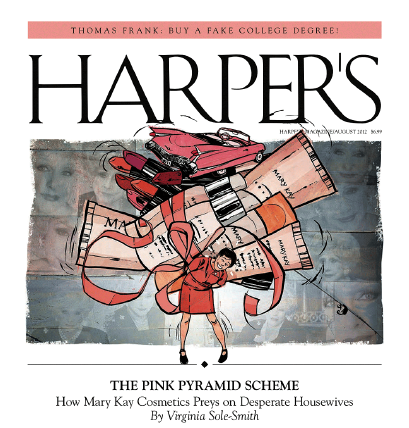 I wanted to take a trip down memory lane. Ten years ago, a damning article was written about Mary Kay in Harper's magazine called The Pink Pyramid Scheme. If you've never read it, you should. Did it make an impact on Mary Kay? I'm not sure. MK's numbers have been dropping for years, but it's unclear what the cause is.
One Mary Kay defender was upset by the article, and had this to say on the business page of the author, Virginia Sole-Smith. Tell me what you think of what she has to say in the comments below.
I can't help but feel that you have used your platform to do a hit job on Mary Kay to gain attention for yourself. It is the lowest form of sexism to marginalize women by making them look stupid for taking a chance on themselves by trying something new and minimizing the impact of Mary Kay and the wonderful things it has done for so many. I have written the following letter to Harper's:
Although I am appreciative that the experience that Virginia Sole-Smith had as an Independent Beauty Consultant with Mary Kay was a disappointing one, her article "The Pink Pyramid" went a little overboard in its caustic analysis of the Mary Kay business. I have made a good living doing Mary Kay for the past 28 years. Our business is not for everyone, but I have always believed that the women (and men) who decide to take the plunge and start a Mary Kay business are always a courageous bunch and deserve to feel good about themselves regardless of the outcome of their efforts.
What her article lacked was the proper context. Becoming a Mary Kay consultant is just like any entrepreneurial business. 90% of all businesses started in the U.S. fail within their first year. Most businesses started require some kind of cash outlay, and the main reason most fail is undercapitalization. The amount of cash needed (but not required as the author pointed out) to fully capitalize the Mary Kay business is a very small amount compared to the tens of thousands, hundreds of thousands, or even millions that other small businesses need to have a decent startup. And unlike almost every other business out there, if a Mary Kay consultant purchases some inventory, and then they decide that the business is not for them, they have up to a year to send all of the inventory purchased back to Mary Kay Inc., and the company will buy back the product for 90% of what was paid for it. One would be hard pressed to find any other startup business with that kind of safety net. This fact was not mentioned in Sole-Smith's article.
My other concern about the article is the way that it criticized women in the most sexist of stereotypes, slamming the women in Mary Kay for the way they dressed, and playing on the cultural meme that women are less intelligent, just two of many examples of subliminal and more obvious sexist slams that weaken the premise of this article. We are a country where women have not progressed nearly as much as people think. The U.S. ranks #78 in the world in female representation in government (Interparliamentary Union stat), only 2.8% of the Fortune 1000 companies are headed by women, and women still make only 77 cents on the man's dollar. There are many reasons for this state of affairs, but one of the major ones is that we haven't as a nation resolved the work/family issues that plague working women. There is renewed talk these days of whether women can have it all and the Mary Kay business is one of the few opportunities that comes closest to allowing women to have their cake and eat it too. I know because that is the life I have lead for the past 28 years raising my family on my own terms and making a wonderful income while doing so.
Ms. Sole-Smith, you should have also taken the time to speak to more of the people who have been successful in this business and given them more attribution in your piece. By not doing so, your piece is nothing more than a saga of sour grapes.