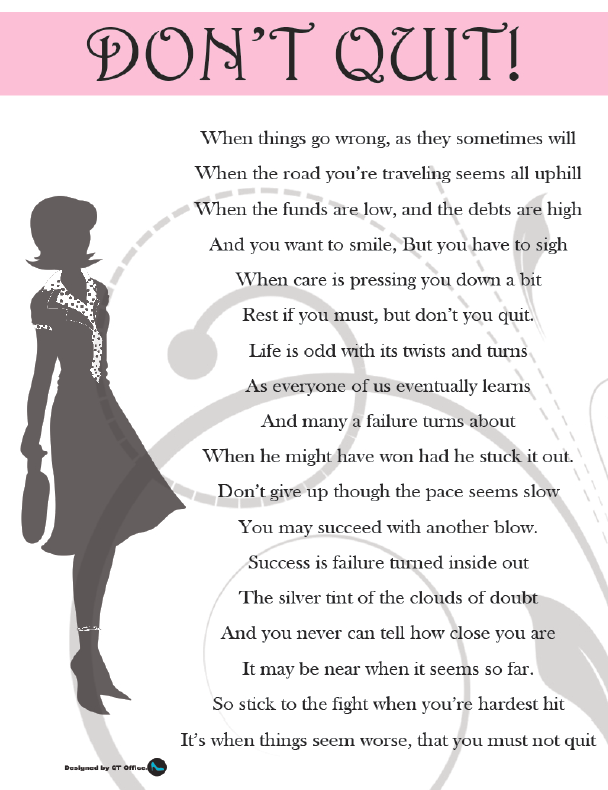 Anyone thinking of leaving Mary Kay but going back and forth… this letter may help you. The ex-consultant wrote it in response to a customer who asked why she quit.
I applaud the courage of this consultant for being so up front about everything she dislikes about Mary Kay. What a great reality check about Mary Kay and all the reasons why the company and its plan is misleading and unethical…
I'd be happy to chat with you about this. It was a difficult decision, and I've been kicking it around for about six months. There were several factors as to why I decided that Mary Kay wasn't for me. In a nutshell:
1. I don't like sales. I just don't. I tried to get by this for a couple of years by focusing on the "I'm just teaching a skin care class" and the "I'm helping women" mentalities, but the reality was, it always felt like I was selling product. The product itself is great, I think, and if I could have just built up a customer base and been the retailer for my clients, without having to actively go out and find new customers and try to "upsell" my current clients, I think I would have done okay.
2. I don't like recruiting other people to be MK consultants. It's true that MK is a dual-level marketing company, not a pyramid scheme, but I do think there is a fair amount of smoke and mirrors involved, especially in the "big picture" that sales directors and national sales directors are always pitching. They hype this "pink bubble" dream of being a stay-at-home mom and still earning a decent income, but in order to do that, you really have to put the business before the family, even though they tell you that you don't. If you want to earn the "big bucks," you have to recruit other women to sell, and you have to keep them motivated to continue to order and sell and build their own teams. It just doesn't feel right to me, and I think there are many, many other ways that I can help women achieve their true potential.
3. I don't like that the company changes the product line on a frequent basis. Part of the corporate strategy is to front load new consultants with product–they do this by offering bonuses on a sliding scale based on how much money you spend on your first order. As a new consultant, I did a small order to become active and I probably would have been fine if I had just stuck with that amount. But I felt a lot of "push and pull" pressure (e.g. "you should have a full store" but "you don't have to, it's entirely up to you, but really, if you want to treat this as a business, you should have a full store") to up my inventory. After about six months (four? I've lost count and I'm too lazy to go and look it up), I decided to get a credit card and buy my "store" with that. I let my sales director choose what would be in my store, thinking that she had five years' experience and would know. Big mistake. As you know, the northeast part of Cincinnati is not a very diverse area, and half of the product she put on my shelf was for women with african-american skin tones. I think I've had three black clients in the 100+ women I've seen over the years. That left me with a lot of product that I couldn't move.
Additionally, in order to keep their consultants ordering, the company rolls out "new" product lines very frequently. Since I joined, I've practically the entire product line turn over. I'm not exaggerating! Everything offered by the company has changed once (or even twice) since I joined, and it's impossible to keep up. It's too much product to move and then to restock so that you are "current." Who wants to buy old product? This is a marketing strategy on the corporate level to keep the company in the black and making great profits, but as a lowly consultant, it just translates into frustration
I would advise your friend to know exactly why she is getting into the business, and to keep that goal in mind once she signs her agreement. The sales directors have very persuasive ways of making their agendas your agenda, and as long as you decide how much money you are going to invest initially and stick to it, it's not a bad way to have a good discount on a great product, meet a few people and make a little (stress on the LITTLE) money. The idea of having a huge income on a few hours a week is a sham, in my opinion.
The hardest thing, I think, and this comes back to my not liking sales in general, was that once I met people and they became my clients, I wanted to give them my discount. I wanted to let them get the product at wholesale. The idea of making money off of my friends and family became somewhat repugnant to me after a year or so in the business. But in order to be somewhat profitable and to cover all of the other expenses that aren't so apparent when you initially sign on (advertising, marketing, mailings, conferences, prizes, giveaways, etc), I had to charge more than cost. I absolutely hated that.
Technically, until I return product to the company, I can be a personal use consultant if I order $200 wholesale/year at a minimum. That's not a lot, and I would certainly spend that on myself for skin care and color in a year. If I didn't have these shelves full of product gathering dust and a monthly credit card payment on a balance that I keep rolling to 0% apr credit cards, I probably would have stayed on as a personal user and ordered product for clients, friends and family and passed it on at cost. But I went another route, and now I'm trying to pay the piper, as it were.
Lots of learning. I have made two great friends whom I never would have met if it weren't for MK, and I have to believe on some level that that's part of the reason I was "meant" to find the business opportunity.
If you want to read some other interesting perspectives on MK and on multi-level marketing companies in general, www.pinktruth.com is an interesting source. I don't agree with everything that people have said, but I do think there is a lot of truth to it.
I really enjoyed getting to know you and meeting your family. Thank you so much for being a great customer. If you have any other questions or want to discuss this further, you know how to get a hold of me!