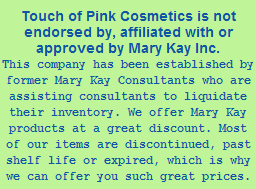 I just spent some time reading the most recent filing in the Mary Kay Inc. v Touch of Pink Cosmetics case. The jury rendered a verdict in favor of Mary Kay, but that verdict has not yet been affirmed or rejected by the judge in the case. Both parties are still filing motions in an attempt to resolve this case.
The latest filing, done on May 22, 2009, has several interesting parts. The complete filing is attached here.
One of the issues is Touch of Pink's claim that Mary Kay had an "unexcused delay" in this matter. Simply put, they're saying that Mary Kay never really challenged the business of Touch of Pink Cosmetics until filing the lawsuit in May 2008.
Mary Kay knew that Amy and Scott Weber had an eBay store in June 2005. Mary Kay sent Amy letters regarding her alleged breach of her consultant agreement by selling products on eBay. But these letters never complained about the age of the products being sold or the use of the Mary Kay name (two issues which are prominent in this lawsuit). They simply said she was violating her consultant agreement and would be terminated because of it.
In November 2005, the Webers were asked to stop using Mary Kay's copyrighted photographs on their site and to stop using the words "Mary Kay" in their store name. Again, the company did not object to the actual sale of products on the internet, the selling of discontinued or expired products, or the sale of Mary Kay products that didn't have a satisfaction guarantee attached to them. (These three issues are also prominent in this lawsuit.)
The Webers complied with the requests of Mary Kay, and had no reason to believe that Mary Kay had any other objections to their business. Mary Kay never told Touch of Pink Cosmetics to stop or alter their business. They simply filed a lawsuit in May 2008.  The current filing in the lawsuit says:
The only excuse offered by Mary Kay was from Laura Bietler who said "we never want to file a lawsuit if we don't have to, particularly against a beauty consultant or even a former beauty consultant. It's really the last thing we want to do. So we had to proceed with caution, and we put a lot of careful thought and consideration into making the decision to file this lawsuit. [Bietler 274:12-18, App. 10]. Neither Ms. Bietler nor any other witness ever explains why there was not a cease and desist letter or some other communication to the Webers from January 6, 2006 until suit was filed May 7, 2008.
Why is this important? Mary Kay is trying to get the profits that the Webers earned on the sale of Mary Kay products. However, the Webers are fighting this because Mary Kay basically did not object to their selling of products, and knew they were profiting from this business long before May 2008. They delayed taking action, and therefore may not be entitled to take those profits (if the judge upholds the jury verdict).
This filing in the case brings up another interesting issue, which is the real heart of this article. The Webers are alleging that Mary Kay is simply trying to shut down their business, and I happen to agree. Touch of Pink complied with all of Mary Kay's demands in 2005. Following the filing of the lawsuit, Touchy of Pink has made certain changes to their website and business in response to the new complaints of Mary Kay.
Amy and Scott Weber aren't necessarily agreeing that Mary Kay is right when they make these changes. However, it seems to make good business sense to make some of these changes to avoid more trouble from Mary Kay. Yet it's not enough, in the eyes of Mary Kay Inc. The company wants to stop Touch of Pink from selling any discontinued or expired product, and Mary Kay even wants to stop them from using the name Touch of Pink when reselling Mary Kay products!
Take a look at the changes the Webers have made in an effort to appease Mary Kay:
1. Mary Kay said people could be confused because the disclaimers were not prominent enough – the Webers added a prominent disclaimer in a banner that extends across the top and bottom of each page of touchofpinkcosmestics.com and along the top and other locations on the Touch of Pink eBay store and added the disclaimer to all written communications from Touch of Pink.
2. Mary Kay complained that people could be confused or misled because the Webers were not clear enough about the fact that they offered discontinued, past shelf life and expired products – the Webers added a prominent statement across the top of their internet sites and added that information to all outgoing communications.
3. Mary Kay complained there was too much pink – the Webers changed the color scheme on the website.
4. Mary Kay complained that consumers could be confused about the affiliation between Mary Kay and Sheer Miracle (despite the fact that both are manufacturers and there was no evidence that any consumer associated Sheer Miracle with Mary Kay) — the Webers added a large notation on the Sheer Miracle page that it is not a Mary Kay product.
And Mary Kay is claiming that Touch of Pink is taking away sales from them. How can that be? The products Touch of Pink sells have already been sold by Mary Kay. The company made money off them. All the money they possibly could. Mary Kay sold those products with the intent that they be re-sold. They are being re-sold. Where is Mary Kay's loss?
The only possible "loss" that Mary Kay could claim is that if Touch of Pink wasn't selling a cleanser to Jane Smith, that Jane Smith would instead buy that cleanser from someone who would have to order it from Mary Kay. It's not good enough that Mary Kay already realized its full profit on that cleanser being sold by Touch of Pink. Mary Kay wants the opportunity to sell a second cleanser to fill Jane's order.
Why is Mary Kay doing all of this? According to this filing:
The fact is that no matter what the Webers do, Mary Kay will complain that their efforts are
insufficient because Mary Kay wants to shut the Webers' business down, even though the re-sale of Mary Kay trademarked products is permissible under the law.
Mary Kay seems to be trying to put Touch of Pink out of business, which at this point is extremely unfair:
The simple, undisputable fact is that Mary Kay knowingly allowed the Webers to invest substantial sums of money in building a business and to gut that business now would be highly prejudicial. The Webers had a small, home-based business that they operated out of a spare room in their home. After their communications with Mary Kay, and logical belief that their business was not causing Mary Kay any concern, they expanded the operation by increasing purchases, hiring employees and renting a warehouse from which they began to operate their business.

Meanwhile, Mary Kay was receiving communications from IBCs that Mary Kay's chief intellectual property counsel was informed of and did nothing. Instead, they allowed the Webers to incur great expense. To find that the Webers were not prejudiced by the almost three year delay from when Mary Kay learned of the Webers' business to when it complained of the conduct at issue is certainly against the great weight of evidence.