Mary Kay's Pink Pyramid Scheme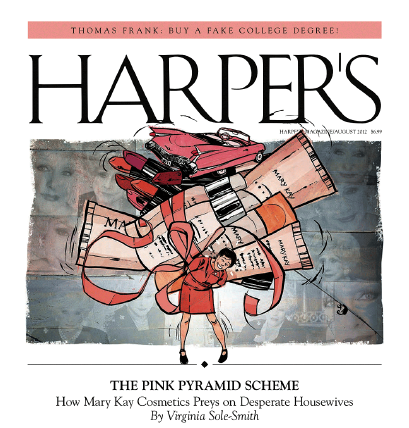 Today we take a trip down memory lane. Almost three years ago, Harper's Magazine did an expose on the Mary Kay "opportunity" that ruffled a lot of feathers. The story, The Pink Pyramid Scheme: How Mary Kay Cosmetics Preys on Desperate Housewives, was featured on sites like Jezebel and Andrew Sullivan's The Dish.
Virginia Sole-Smith went undercover to dig into the world of Mary Kay, finding out the dirty truth about recruiting and inventory frontloading. She found out the sad truth: Mary Kay uses the public image of "enriching women's lives" as the basis for misleading recruits in a "business opportunity" that almost guarantees they will lose money.
Recruits are told that purchasing inventory is optional, but their arms are twisted until they "opt" into purchasing it. Virginia writes:
The first step on my Mary Kay to-do list was making my initial inventory investment. Of course, Antonella was quick to work in the standard caveat, necessary because it's the technicality that separates Mary Kay from a pyramid scheme: "Buying inventory is always optional with Mary Kay, and if anyone has told you otherwise, they were lying to you. You do not have to buy products in order to be a Mary Kay consultant."

There was a slight pause. "But there are some advantages."

It was true, Antonella acknowledged, that some consultants preferred to wait to order products until after they had made some sales using the catalogues and samples in the starter kit. But she didn't think it was the best course of action for me, because she could tell I was so serious about my Mary Kay career. "I was just like you, Virginia—terrified to place my first inventory order."
After telling her recruiter that she didn't have $1,800 lying around waiting to be used to purchase Mary Kay inventory, it was suggested that she use a credit card to purchase inventory, because it was an investment and NOT debt:
When I delicately conveyed that I didn't have $1,800 on hand, Antonella was unconcerned. "I actually don't suggest that my consultants use personal funding to buy their inventory, even if they do have the money," she said. "I find that unless someone holds you accountable, consultants forget to pay themselves." Instead, I could apply for a Chase Mary Kay Rewards Visa card, which offers instant approval, 0 percent interest for six months, and two points for every dollar spent on Mary Kay merchandise. "What you need to understand is that this is not a debt," Antonella said firmly. "If you spend eighteen hundred dollars on a new couch, sure, that is a debt sitting in your living room. But this eighteen hundred dollars is an investment in your business." This eighteen hundred dollars would also be almost half of Antonella's December wholesale goal.
The truth is that inventory is not necessary in Mary Kay. Recruits are told they need it to be successful, because no one wants to wait for their cosmetic purchases to arrive. While having inventory on hand may help consultants sell a little more, the bulk of their customers would be willing to wait for a few days to receive their items. (After all, millions of people order products off the internet every day, and wait anywhere from a couple of days to a week to receive them.)
Any additional sales that a consultant will generate because she has inventory on hand will be more than wiped out by the high cost of having the inventory on hand. Those costs include interest on the debt, the cost of expired products, the cost of obsolete products (Mary Kay is constantly rolling out changes to their products), and the cost of any inventory that just can't be sold because of market conditions.
And if you doubt the truth behind my statement that Mary Kay products are incredibly difficult to sell, run on over to eBay and search for Mary Kay. At any given time you will find 40,000 to 50,000 auctions of products that women could not sell through the face-to-face means that Mary Kay encourages. Many of those products are sold for less than wholesale pricing, which is 1/2 of the suggested retail price.
Virginia gave a nice shout out to Pink Truth:
For the half dozen Mary Kay consultants I interviewed, the "corporate income" Daria talked about, to say nothing of Antonella's Mary Kay dream house, never seemed to materialize. These anecdotal accounts reflect the findings of Tracy Coenen, a financial-fraud investigator and former Mary Kay lady who founded Pink Truth, an online community that describes its mission as giving "a voice to the millions of women who have had negative experiences with Mary Kay."

Extrapolating from data published in the company's Applause magazine, Coenen estimated that fewer than 300 U.S. Mary Kay ladies are earning a six-figure income after business expenses—roughly 0.05 percent of the 600,000 American consultants.

Coenen also estimated that the highest-earning sales consultants generally order only about $50,000 worth of products per year, meaning the most they're making annually from direct sales is $25,000. But hostess gifts, official Mary Kay skirt suits, travel, and other expenses—not to mention the challenge of moving so much inventory—eat into their profits. "Almost everyone loses money," said Coenen. "Most of those who do profit are making about minimum wage."

A business in which only a select few earn real money while everyone else pays to play sounds a lot like a pyramid scheme. The Federal Trade Commission distinguishes between recruiting salespeople to sell a product, which is perfectly legal, and making money through "fees for participation," which isn't. What constitutes a fee is, of course, vague, but the FTC has charged some multilevel-marketing companies with employing pyramid schemes. In those cases, the majority of sales occurred between company and salespeople; the retail products were essentially decoys. The FTC has never taken action against Mary Kay, and an agency spokesperson told me that he was "unable to confirm or deny" whether the company had ever been investigated.

When I contacted a public-relations manager at Mary Kay headquarters, she was quick to emphasize the same technicality that Antonella had: buying inventory is "a personal choice." On top of that, she said, the commissions that sales directors earn on purchases by their team members are paid by Mary Kay corporate itself; they're never taken out of the pockets of lower-level consultants.

The company's website is equally emphatic: "Is Mary Kay a pyramid scheme? Absolutely not," reads one FAQ. "The entire marketing structure is based on and intended to foster retail sales to ultimate consumers."

Despite this supposed focus on the ultimate consumer, however, Mary Kay has little real idea where its products end up. When I asked the press officer to comment on Coenen's income estimates, I was told that the company tracks only wholesale figures. After a saleswoman places her order, Mary Kay disassociates itself from its carefully cultivated girlfriends' club; every consultant is her own business, independent from (and yet completely dependent on) the mother ship.
Mary Kay supporters are coming forth to decry this story and claim it only reflects the experience of a few "disgruntled former consultants." Sadly, we at Pink Truth know that is not the case. We know that almost everyone loses money in Mary Kay, and that there are millions of women who have had bad experiences at the hands of this pink predator.