Written by Lazy Gardens
I've seen this business cost comparison flyer on many director's websites. I don't know who developed it, but they are overestimating startup costs by about 2000% for at least one of the businesses. It makes Mary Kay look like a good deal by comparison and makes a large inventory order seem small. Is it a "lie"? You decide.
Here's the flier (click on it to see it full-size):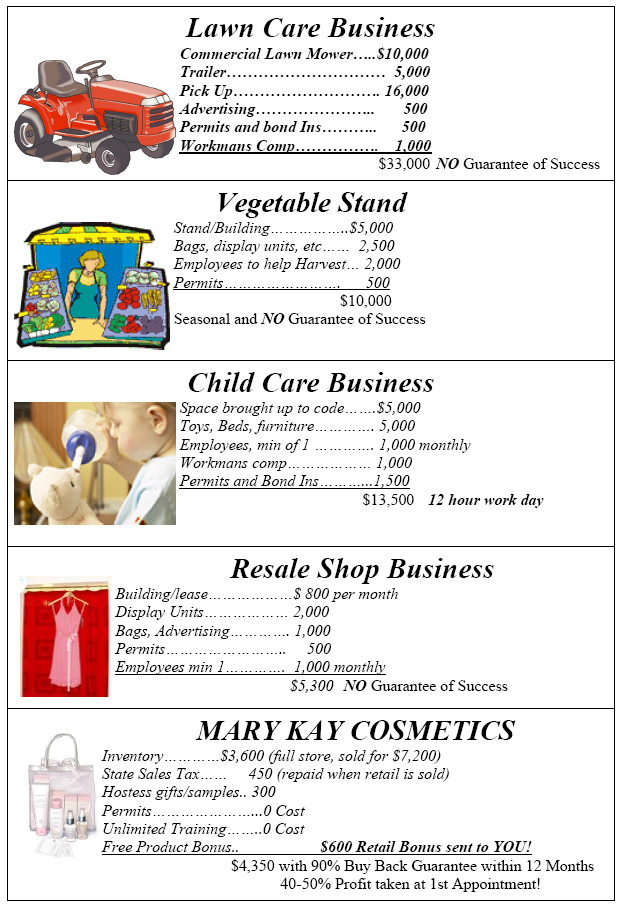 Let's look at the figures for the "Lawn Care Business." I have been a landlord, I am a landscaper, so I know the "mow and go" business. I chat with the mowing teams. They usually follow a well-defined career path from part of a team for a large company, to a 1-man lawn service, and occasionally get big enough to manage multiple teams of their own. But they don't spend tens of thousands of dollars getting started.
LAWN CARE BUSINESS
Commercial Lawn Mower: $10,000 (A commercial lawn mower is too large for residential jobs. All you need to start is a gas-powered mower, spare blades, push broom, rake, pruners, edger, trash cans. You can buy all of these for less than $200 used from Craigslist or yard sales.)
Pick Up: $16,000 ($1500 can buy a used 1993 Nissan from Craigslist. I drive an old truck and find a note under the wipers a couple of times a month from a landscaper who wants to buy it from me.)
Trailer: $5,000 (Not needed. You put the mower and tools in the bed of the truck.)
Advertising: $500 ($20 for 500 business cards from a local printer. Leave these at every house near your jobs, and have one in your pocket to hand to anyone who comes over to ask if you have room in your schedule for their yard.)
Permits and bond Ins. $500 (Not required here, may be required elsewhere.)
Workman's Comp: $1,000 (Not required unless you have employees, and then it can sometimes be paid monthly, rather than paid up-front.)
TOTAL: $33,000 NO Guarantee of Success ($1800 for a low-budget startup, with no guarantee of success. But you will own the truck and equipment, and you can sell any time you want to, not just within the first 12 months.)
How successful can you be? How hard do you want to work, and how good are your business skills? I've seen three different men who drove up in a battered pickup to give me their first estimate driving a new pickup a few years later, with their own company logos on the side. Others have realized that they don't have the business skills needed and go back to working for a landscaping company as an employee.

MARY KAY COSMETICS
Inventory $3,600 (full store, sold for $7,200 … This assumes that it can be sold, at full price, and this doesn't include business supplies like sales tickets and catalogs.)
State Sales Tax $450 (repaid when retail is sold … taxes in Phoenix would be $580)
Hostess gifts/samples $300
Permits $0 Cost ($16 application fee, and $50 per year in Phoenix, if you make retail sales of products. There is no exemption for home-based businesses.)
Unlimited Training. $0 Cost (Many have commented that there is very little training beyond how to recruit at the meetings you pay to attend.)
Free Product Bonus $600 Retail Bonus sent to YOU!
TOTAL: $4,350 with 90% Buy Back Guarantee within 12 Months (NO Guarantee of Success! The 90% buy-back only applies to product, not Section 2, and will be reduced if any product is discontinued or discounted.)
40-50% Profit taken at 1st Appointment! (It's not profit, it's "gross margin". Out of your gross margin you have to pay taxes and expenses, which includes product loan payments, auto expenses, meeting fees, seminar fees, conference fees, web site fees, customer mailings, etc. If there is anything left over for your family, that is real profit.)
See how, by omitting certain key information and by making other exaggerations, the Mary Kay opportunity looks so much better than it really is!