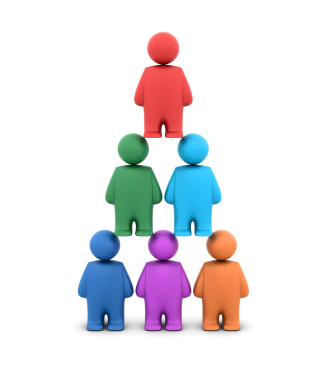 "We're not a pyramid scheme!"
"We're not an MLM!"
You hear Mary Kay's loyal followers chant these themes over and over. I think it's pretty clear that Mary Kay Cosmetics is a barely legal product-based pyramid scheme. The company is built upon an endless chain of recruiting, and profits come from the frontloading of inventory.
As Robert FitzPatrick so eloquently explains, there really is no "profit" in an MLM, merely just a transfer of money from the lower level people to those at the top of the pyramid.
Mary Kay Inc. staunchly defends its position that it is neither a multi-level marketing company (MLM) nor a pyramid scheme. That position is totally laughable. See for yourself. From the company's Legalease publication, with my comments in bold:
MULTI-LEVEL AND PYRAMID SALES ORGANIZATIONS
Confusingly similar terminology is being used by some multi-level, "network marketing" or pyramid companies, who sell directly to consumers in the home. In the course of your Mary Kay business, you will no doubt be confronted with questions from customers or potential recruits concerning the Mary Kay marketing plan. It is important to clarify that Mary Kay is not a multi-level or "pyramid" company. The following points concerning the Mary Kay marketing plan are of particular importance in distinguishing it from these other organizations:
There is one wholesale sale (Company to Independent Beauty Consultant) and one retail sale (from Beauty Consultant to customer) of Mary Kay® products. There are no levels of wholesalers between the Company and the consumer through which products pass at varying discounts before sales. Thus everyone, whether Independent Beauty Consultant or Independent Sales Director (unit Director of Beauty Consultants), purchases all cosmetic products directly from the Company at the same published wholesale prices for resale to consumers of their choice. (I've never understood why the fact that consultants purchase directly from the company proves that Mary Kay isn't a pyramid scheme. Oh, that's right. Because that fact doesn't prove anything.) Everyone has the opportunity to buy at the same discount irrespective of their level within the independent sales force career path. (True, unless you consider the fact that sales directors receive a commission on their own wholesale orders from the company, thereby effectively lowering the wholesale cost at which sales directors are able to purchase products.)
Everyone recruited as an Independent Beauty Consultant is recruited to sell products at retail. (Yeah, right. Recruit, recruit, recruit.) Independent Beauty Consultants do not recruit others to buy products from them. (No, they recruit them to buy tons of products directly from Mary Kay.) All Independent Beauty Consultants are thus aware that all products purchased by them are for sale at retail to ultimate consumers (or may be returned to the Company for repurchase). (Let's just be honest. They're not really recruited to sell products. They're really recruited to recruit more recruits who will be asked to recruit more recruits…)
Everyone begins as an Independent Beauty Consultant with the purchase of a starter kit. No compensation is earned by anyone on this starter kit purchase, i.e., "for introducing" a new Independent Beauty Consultant. (No kidding. That's why they put the squeeze on you to buy inventory right away. No inventory means no commissions for your recruiter.) No "investment" is required and no level within the independent sales force career path may be purchased by the payment of fees or by the purchase of a given quantity of products from the Company or anyone else. There are thus no "sales" of "levels," "positions," "distributorships," or "franchises" by the Company or any of its Independent Beauty Consultants. (Sales directors effectively "buy" their positions when they add production to their director in qualification numbers. The company knows this and in essence condones the practice, in my opinion.)
Elevation from Independent Beauty Consultant to Independent Sales Director does not involve the payment of any fee, rebate, premium or hidden discount of any kind to either the Company or anyone else. (Well it really does require payment to the company though, because you've got to be active to "move up" and in order to be active you've got to pay money.) Elevation, at the election of any Independent Beauty Consultant, is based strictly upon proven recruiting and sales ability. (The sales director-in-qualification is required to meet wholesale production goals, which essentially amount to paying money to the company.)
Any Independent Mary Kay Beauty Consultant who terminates her contractual relationship with the Company may return unsold products in resalable condition, and these will be repurchased by the Company per the terms of the Independent Beauty Consultant Agreement at 90 percent of her original net cost. (How does that make it not a pyramid or MLM?)
The Company pays all commissions directly to Independent Beauty Consultants and Independent Sales Directors. The commissions are paid based upon monthly purchases and recorded on computer reports furnished with the commission payments. The entire marketing structure is based on and intended to foster retail sales to ultimate consumers. (Haaaaa… yeah, it's intended to foster retail sales. They really means it's intended to foster recruiting.) Commissions paid on any products returned by a terminating Independent Beauty Consultant for repurchase by the Company, pursuant to Item E above (i.e., products not sold at retail), are charged back to the commission recipient. (The company cuts the commission check, but those checks are only received because members at lower levels put money into the company. This smacks of pyramid and MLM to me.)
Do people really believe this stuff??? Mary Kay is quite clearly an MLM as well as a pyramid scheme. Sure, it's legal under the current laws. But that doesn't make it moral, nor does it make it a legitimate business opportunity.