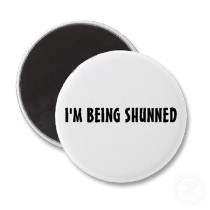 Former top directors in Mary Kay find out quickly that their MK friends for life will turn on them in an instant. Kelly Brock found that out, for example.
You've heard that Mary Kay is for some, and not for others. That you won't know unless you try. That it's your business and you make the decisions. That some will, some won't, who's next. That you control your own time and earnings. That you can just give Mary Kay a try for a low, low cost, and if it's not for you, then you haven't lost much. That your director will support you in whatever way you want to work your Mary Kay business.
Until you decide to quit. No one is really supposed to quit Mary Kay. I think Mary Kay is like a cult. When you want to leave, they make it awfully hard. And if you do escape, they will shun you and tarnish your good name. Your director – – who pretended to be your friend while you were ordering products – – will suddenly turn on you and urge everyone to stay away from you.
Why? Because you have become a liability. You are now a risk. You have become enlightened, and she is deathly afraid of you sharing your knowledge with other unit members.
Quite simply, every bit of decency and Christian thought and actions go out the window once your sales director realizes you're serious about quitting Mary Kay. You have just crossed the pink line, and you must pay!
Here is part of one Mary Kay sales director's email to her unit:
Now by know I'm sure that you have heard that ******** has decided to leave our Unit and Mary Kay. I am sure she had very good reasons for this decision although she has not spoken to me personally about these reasons. Preferring instead to do it through emails. We need to make sure we make her team members feel welcomed within our ranks as I'm sure they feel abandoned by her.
This being said it would be in your best interest to not have any contact with her for the time being. She would only be a negative impact on you. If you feel you need more information I will be glad to talk this matter over with you in person. Remember I am not only your director but your friend and we should be able to talk openly about what ever issues we have.
Really? You can't just wish her well with her decision? You can't just accept that Mary Kay is not for her and she tried but now she's done? You can't give some sort of broad positive statement about her, and encourage the unit to continue to work? You have to be negative and encourage the unit to shun her? You disgust me, Mary Kay sales director.