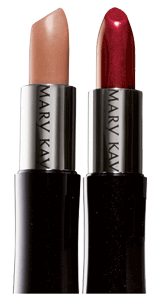 Mary Kay is suing Sharon Lilly and Dennis Lilly, liquidators of Mary Kay products. You can read the full complaint in the case , but here's the summary:
Sharon became a Mary Kay beauty consultant in January 2006.  Mary Kay terminated her agreement in May 2006, alleging that she was selling Mary Kay products on the internet in violation of her consultant agreement. Sharon then started selling Mary Kay products at her website Sharon's Cosmetics Shoppe.
Mary Kay is alleging that Sharon solicits current consultants to sell them her products so she can offer them on her site at a discounted price. It's alleged that she "induces" consultants to violate their agreements with Mary Kay.
The company further alleges that Dennis Lilly (Sharon's husband) became a Mary Kay beauty consultant in May 2006 to gain access to products directly from the company. Mary Kay terminated his agreement in April 2008.
The claims Mary Kay is making against the Lillys:
Tortious interference with the contracts between Mary Kay and beauty consultants
Use of Mary Kay's trademarks and name without authorization
Loss of business and loss of business relationships between Mary Kay and its consultants
Loss of sales opportunities for other consultants
Fraud due to false statements made to Mary Kay
Unfair competition
Trademark infringement
Unjust enrichment
As in Mary Kay's case against Amy Weber and Touch of Pink Cosmetics , I don't think they can win on the allegation of trademark infringement. A seller of an item is allowed to use the name brand of that item to identify the product being sold. As such, inventory liquidators can use the name "Mary Kay" to describe the products they have for sale, so long as the product really are authentic Mary Kay items. (Common sense: Without being able to say "Mary Kay," a seller of a product would be unable to accurately describe it.)
The liquidators have to be very careful, however, that they're not misleading or confusing customers. They can't make it seem like THEY are Mary Kay. They can't create a website that fools people into thinking they're shopping at a Mary Kay website.
One issue that will be very interesting is Mary Kay's allegation that the Lillys:
"… unlawful and unauthorized use of the trademarks and name harms not only Mary Kay, but also consumers who are confused or deceived into purchasing products through her website believing they are purchasing guaranteed products from an authorized Mary Kay Independent Beauty Consultant."
Are they really confusing consumers? The Lillys' website says:
Affordable Beauty …

Now you can enjoy all the first-quality products of the #1 Best Selling Cosmetics and Skin Care products at prices you can afford.  Shop at your convenience, from the comfort of your home.  No longer do you need to be bothered by the telephone sales calls, someone asking you to have a Mary Kay Party, or other such annoyances.  When you shop here, you receive the same great Mary Kay products, with a satisfaction guarantee policy and great value prices.

The Mary Kay products you purchase from Lilly's Cosmetics and Skin Care are all new and in their original packaging.  They have not been tested or used in any way. All products are fresh, current date products.  (Items in the Vintage Mary Kay section excepted.)

All products have been purchased directly from Mary Kay Independent Beauty Consultants who need to balance or liquidate their inventory.

This web site, or anyone affiliated with it,  is not endorsed by or affiliated with Mary Kay, Inc.  All products are authentic, first-quality Mary Kay products.  Mary Kay,  is a registered trademark.  All trademarks mentioned in this Shoppe are registered trademarks of their original owners who reserve all their rights and ownership.  The use or mention of any trade-name, product name, or trademark in this Shoppe in in no way intended to suggest that the trademark owner is at all affiliated with or endorses this Shoppe.  The use of any trade name or trademark is for identification and reference purposes only and does not imply any association with the trademark holder of their product brand.  This Shoppe is not endorsed by Mary Kay Cosmetics Inc. in any way.
This text is identical to what was on the front page as of February 1, 2008, so this wording doesn't appear to have been changed in light of the filing of the lawsuit.
The verbiage on the page makes it clear to me that they're not affiliated with Mary Kay or endorsed by them. The Lillys have made it clear that they're selling authentic Mary Kay products, but they are NOT Mary Kay. Why Mary Kay Inc. would make the claim that they're misleading consumers to think that they're approved by MK is beyond me.
Why is Mary Kay going after liquidators of products? Probably because they can. They have deep pockets and they're hoping that the liquidators will capitulate for financial reasons.
Are the liquidators really hurting Mary Kay? I don't know. Certainly they're offering a much needed service for consultants who can't sell their products or return them to Mary Kay for a refund. Of course, the liquidators are offering products to buyers of MK at a reduced price. So yes, I suppose those sales might be taking something away from active consultants.
But is there anything wrong with that? Can't I sell something I own at any price I want to? What if I want to sell something at a cheaper price than stores are selling it because I know it is more likely to sell faster?
I wonder which liquidator is next on Mary Kay's hit list?