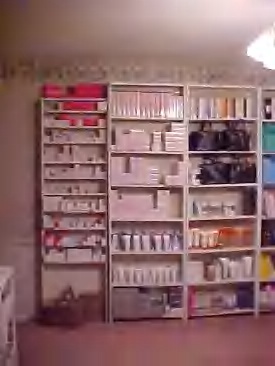 The constant push in Mary Kay Cosmetics to order-order-order gets so tiring. Most directors say "I don't push anyone to order!" Oh, okay. You just remind and nag and encourage and remind and nag and plead and remind and nag and suggest. *sigh*
Mary Kay's quarter ends soon so the push to order again is on. Don't forget that some are in qualifications for cars again, so the push is even more important for them.
Mary Kay Inc. has the "Star Consultant" program which awards prizes for achieving various levels of ordering and recruiting qualified consultants. They used to give very nice prizes. Now they give so-so prizes. (Who wants a pink coffee maker???) The Star Consultant program is also used in other ways: to reserve better seats at the annual seminar, to eat at certain lunches, to get silly ribbons.
Here is one national sales director's plea for more orders:
SO MANY REASONS TO BE A STAR THIS QUARTER…

You get prizes…remember you go up a STAR with each new Qualified Team Member this quarter
If Ruby or higher, you are on-target for the Hawaii drawing.
First Quarter for this year's Star Consistency: name on the Walk of Fame, Seminar lunches, Awards Seating at Seminar, National prizes and recognition
You have enough product to serve your clients.
You are working consistently to make enough profit for your personal budget.
For local recognition at the STAR event…check with your local director!
Your "report card" of success that you wear proudly on your label…the STAR!
On Target for Arena Seating and as a MILLION $ unit, we will have awesome front row seats!!

HOW TO FINISH IN JUST A FEW MORE DAYS…

Get a loan if you don't have a full store, then now is the time to get it to the level that you don't have to make your clients wait on products. A full store increases your sales and your time management!!!
Use a credit card. Especially the 0% interest ones that you can pay off with your sales quickly.
Offer a Friends and Family special, $145 for $99…if you need in $1800 then you would need 18 friends and family to take you up on the deal. Or be more specific…. offer a Free Satin Hands Set with the purchase of the TW Skincare plus Foundation and Microdermabrasion Sets. Send an email or call them today!!
Book a party or two… nothing sells faster than the "show and sell" method. You have time. Even if you book it for a day before or the last day of the quarter, your order can still be placed until midnight!
Mail it in. Remember that postmarks DO count so you can mail it in late on the last day so that it's postmarked for the quarter, but it won't arrive for another day or two!!!! Gives you more time to collect your money!!!
Stock up on the  Holiday items. You can still sell them throughout the year!

Don't wait… so much can still be accomplished if you act!! Ok, so what if you go for it and miss… you'll sell more than you had planned and you could start the next quarter off with a big order!! You will talk to more women and build up your business. You will learn to not wait until the last day of a quarter to reach a goal. You will be better for the race!!!

AND… if you make it….. think of a ticker tape parade in your honor!!!! See your picture on the front page of our Newsletter. See the pin you will so proudly wear that will bring you new clients because others will ask… and you will say, "it's my report card in MK!"
Notice she never says that you should be a star to replace product you've ALREADY SOLD. Why not? Because she doesn't really care if you've sold anything. Just so long as you ORDER!
And where's the proof that a full store increases your sales? It doesn't increase them enough to tie up thousands of dollars in inventory, especially since orders can be placed and filled so quickly with today's technology.