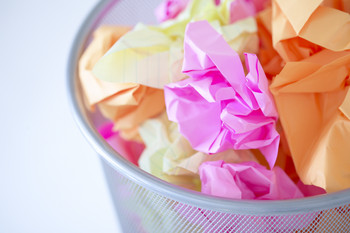 Get ready to throw your discontinued Mary Kay products in the trash!!! More changes are coming. Why? It's how Mary Kay makes more money from consultants who have been with the company a while. Discontinue a classic product, and there is a bump in sales from everyone buying the new product. They claim they need to stay "on trend,"and that is what motivates the changes. We at Pink Truth know better.
Product changes mean big money for Mary Kay. All the seasoned consultants and sales directors quickly buy up the new products, because they'd never want to have old products on their shelves!
In an effort to help Mary Kay consultants avoid being surprised by the (many) changes the company makes to products and packaging, here are the upcoming changes to the product line. Beginning with the September 15, 2011 quarter:
Regular line:
Timewise Night Restore & Recover Complex $40 – Goes on sale August 1. To "fight the signs of aging while you sleep," with a "complex that activates collagen production" (based on "in vitro studies" done???)

Limited Edition:
Beauty That Counts Mary Kay Creme Lipsticks $13 – In 3 colors – Give Joy, Give Dreams and Give Hope. Mary Kay donates $1 for each lipstick sold. They don't say where they're donating the money, only that it's for domestic violence.
Mary Kay Miniature Fragrance Collection $32 – Mini replicas of Belara, Bella Belara, Journey, Thinking of You, and Velocity.
Mary Kay Redefining Elegance Collection:
Lip Suede $14 – Luscious Plum, Polished PInk
Filigree Eye and Cheek Powder $20 – "Powder palettes, enhanced with flecks of gold…"
Luxury Liner $14 – Liquid liner pen for eyes in Black Velvet, Rich Plum, and Classic Sable
Nail Lacquer $8 – Gold Leaf, Plush Plum, Lavish Sable
Base Coat & Top Coat $8
Thinking of You Body Lotion $16 – "Fruity floriental fragrance"
Little Gifts Hand Creams $10 – 3 ounce hand creams in Vanilla Mint and Vanilla Berry. "Stocking stuffers" (already????)
Little Gifts Lip Balm $15 – Clear, flavored lip balm in Vanilla Mint, Vanilla Berry, and Vanilla
Mini Timewise Night Restore & Recover Complex & Mini Microdermabrasion Set $20 for pack of 5
Packaging Change:
Timewise Replenishing Serum +C – Packaging change gives you six weeks for the price of four. Instead of 4 vials with enough product to last one week, MK will move to one vial which will contain 6 weeks of product.
Discontinued:
Advanced Moisture Renewal Treatment Cream
Discontinued due to new formula launching December 16, 2011:
Eyeliner, Lip Liner, NouriShine Lip Gloss sampler