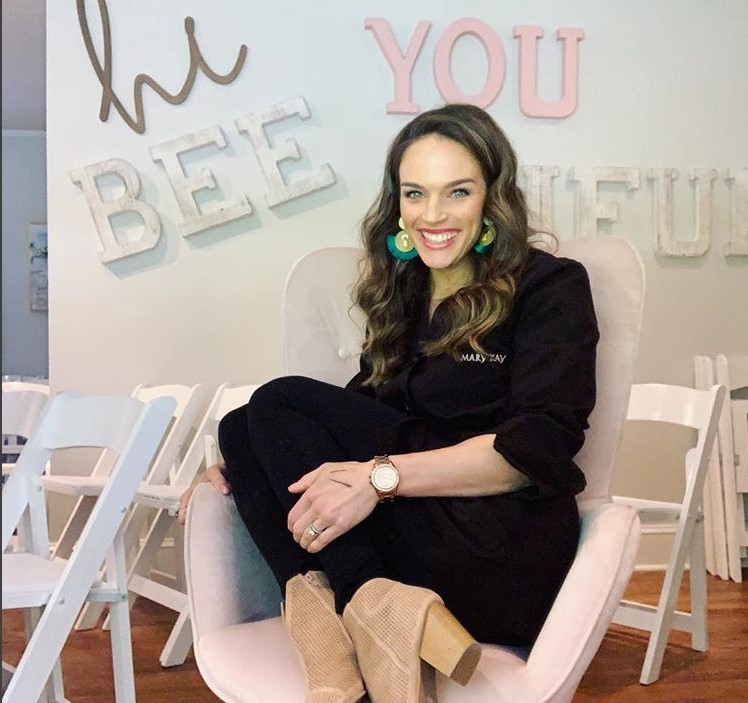 Kelly Brock was a top director with Mary Kay Cosmetics and had been with the company for years. Sometime late last year she stopped mentioning Mary Kay on Instagram, and instead spoke exclusively about things related to her "coaching" business.  Her last YouTube video on her Kelly Ingland account was done 5 months ago.
Earlier this year she started showing up on the MK website as a consultant (rather than a director), and she is still there as a consultant. We know, therefore that she hasn't been terminated from MK, but we do know that she no longer has a unit.
Kelly is now exclusively working in the coaching space, branding her work as the "Anxious Achiever Project." Her personal Facebook profile still shows a picture of her with a pink Cadillac, but Mary Kay is not longer actively mentioned. You can scroll back in her pictures to see some mentions of Mary Kay, but it's safe to say that she is all but done with MK. (Oddly, her business page as a Cadillac sales director is still up.)
She went from being on the top director trip in fall (for the first time), to being featured in Applause magazine, to washing her hands of MK in 2020. The question is why?
According to this Facebook post, Kelly got started in Mary Kay (for the second time) in 2010. She's been in a Cadillac for years and has been listed in Applause consistently for being one of the higher earners. Here's a look at Kelly Brock's commissions for the last couple of years in Mary Kay: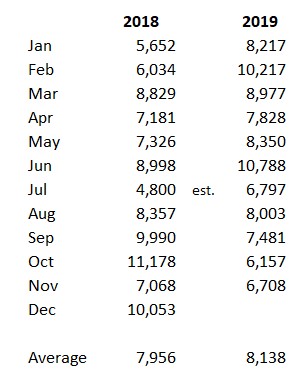 Why would a MK sales director making about $100k a year in commissions voluntarily give up her unit? (I'm suggesting it was voluntary, because if MK Inc. took action against her, I believe they would have terminated her all together and she would not still be listed as a consultant.)
The below list of goals she made in August may give us a hint. Yesterday she posted this on Instagram and Facebook. She says she has accomplished 8 of the 10 "dreams I have made happen" (i.e. goals she was setting back in August, but talking about them as if they were already true).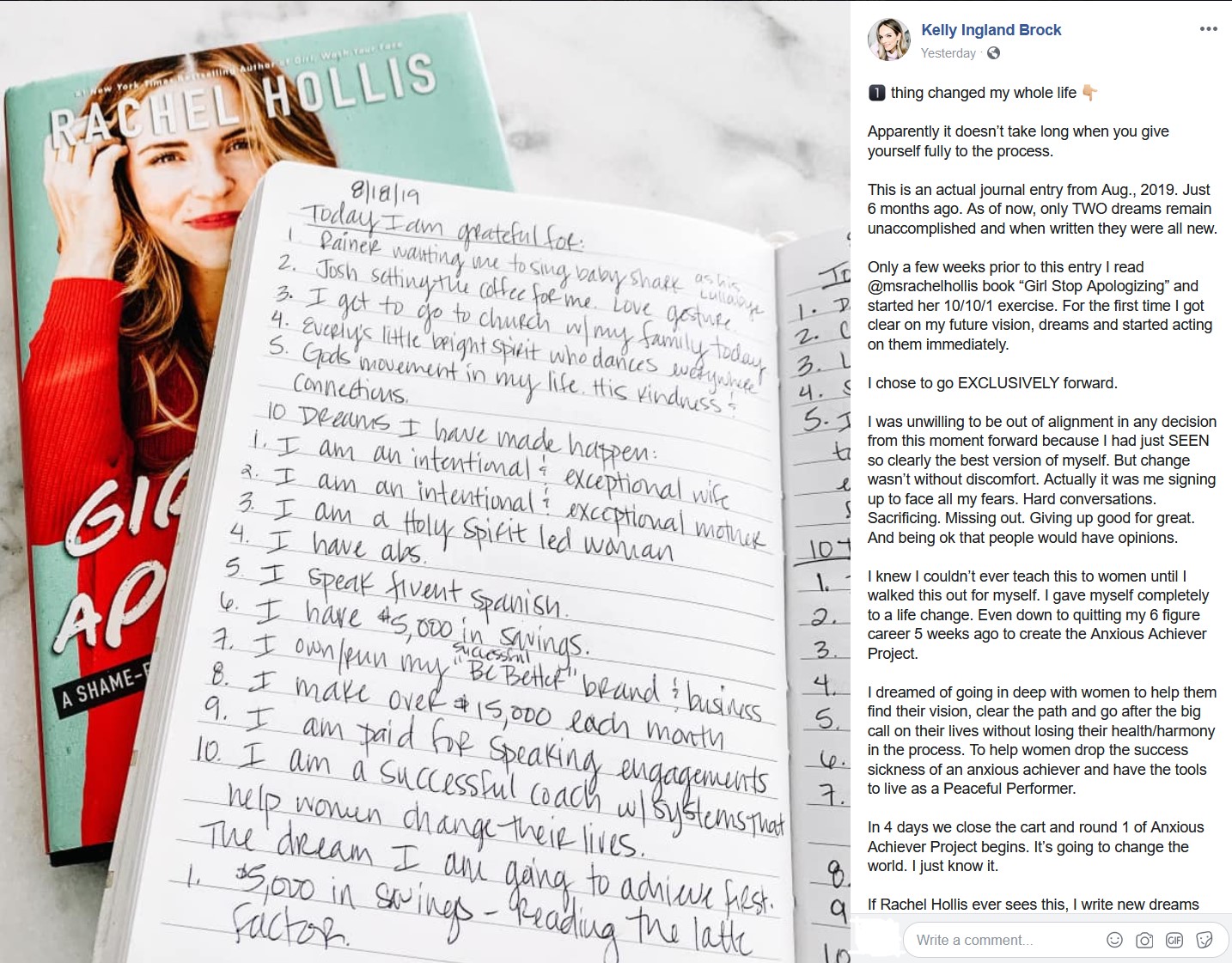 Of the 10 goals, these stand out for me:
I have $5,000 in savings
I make over $15,000 each month
First, imagine making six figures a year and not having any money saved. That's sad, especially if they are a dual income household. (I have no idea what, if anything, her husband does for a living.)
Second, she had a goal to make $15,000 per month, which is almost double her Mary Kay income. She had been a top director for some time, and didn't appear to be moving up. Maybe she got fed up with being stagnant? Maybe she saw an opportunity with the life coaching, as a number of top directors and NSDs seem to have done?
It seems to me that money was the biggest factor driving this change. But if you listen to Kelly talk on Instagram and in podcasts, it seems to me that she was very unhappy in Mary Kay. If that's true, I can imagine that it wears on you day after day if you have to keep pretending to be positive and can't tell any of your MK "sisters" how you are feeling.
And then there is the fact that her husband used to hate MK, as she mentions in this September 2019 post that went on Facebook and Instagram: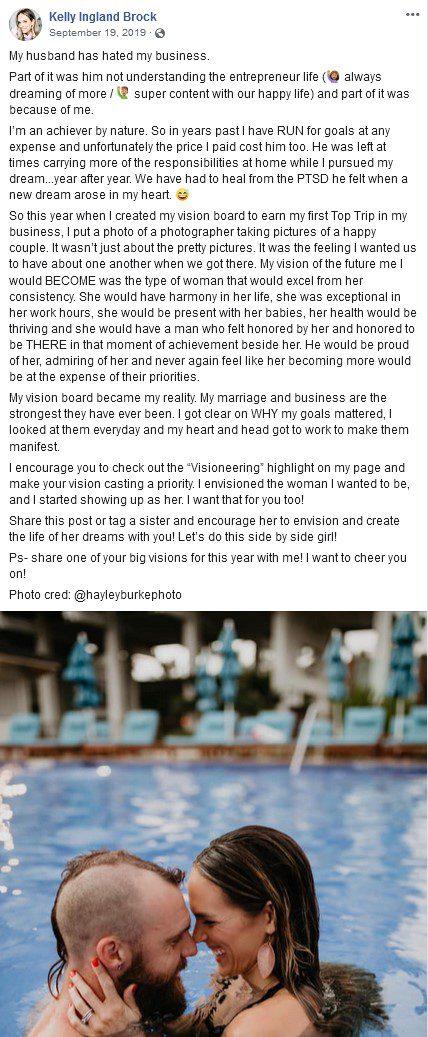 She said that her MK business was the strongest it had ever been, and that her husband didn't hate it anymore. She says in this Facebook post that she was previously sick with anxiety and depression but had taken control of her finances and was better than ever. So why leave?
I wonder how many other top directors and NSDs will be leaving MK as the numbers keep falling?