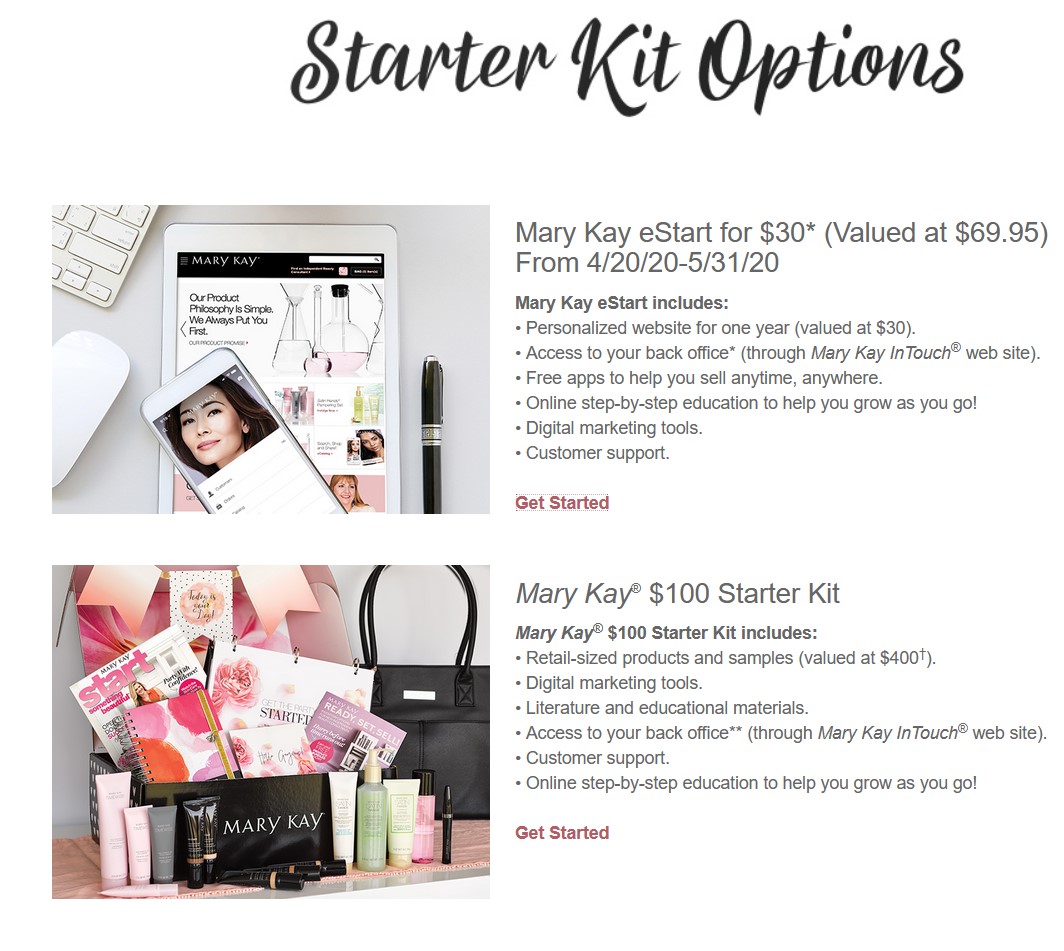 Written by SuzyQ
In April, Mary Kay gave women an opportunity to start up as a consultant for only $30. For your entrance fee, you get to call yourself a consultant and have a MK website.
If you want to be a consultant and get a starter kit, you can pay the normal $100. For that you get retail sized products worth $400 at suggested retail pricing and some marketing literature.
Is it true that you can start a Mary Kay "business" for only $30 or $100? For $30, no. You have nothing. No products for anyone to try. You only have a website that allows you to start taking orders.
What about with the $100 starter kit? It's not exactly only $100. There is also tax and shipping, so technically it's about $120 depending on your sales tax rate. But that's not a biggie. The biggie comes with the other stuff a smart business woman needs.
Your director wants to set you up for success, and she will tell you that her job is to give you her best advice, so she will talk about business cards, a website & product reorder labels. You can get the business kit, and that saves some money on ordering those items separately, but it still adds up.
She will talk with you about attending her meetings because she is so busy, she can't really train everyone in her unit individually, and the training at the meetings is fabulous! There's only a small fee for that, because of course it's only fair that everyone chip in a small amount of money to cover the cost of the fee to rent the room. And she will ask you to bring a couple of friends with you, so you can work smart and not hard. She will talk about you doing a power start, and earning your pearls of sharing. And then she will talk about inventory. (Because you can't sell from an empty wagon. And no one wants to wait for their products. And you'll sell a lot more if they can get their products right away.)
Generally, you will be given a sheet of paper with a little "quiz" on it to determine what you want from your business. Once you add up the numbers for your answers, there will be a suggested inventory package to help you achieve this goal. The smallest package will be $600, on up to $3,600. Depending on your goals. Funny that it doesn't mention that you could order less, and you "need" $600 wholesale even if you plan on doing almost nothing.
The largest package will be discussed first, even though that may not be the suggested one for YOUR goals. You will be told about all of the freebies you can earn with each of the higher inventory levels, and the star prizes you will receive. As she goes down the list of inventory packages, you may notice her voice tone going down to match. There will be some sadness as you reach the bottom of the list, maybe even a head-shaking, as she explains that a $600 is essentially a personal use package, with little free stuff.
You will be told that it doesn't matter to her what package you choose, but her experience has been that her customers do not want to wait, and Mary Kay herself said "You can't sell from an empty wagon." While she is saying numbers and you are hearing money, there's a bit of a disconnect.
She will encourage you to stretch and to believe in your ability. She will discuss financing options, and will probably encourage you to get a credit card. She will have more options than you have objections, and will wear you down.
You will learn that personal debt is bad, and business debt is good. (It's really not even debt, it's an investment!) Your product is your personal ATM, you make half of what you sell, and you can have this paid off before you know it because the product just flies off the shelf and sells itself. Besides, there is a 90% buy back guarantee, so this is essentially a risk-proof decision.
When you can finally get a word in and explain that you prefer that people pay up front and then you order as needed, she may furrow her brow a bit and tell you, confidentially, that she has never seen anyone have any success doing their business this way, but, if that is what you want to do…
There will be no free product, you know, and she knows lots of people who will buy from someone else if their consultant doesn't carry an inventory. She just wants to set you up for success. After all, would you buy a dress from a store that just had pictures of the clothes instead of the actual items? Of course not. And you are a business owner!
So, your $30 or $100 decision that may not change your financial picture, but just could change your life, is not entirely accurate, or then again, maybe it is.
What you thought was only $30 or $100 to start a business has suddenly turned into $1,000 or $5,000.