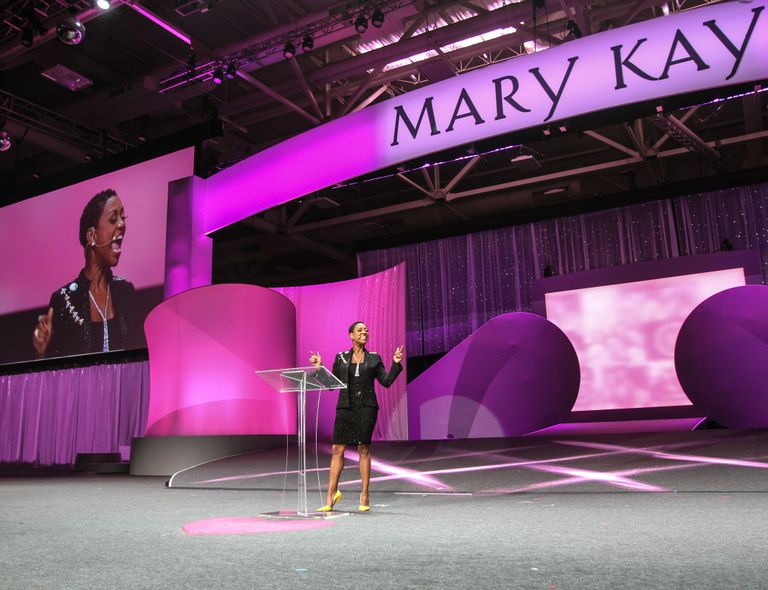 Written by SuzyQ
Here's a basic rundown of Mary Kay's seminar and what you can expect to "experience." Cold hard reality about what it takes to get through this three days of heat, irritation, rah-rah, and very little learning. By now, your director is being pressured to increase the number of unit members attending, and you will be asked for some additional funds to pay for your unit banquet/party/dinner. It's another can't miss event.
Have you arranged transportation? Sometimes it is cheaper to fly than to drive. There will be a shuttle to take you to the hotel from DFW. People in pink will show the way. It usually costs about $20-25 plus the tip. This year it's probably more.
You ARE staying in the NSD's hotel aren't you? Never mind those inflated prices; it's the principle of the thing. The hotels are assigned to NSDs based on area size, it is so important to stay THERE. If the block of rooms is not filled, your NSD may have to absorb some of the cost of her suite, and the price your directors are paying for your gifts from your NSD might go up accordingly.
Plan on the room being $250 a night plus taxes. The more women you have in your room, the less you pay! Don't worry about your roomies… They are sometimes assigned and you are not going to be spending that much time in your room anyway. It's good to allow two to take showers at night and two in the morning; it saves some time in the morning. The hotels have hair dryers. Sometimes they have in room coffee. If not, it's okay though, you can pick up a cup at the convention center for about $5. (Please note, they have already started brewing it, it may be a little thick and bitter.)
Aren't you pleased that Mary Kay charges only $250 for this adventure?
The first stop in this whirlwind is the area awards banquet. You have been assessed an extra fee for this, but it is so worth it. If you are not a top achiever, you will still enjoy the chicken dinner and get to watch lots and lots of top achievers receive lots and lots of tacky, but meaningful, gifts from your NSD for their efforts during the past seminar year. You may notice that the directors all have the same color of clothing on. It's a "œtheme"€ and those who do not comply with the color code are to be pitied. Don't count on having the tea/coffee/water refilled after the awards portion of the banquet starts. Sorry.
When you have a pricey little snack in the hotel, please don't warm chat the wait staff. They have been hit up more times than you can count, and are simply not interested. They will, however, appear interested, because they have learned that their interest level is directly related to the amount of your tip.
The vendors are a fun time! And amazingly expensive. You will note that there is a directors only section. This is where we buy the tacky gifts we tempt you with for the next year. You will not know that the books that are sold in your area are a little more expensive than the books we can buy in our area. If you find the book that will turn your business around and give you just what you need to move forward, ask your director to pick it up for you on her side. Save your money. Check eBay or Half.com. This year's Expo items will be on eBay in a month or two.
You can sleep in and miss the classes. You won't learn anything new. It's always the same thing year after year. Book, sell, book, recruit. Use all the products. Be polite. Dress professionally. Sell the sizzle. Don't be negative. Avoid negative people. Attend every meeting and every event. Drive free. Become a director. Awaken the sleeping giant within you. (Not where you want to be? It's your fault; you are not listening to your director.)
Directors, your classes are the same too, regardless of level. Bottom line for you, recruit and bring in those stars. Cream rises, so work with the cream in your unit. It's a numbers game, work the numbers. Directors recruit directors, so don't ignore your personal business. Don't reinvent the wheel. Use the meeting planner on InTouch. Get to 50 unit members, to 100, 125, 150, 200, 250. Get into a Cadillac. Get an office assistant. Get that Pearls of Sharing program on the front burner and move those women up. Get a new unit, let the dead reds go. Get busy. Get on target for NSD. Awaken the sleeping giant within you. (Not where you want to be? It's your fault, you are not working hard enough, you are not an effective leader, and you are not listening to your NSD.)
There will be much excitement as the new products are unveiled and romanced by the corporate staff. You will be told again, that MK products are cutting edge, top of the line, researched thoroughly and on trend. It will be oh so thrilling with much clapping and some tears and someone from corporate will take the stage and talk about how much the company has grown this past year. You will be reminded that you are in the right place at the right time! Those negative blogs are NOT having an effect on the company, its leadership or its beloved sales force.
As we have discussed on the blog a number of times, the recognition, the name badge ribbons, the unit clubs, the trips, jewelry and hype "earned"€ in some cases is fraudulent. These women know on some level, that they didn't earn their praise, so they will redouble their efforts for next year. Meanwhile, going across the stage, or coming down the stairs waving to thousands of women who don't know who they are and don't care is the epitome of success in Mary Kay.