Another day, another set of false earnings claims from someone who should know better. Mary Kay sales director Kimminee Costello posted on Facebook over the weekend.  She listed a litany of "facts," many of which are flat out lies.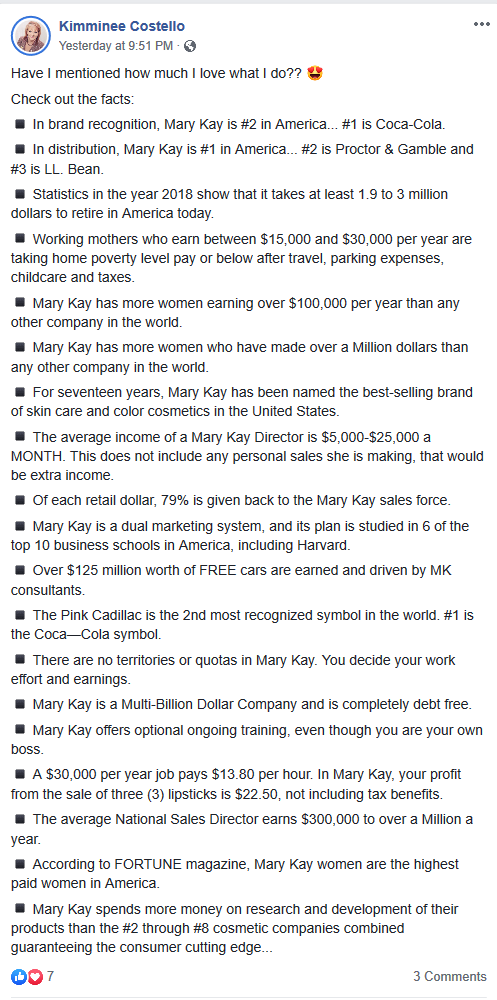 Let's break down her false earnings claims.
"Mary Kay has more women earning over $100,000 per year than any other company in the world."
This lie has been circulating for years. There is not one piece of evidence out there to support this because it's not true. But it's been parroted for more than 20 years.
"The average income of a Mary Kay Director is $5,000-$25,000 a MONTH. This does not include any personal sales she is making, that would be extra income."
TRUTH: The top 400 out of 12,000 sales directors make $5,800 or above. So her average is clearly a lie.
In fact, most directors struggle to make minimum monthly production of $4,500. Even if a director makes the maximum commission of 26% on all of that production, the commission check is $1,170. That's the reality.
"The average National Sales Director earns $300,000 to over a Million a year."
TRUTH: Of 220 national sales directors, half make less than $10,000 a month ($120,000 a year). Even many of the very top NSDs in MK don't make close to $300,000 a year. Do you know how many NSDs make more than $300,000 per year? The "inner circle" NSDs.  12 of them.  Here is the listing of the NSDs "on target" for inner circle right before the end of last seminar year.

If Mary Kay is such a wonderful opportunity, why do they have to lie about the numbers?
UPDATE: NSD Elizabeth Muna gets in on it too.
Sales director Carrie Zuberer follows suit with the same false income claims.
And sales director Mary Clarke.
Senior sales director Tina Smith repeats it.