This is a topic that we discuss a lot because it is so important. How often have you heard "my friend makes good money as a sales director in Mary Kay"???
Except it's almost certainly not true. All the evidence suggests otherwise. Mary Kay won't publish hard numbers because it's such an indictment of this scheme. So we have to figure it out on our own.
In January, Kristin Sharpe let us know that there are 9,000 sales directors in the U.S. That's a far cry from the 14,000 directors they had in 2007, shortly after we started this venture known as Pink Truth (formerly Mary Kay Sucks).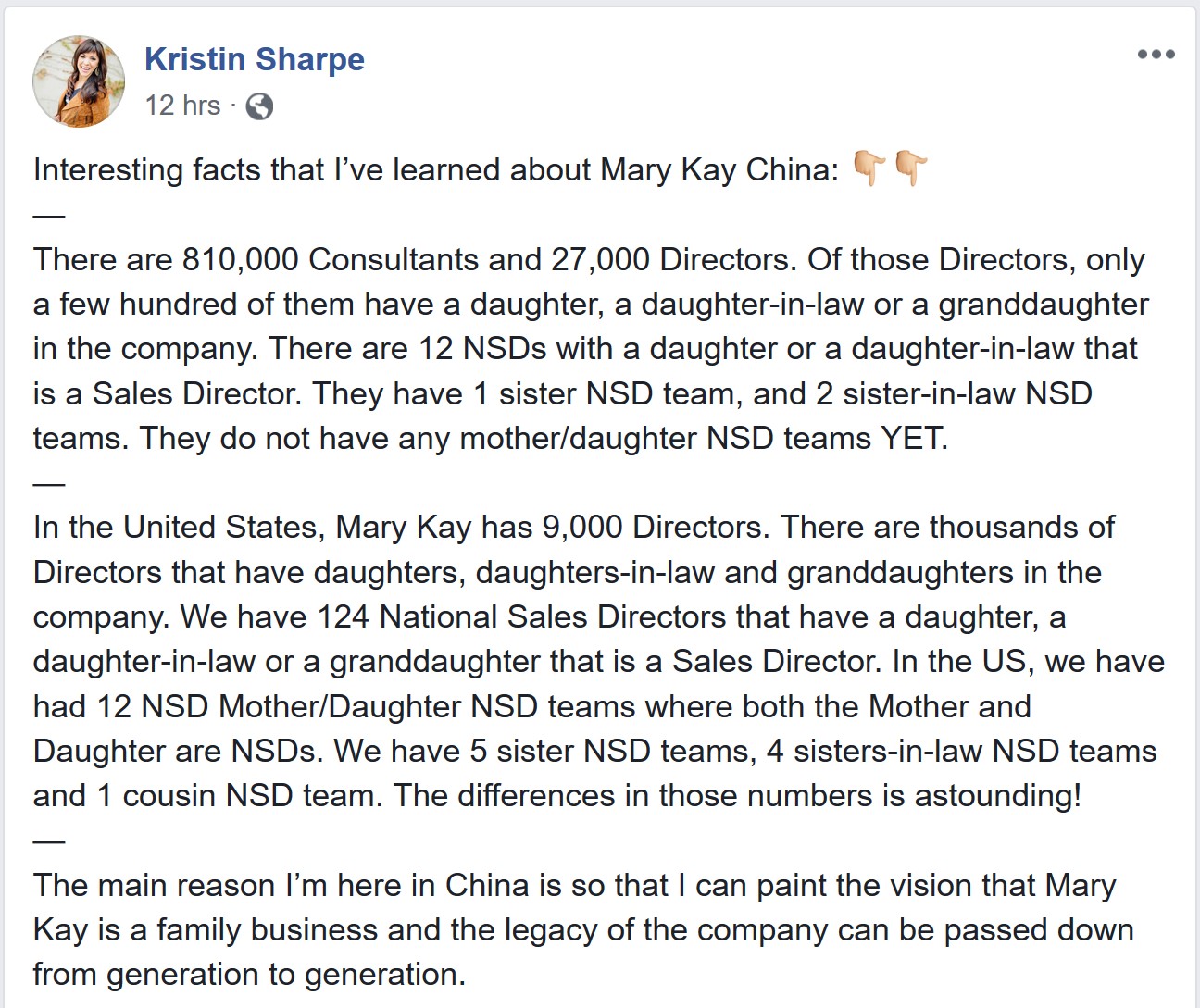 Applause Magazine lists the top 400 sales director commissions (100 from each of the 4 divisions). The very top sales director in September 2018 made $16,000. The number 10 director made just over $12,000. Director number 400 made just over $6,000.
And 8,600 directors made less than $6,000 for the month. So 95.5% of directors make less than $72,000 gross commissions (before all the business expenses) per year.
Can we figure out how much they really make?
There are supposedly 1,100 pink Cadillacs on the road. (We can safely assume that 200 of those are NSDs, with the other 900 being sales directors.) Cadillac production is $51,000 per quarter, or $17,000 per month. Using an average commission rate of 20%, that's $3,400 commissions per month, or $40,800 gross commissions per year.
So now we know that 8,100 sales directors make less than $40,800 per year. (9,000 total sales directors, less the 900 who are in Cadillacs.)
Most recently, the Mary Kay Inc. reported 4,100 career cars on the road. That means 3,000 non-Cadillacs are on the road. We don't know how many of those are "grand achiever" versus "premier club," or how many of those are sales directors versus consultants. But let's look at this in the most rosy way possible. Let's assume they're all sales directors.
Do you realize this means that over 5,100 sales directors don't even qualify for ANY car? (That's 4,100 total cars less 200 NSDs in cars = 3,900 cars that sales directors could possibly be in. 9,000 total sales directors less 3,900 = 5,100 aren't in a car.)
The lowest level (grand achiever) requires $7,000 of wholesale production per month. That's commission of $1,400 per month if we use our 20% estimate. That's annual gross commissions of $16,800. (Before expenses!)
Let that sink in…. at least 5,100 sales directors (56.7% of them) in the United States make less than $16,800 per year.
I've told you before that at least half of them can't even make the minimum production of $4,500/mo on a consistent basis, which would give them commissions of $900 per month ($10,800 per year).
Let me summarize for you. Of the 9,000 sales directors in the U.S.:
400 of them make $72,000 or more per year – that's 4.4% of directors
500 of them make $40,800 to $72,000 per year (this is the 900 sales director Cadillac drivers less the 400 in the top tier, shown in Applause) – that's 5.6% of directors
3,000 (at most) make $16,800 to $40,800 and qualify for a career car – that's 33.3% of directors
5,100 make less than $16,800 per year and do not qualify for a car – that's 56.7% of directors
And in case it's not already clear, take a look at the bottom two bullet points. 90% of directors make less than $40,800 per year in gross commissions. Deduct all your business expenses, and what do you have left?
Being a director is supposed to mean you finally make the big money. Except almost none of them ever will.