When you first become a Mary Kay Consultant, you are told that the "real money" is in becoming a sales director. They flaunt the "high commission checks" and make you believe that these "high checks" are normal checks. (Note: They're not. They're one-time deals.) They encourage you to recruit your customers, drastically reducing the money you make. Instead of selling your customer $200 of products at retail pricing and potentially profiting $80 or so, you recruit the customer who places a wholesale order of $225 ($450 retail value) and you make a whopping $9 (your big 4% commission).
Does that make any sense? Of course not. But they tell you that by building the volume of people on your team, you eventually make it up. Especially because as a sales director, you have the opportunity to make up to 26% regular commission on unit order. (Newsflash: Even at 26%, you still would have made only $58.50 on that recruit's order. You're still in the hole.)
Every step of the way, they encourage you to move up the career ladder. They tell you that the BIG money is on its way. And yet, the truth is that the majority of sales directors don't even make minimum wage. Out of 9,000 sales directors in the U.S., 5,100 make less than $16,800 a year. A tiny fraction of women in Mary Kay make decent money, and that seems to be enough to give women hope and keep them trying and spending money on inventory they don't need, even though the hard statistics show that almost no one makes money in MLM.
It's sad when someone's efforts leave them empty-handed. But it's encouraging when a woman is big enough to admit the failure of Mary Kay. Lana Teaford completed DIQ on July 31, 2019, and became a director on August 1, 2019.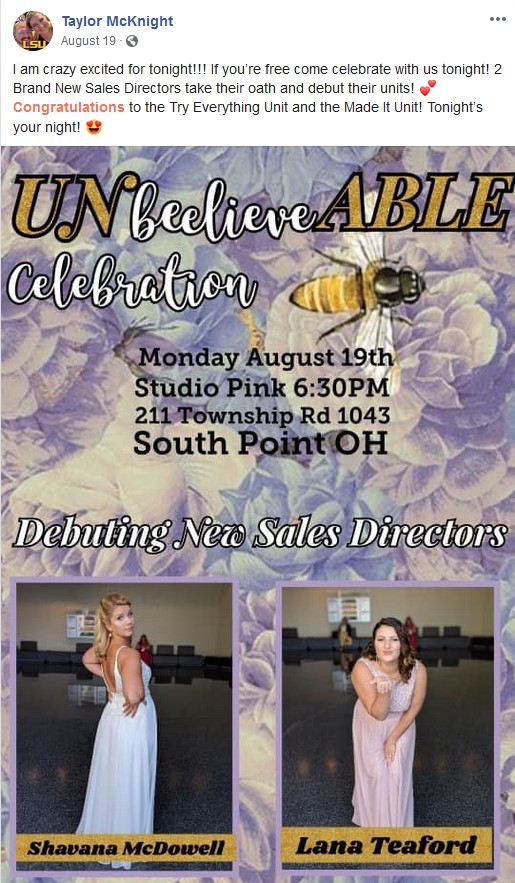 On October 22, Lana announced that she had quit Mary Kay. They call it "stepping down." What that means is that she likely didn't make the minimum unit production of $4,500 wholesale per month for August and September, which automatically gets you kicked out of directorship. Even if she HAD made the minimum, her commission check each month would have been $1,170 maximum.
Lana said in the below Instagram post: "But when my family is struggling and not making enough money, you have to step back and take a reality check…. But now it's time to grow up and help pick up the slack. Momma got a real job, with consistent income."
That's straight talk. A real job versus Mary Kay. Consistent income, something that is almost impossible as a MK sales director. Sadly, for most, directorship doesn't provide enough income to sustain a family. Congratulations to Lana for this awesome life change!