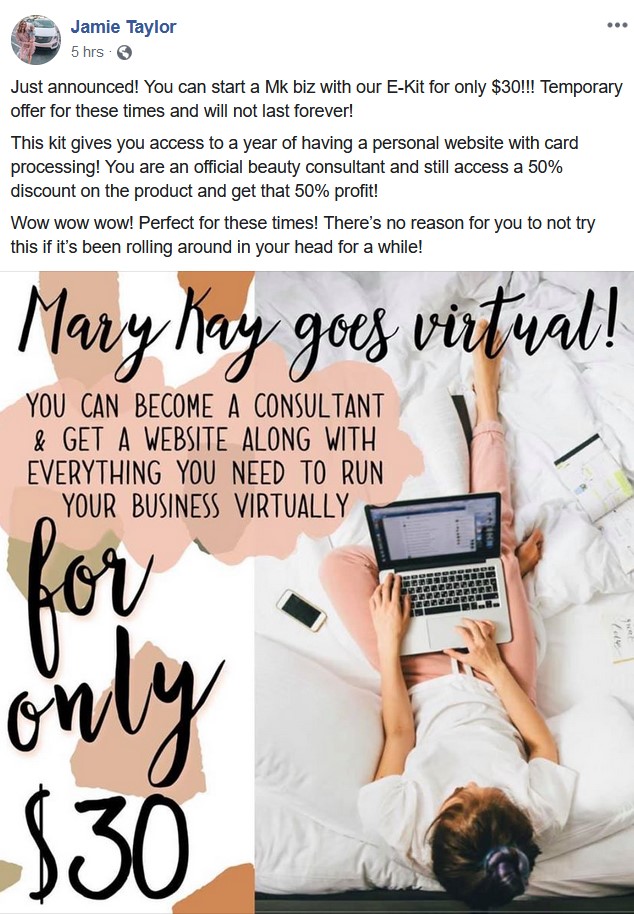 Mary Kay is hurting for new consultants. The ship has been sinking for some time now. But the COVID-19 pandemic has sent the company into a tailspin. Recruiting is down. Ordering is down.
So what can they do when the business is wholly dependent on large inventory orders from brand new consultants? Do a promotion to get people to sign up!
It isn't bad enough that consultants and directors are telling people they should use their stimulus checks to become Mary Kay consultants. MK Inc. has to get in on it by offering a special deal to sign up.
The idea is that you can become a consultant for only $30.
Except you can't really.
You do NOT get "everything you need to run your business virtually" for only $30. All your $30 gets you is a crummy website and access to the new Skin Analyzer app. You don't get any products to try. You don't get any samples for your customers. You don't get any catalogs or other materials that might help you sell some products.
If you want the actual starter kit, you have to pay the usual $100 for that PLUS the $30 to get the website and virtual tools.
But what's worse about this is the fact that you'll have to spend an additional $250 to get some products. The minimum order for products is $225 retail, plus you'll  pay shipping and sales tax on the full retail value of those products. Yes, you might have customer orders that will cover the cost of that initial order. And you might not.
No matter how you slice it, no one is really going to start a business for $30. This is simply bait. And just wait until your recruiter starts twisting your arm to spend $600 or $1200 on an inventory package… because of course you need products on hand so you can ship them out right away and we're not sure when manufacturing will resume, so you'd hate for Mary Kay to run out of products just when you need them to fill customer orders….