Written by PinkFreeSince2015
It is widely known that Mary Kay sales and recruitment victims are down. The endless promotions to entice new victims and the repetitive changing of product formulas or packaging continues, like the lip gloss change from August 1st.  What's interesting are the NSDs tip-toeing into a backup plan.  It's almost like they know something that consultants don't.
Whether it be Cecilia James' new home organizational company, Kimberly Copeland's desperate attempt at YouTube fame and her own TLC show (not ever happening!!!!) or my favorite… Dacia Wiegandt and her endless grasping for Instagram fame.
In recent months we have seen Dacia take a major step away from Mary Kay. First, she changed her Instagram handle from "nsddacia" to "dacialea". Then she opted to purchase a Lincoln Navigator, foregoing the trophy on wheels. We heard the excuse of how she needed a bigger SUV for her kids. Do those extra few inches really make all the difference?
Even more interesting is her focus on promoting products (not Mary Kay products, mind you) on Instagram. Dacia's feed is now filled with outfits, decorations and must-haves connected her LikeToKnow app. This app allows people to purchase items directly from the retailer and in return she gets a small commission. This has been occurring for months now. Her daily feed is connected to her LTK profile and her constant feed of stories show items her followers can purchase. She is even posting her daughter to promote different products. Everything based around her profile is now making money from other companies.
Is Dacia looking to diversify her marketing reach or could it be the ship is sinking?
If you remember, Dacia sold her MK studio ("Studio Pink") back around Christmas. She sold off everything including the furniture. After that her social media REALLY began to transform into an influencer rather than her Mary Kay life. The focus shifted.
Let's take a look at some attempts to claim Instagram influencer fame.
Dacia has received a paid partnership with a wellness and natural skincare company. How is this not a direct violation of her Mary Kay contract? Haven't other consultants been terminated for this?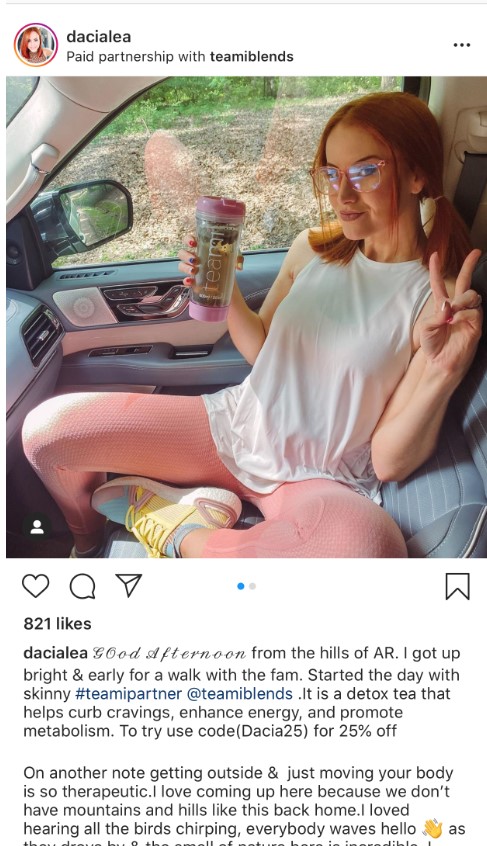 A highly posed product placement for a reputable protein shake. The desperate attempt to become a spokesman for a national company reigns supreme. Note, they did not pay her for this. She is attempting to gain their attention for a possible paid partnership.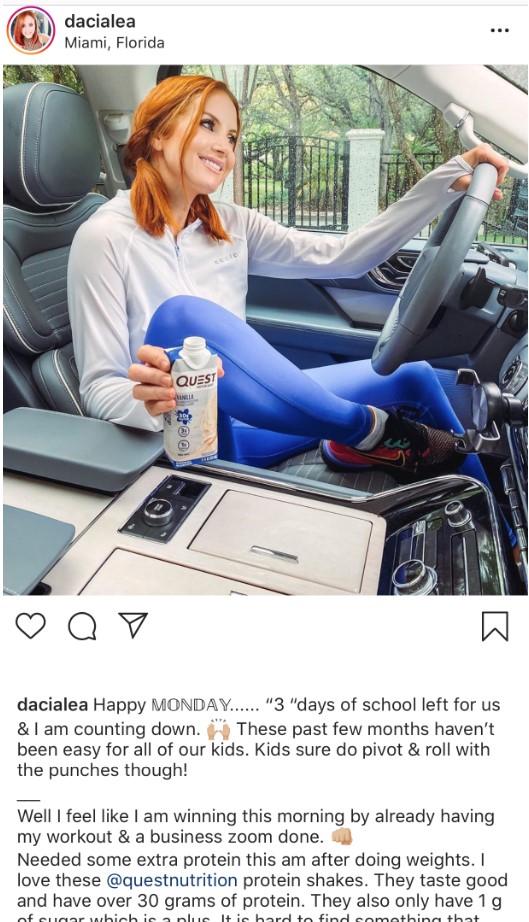 Another post was a staged kitchen photo with a name brand sanitizer and bleach. This was followed by her TikTok video.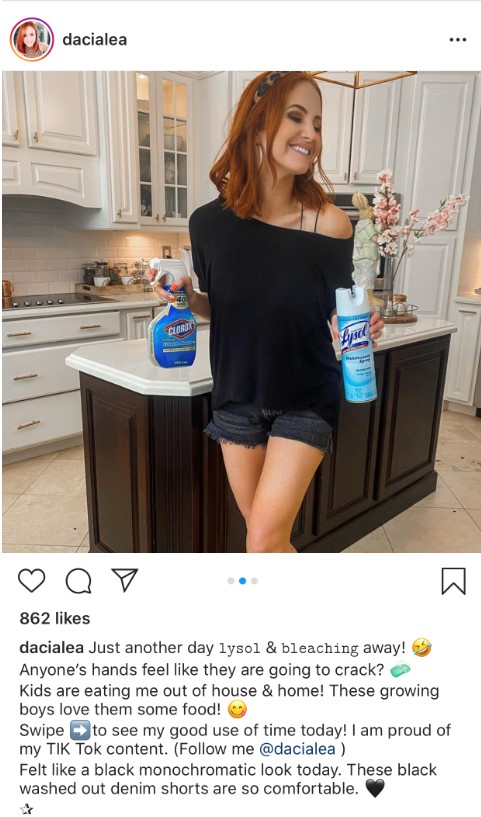 One of the most socially unaware posts was the Mother's Day picture highlighting a Hermes blanket. (Does she even pay attention to the number of people who are out of work right now?) Keep in mind the link to purchase the blanket was also linked to her Like to Know app.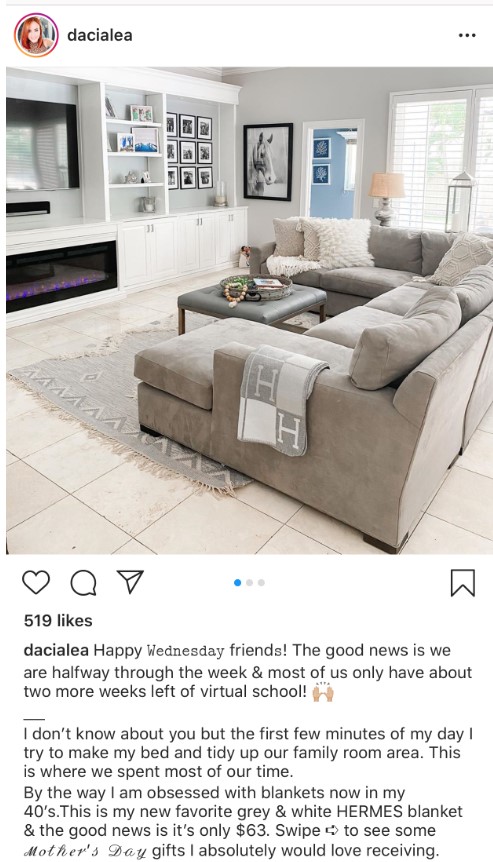 In recent days she has been posting an abundant amount of leisurewear outfits. This clothing comes from one company, which happens to be a new MLM called Savvi. (Fun fact: At the moment this is being written, if you click the "opportunity" link on their site, it takes you to clickfunnels.com.) Savvi is also the parent company of Piphany, an online clothing retailer. The Savvi brand self-promotes themselves to be an affordable alternative to Lululemon with comparable product quality. This brings me to a post the other day.
This post depicts the opportunity to style and design your life however you choose and the grateful ability to work from home in leisurewear. You then see "Clothes: DM me for link". This is where her marketing and branding changes. Usually she posts a promotional code for a certain amount or percentage off of purchase or contact a direct person/link to purchase.
This one is different, why? Well, Dacia is now a consultant for Savvi.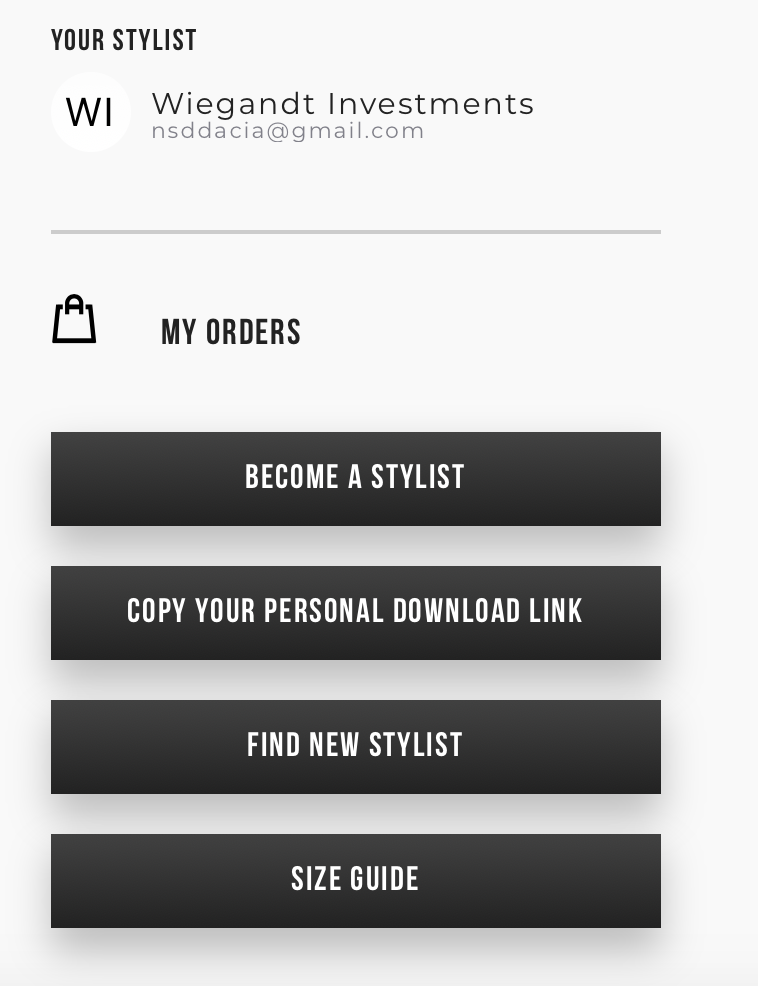 The facade of Dacia Wiegandt's MK fame and success means absolutely nothing in the real world.
Does the constant need for fame and recognition ever go away? We saw this firsthand after her temper tantrum when her luggage was lost. If we remember, she posted the email stating how she would blast this out to all her followers and expose their lack of customer service. Plus, don't forget the outrageous amount she was wanting to be reimbursed. The entitlement created by the NSD position is outrageous. The faux mentality of being a "celebrity" amplifies their narcissistic tendencies.
I hope potential new recruits will see that even the high up NSDs are developing an exit strategy.
NSDs are seeing the writing on the wall. The ship is sinking fast and their residual income is dwindling even faster. For years, the numbers have been declining. Fewer and fewer people attending seminar, more NS's retiring than being promoted and the desperate attempts to maintain unit production continues.
Consultants, please see the writing on the wall. The NSDs are leaving, you should too!