How Much Do Mary Kay NSDs Make?
Yesterday we saw that one Mary Kay NSD admits almost everyone loses money in MK, and she doesn't make an executive income (even though she's at the top of the pyramid). Did you ever wonder exactly how much the Mary Kay national sales directors are making?
Wonder no more!
I've taken the liberty of adding up the numbers for the seminar year that ended in June 2020. Mary Kay has a bad habit of presenting the numbers in a way that never gives you the full picture. So this forensic accountant is happy to put the pieces of the puzzle together for you.
I took the numbers presented in Applause magazine through May 2020, then added June 2020 which was presented separately, to come up with numbers for the whole year. Behold: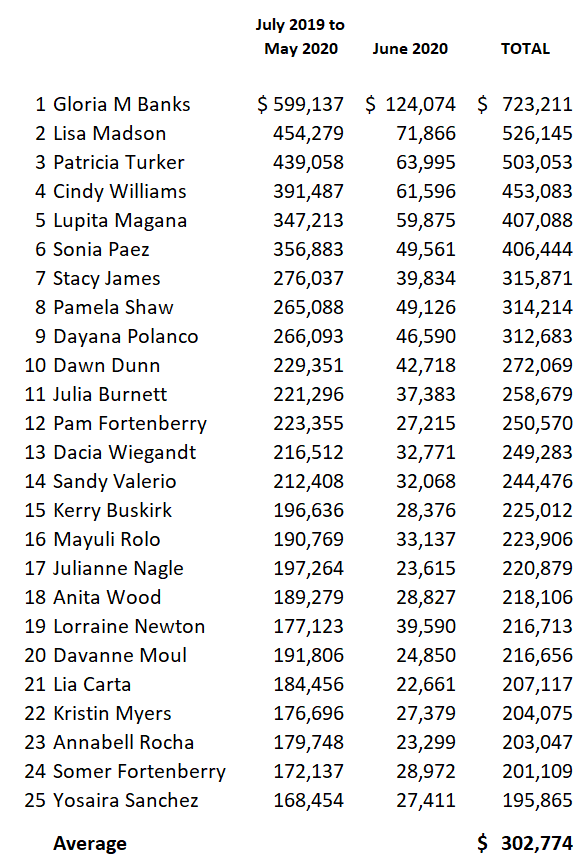 A few at the top (Gloria Banks, Lisa Madson, Patricia Turker) make massive amounts of money from this pyramid scheme. It's interesting that of the approximately 200 NSDs in the US, only the top 24 make more than $200,000 a year. Reminder: this is the very, very TOP of the company. This is also the commissions they make BEFORE chargebacks and business expenses. Those making gross commissions in the $200k range probably have business expenses around $50k (or more) per year.
We've learned before that only about half of the 200-ish NSDs make $10,000 per month or more.
How are they at the absolute top of Mary Kay, and not pulling in an executive income? How often do we hear the phrase "executive income" thrown about in MK? And yet almost no one is making an executive income.
You should remember this too: These women are making their money off the backs of other women. Thousands of women below them are losing money so the money can be passed up the pyramid to these NSDs. The NSDs run around and hold events where they say "anyone can make money" even though they know almost everyone is losing money. They pretend they are offering an opportunity to sell products, knowing you can't make a living selling products. They know the real deal is recruiting people into a sham and getting them to buy inventory packages. Selling a scam is not a career or an honest living.