As we all know, the market for Mary Kay with actual retail customers is pretty small. Mary Kay depends on inventory orders from consultants and directors. Corporate has little regard for whether the products are actually sold to bona fide customers. Mary Kay's customer is the consultant and they're happy when products go from the warehouse to the consultant.
Quite simply, Mary Kay relies on the recruitment of new consultants for its survival. The products are really secondary, and are merely the vehicle used to lure in new consultants.
What if Mary Kay decided that "real retail" was the way to go? What if the executives finally admitted that the billions of dollars pried out of the hands of consultants are no longer worth it? What if they admitted that damage is done to millions of women each year with this scheme? What if they decided to get away from the multi-level marketing scheme and made Mary Kay a real retail business?
Last week I polled members on the issue of whether Mary Kay could make it as a real retail makeup sales company. Here are the results: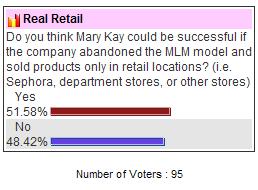 I was surprised at how evenly the vote was divided.  I would love to hear everyone's thinking behind their answers. Why or why not do you think Mary Kay could be successful at real retailing?
Personally, I think Mary Kay would have to be sold in Target or Wal-Mart to be successful, and the prices would have to be set accordingly. The Mary Kay products simply aren't of a quality that they could be sold in a store like Sephora. They could be sold in Ulta, but would have to go in the discount make-up section, in my opinion.
Give us your opinion!