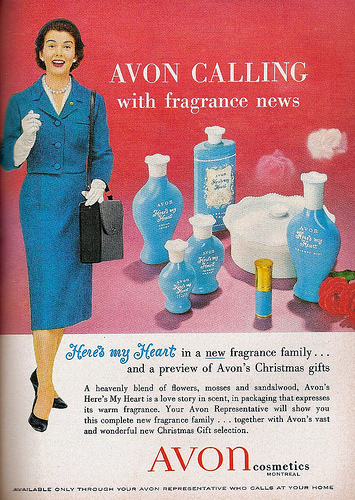 I've long felt that Avon is really no better than any other MLM out there which pushes recruiting and building the pyramid. For years, Avon did have more of a focus on retail sales, but the profits to be made from doing so were very low because the products have such a low pricepoint. As Avon lost market share and watched other MLMs grow exponentially, management realized the key was recruiting.
Over the last 5 years or more, Avon has shifted to become more of a recruiting-focused operation, with inventory frontloading a new and exciting part of the company. And so Avon is just as damaging as the rest of the MLMs I oppose. One of our readers provides this insider's perspective on the business of Avon:
Avon is a pyramid scheme now. When I try to bring this to the attention of reps on the internal message board, they attack, as expected.
But this must be searchable on the internet. Is Avon a pyramid scheme? Yes.
In 2008-2009, Avon has instituted huge bonuses for Leadership. And not just one bonus scheme, at last count, two bonus schemes that can both be earned at the same time. Now Avon has added yet another bonus scheme open only to the women in Leadership. I believe they can all be earned together.
We are talking thousands of dollars and gifts, too.
Avon has changed. These Leaderships representative are encouraged to call and harrass their 'downline' when the downline doesn't place an order or doesn't pay an order.
And Leadership has sales goals they must meet to get their bonuses. They can choose to motivate their downline to sell. Only Avon and the Leadership reps have recruited so many reps in single areas that it is difficult to create a sales base.
Or they can take a shortcut and pressure their downline to order more and more inventory and demos to help guarantee the 'upline's' bonus check.
I have even witnessed uplines getting so desperate to get that check that they buy inventory themselves to make up for the difference. And that inventory starts to age the instant it hits her porch. Which means more old inventory out on the street giving customers a negative impression.
Sadly, nearly everything that's happened at MK is happening at Avon now.
And if you don't go into Leadership, stay off the Leadership radar. Because they (the unethical scary ones that is) will punish you and try to put you out of business. Try to stay safe. Never confront a Leadership Cult member who threatens you or your business directly. Instead, go to Avon corporate, an attorney and the police if necessary.
(Attornies aren't really that expensive if you shop around. Some will accept retainers for as little as $100 to keep an open file on potential cases. Some only charge $50 or so to create legal letters that will keep you out of lawsuit hot soup. Think how much you spend on brochures and product.)
Approach your District Manager with caution. She may be on your side if you are threatened or otherwise harmed, but she may not. Get the contact information for the representative through Customer Service or 1800 FOR AVON instead of your DM if you can.
Look up what you can do legally-speaking on the internet. You will be surprised that just like with Mary Kay, there are protections in place already. You just have to tap in them.
Be careful out there, and approach other representatives with caution. They may be good women, they may not.