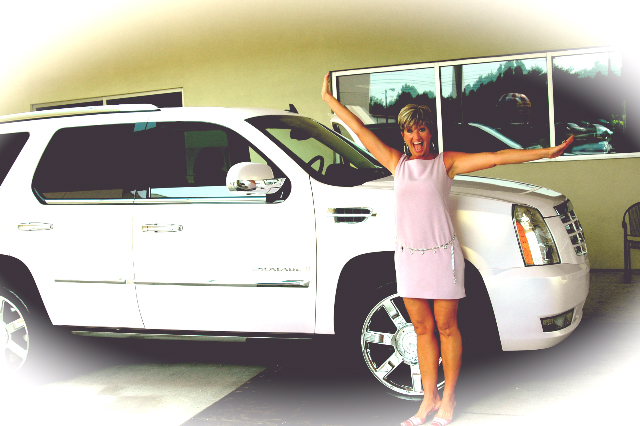 (This one was so good that I just HAD to recycle it!)
Did you know that God is now giving out pink Escalades? He is! Especially if you are Kathy and Dan Helou. Dan explains picking up the pink Escalade and then how fabulous it is that God gives out pink Escalades to those who work for Mary Kay, "a company that gives us a mission for the kingdom." So start saving souls with Mary Kay!!! What blasphemy.
On a more positive note… Dan admits that over half the arena at seminar was filled with people new to Mary Kay. And the other half is the sales directors who are sucked into the vortex. He says it's great that the company "renews itself" every year. Yeah. Great that 99% of women in MK lost money and were replaced. Fantastic.
From: Daniel Helou
Sent: Friday, August 17, 2007 11:09 AM

Subject: ESCALADE 4 U

WHILE KATHY WAS IN MY OFFICE, HER PHONE RINGS….IT'S OUR LOCAL CADILLAC DEALERSHIP (SONNY HANCOCK CADILLAC, GASTONIA) ANNOUNCING HER NEW, PINK ESCALADE WAS IN – AND BEING PREPPED….SHE COULD PICK IT UP I N AN HOUR.

WE DROPPED HER PINK XLR OFF FOR SERVICE (WE OWN THAT ONE, THANKS TO MK CASH COMPENSATION) AND PICKED UP THE PINK "HONKIN'" MACHINE… SO MUCH FUN…. HUGE… THE DEALER WAS TRYING TO DEMO THE FEATURES BUT ADMITTED.. "I'VE NEVER SEEN SOME OF THESE BUTTONS…THERE ARE SO MANY OPTIONS ON THIS CAR"

WE'RE DRIVING HOME…. LAYERED IN LUXURY… DEEP IN THE NEW CAR "SMELL" – AND WE BOTH FELL SILENT AT THE SAME TIME…. IN GRATEFUL PRAYER, FOR A COMPANY THAT GIVES US A MISSION FOR THE KINGDOM – A CALLING FOR OUR TALENTS – AND SURROUNDS US WITH ANGELS LIKE ALL OF YOU.

NEVER TAKE THIS OPPORTUNITY FOR GRANTED. REALIZE HOW PRECIOUS IT IS… TO HAVE THIS LEVEL OF EXPECTATION AND EXCITEMENT 26 YEARS LATER.

THOSE OF YOU, FORTUNATE ONES WHO ATTENDED SEMINAR… THINK BACK TO KATHY'S SPEECH ON OPENING DAY… WHEN SHE ASKED "ALL THOSE WHO ARE HERE FOR YOUR VERY FIRST SEMINAR, PLEASE STAND UP AND WAVE." REMEMBER IT WAS FAR MORE THAN HALF OF THE ENTIRE AUDIENCE. THAT MEANS, MARY KAY "RENEWS" ITSELF, EACH YEAR. THE CHANGES MAY SEEM STRESSFUL, BUT THE RENEWAL IS VITAL TO GROWTH. EMBRACE IT.

WE'RE SO EXCITED – AND ANXIOUS TO BE "BACK AT WORK" – PLANNING AN EVEN MORE EXCITING LEADERSHIP AND SEMINAR FOR NEXT YEAR.

CHARLOTTE ADVANCE, RIGHT AROUND THE CORNER… MANY PHOTO OPS WITH THE BEAUTIFUL "PINK ESCALADE!"

Daniel
Isaiah 40:31
And our dear SuzyQ had this reply:
Okay, came home from being away and SAW DANIEL HELOU'S POST ABOUT KATHY'S NEW CADILLAC. (Just wanted to see if there were any caps left for the rest of us…) Whew.

Just between you and me, this is nuts. I mean, really. Starting with the caps lock and ending with the distorted Biblical reference. It's Mary Kay at its semi-lowest. I even have the John Maxwell Leadership Bible (*sigh*) and it says nothing in there about MK. It does talk about waiting on the Lord. I will let Raisinberry handle the interpretation because I am on shaky ground here (Biblically challenged) but this rampant use of Bible verses taken out of context has gotten me a little unhinged.

So, Kathy did you or did you not have a Cadillac for a couple of years? You can't drive one AND take the compensation, too. But, you can drive an old one and take the compensation. So, she has been driving an old one? No biggie, lots of nsds buy their cars or another car that suits their fancy (although the suits at corp are a just little upset by this, I mean the Pink Cadillac is a trophy on wheels and all.) But anyway, you go girl! You got a big, and I quote Daniel here, "HONKIN' MACHINE" and I couldn't be happier. But dog gone it, you are canceling out the positive "Go Green" mission of Corporate. I mean they are planting trees to cancel out the return of the platinum compacts and you are now driving around a "HONKIN MACHINE" that gets about 14 miles per gallon (highway and city mpg averaged, according to the stats on the internet) And that's okay. I mean really, global warming IS overrated. You recycle, right? Moving on.

My goodness, what really gets me is your ability to spin. Like a spider! You are rejoicing in the fact that "MORE THAN HALF THE SEMINAR ATTENDEES" are NEW? This is good? I beg to differ. Mary Kay is "RENEWING ITSELF?" Au contraire, Daniel. This means that lots and lots of women are searching the internet to find out about this fabulous opportunity are finding that there may be more than a few glitches on that career path. "EACH YEAR THE CHANGES MAY SEEM STRESSFUL" Ya think? I agree with that, and we ain't seen nothin' yet. I am glad you are embracing it and you see renewal as VITAL.

I am seeing another foundation line, the on-trend minerals, that will need to be purchased. The Holiday Line will need to be purchased. The new colors and compacts and brushes, and sponges, and of course the shapes of the dual coverage and cream to powders will need to be purchased. The lipsticks. The lip and eye pencils. What a terrific opportunity to EMBRACE change!

I am "GLAD YOU ARE ON A MISSION FOR THE KINGDOM." We are, too! All of us here at Pink Truth!!!!! See, we do have a lot in common! Can't wait for the "PHOTO OPS WITH THE BEAUTIFUL PINK ESCALADE!"