The Reality of National Sales Director Commissions
Yesterday we discussed the lawsuit between Mary Kay Cosmetics and former National Sales Director Amy Dunlap. Mary Kay is suing Amy for using information on MK consultants to recruit to Isagenix. Amy is counterclaiming, saying that MK lies to women when it says that you "own your own business." Unfortunately for Amy, she is guilty of telling women the exact same thing while she was in Mary Kay. She is also counterclaiming, saying that the non-solicitation clause in her NSD agreement should be unenforceable.
In an affidavit in the lawsuit, Amy makes it clear whey she left Mary Kay. She wasn't making much money:
After years of being a Consultant with Mary Kay Inc., I became a National Sales Director ("NSD") for it on or around March 1, 2005. During my last few years with Mary Kay Inc. my sales bonus and commission income ranged from approximately $100,000.00 to $140,000.00. I resigned as NSD and began working as an Isagenix distributor in 2011. Isagenix, based in Phoenix, Arizona, markets mostly nutritional supplement products. Since becoming an Isagenix distributor in July 2011, my husband and I have been paid approximately $80,000.00 in bonuses and commissions generated primarily by my efforts in building our Isagenix business By my third month with Isagenix we were making $20,000.00 per month in bonuses and commissions from my efforts, which is much more income on a monthly basis than I had been making with Mary Kay Inc. before I resigned my NSD position.
Mind you, I don't think most of us would sneeze at income of $100,000 to $140,000 per year. But as a self-employed individual, we need to consider certain facts in conjunction with this income. As I explained in this recent post, all business expenses need to be paid out of this income. She received prizes as well, and while those are nice, you have to remember that she had to pay taxes (both income taxes and self-employment taxes) on all of those.
I estimate that Amy had about $40,000 in business expenses (including office staff), and then had to pay regular income taxes and self-employment taxes (which makes the net take home lower than if she had a job) out of the remainder.  Amy likely had about $30,000 to $55,000 left to support her family each year.
The most important thing to remember is that Amy was at the top of Mary Kay. Think about all the sales directors who are struggling to get to NSD, who believe they will have it made if they can just get there. Think about the sales directors who have been on the hamster wheel for years… trying to get to NSD… and repeatedly failing. (Amie Gamboian, Julia Mundy, Jen Besecker (formerly Semelsberger), Kim McClure, Pat Nuzzi…) Even if they finally get to NSD, they stand a good chance of making less than $10,000 before business expenses.
Remember Allison LaMarr, the big record-setter in Mary Kay who got to NSD the fastest and had it all? Theoretically. She was making a whopping $10,000 per month before business expenses when she quit MK. Her income broke down like this:
If Mary Kay Cosmetics is such a great opportunity, why so many quitters?
But back to Amy Dunlap. Here is what her gross commission income looked like over the years: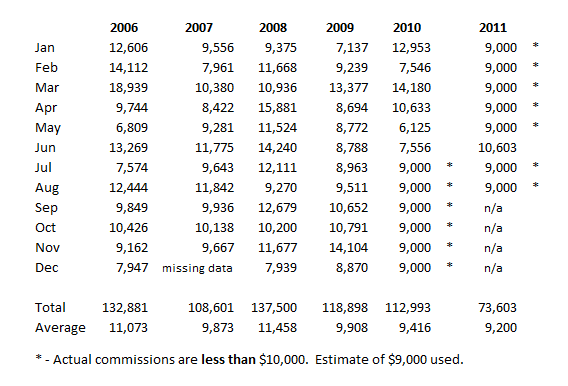 In mid-2010, Mary Kay stopped publishing NSD commission checks under $10,000 per month. Why? Because it illustrates exactly what we're talking about here: How you can make it to the top position in Mary Kay and still not bring in an executive income.  And this is not an isolated occurrence. It is happening to plenty of National Sales directors.
So at the top of the pyramid, Amy was barely making lower to middle management type wages, so she quit and went to Isagenix. She claims that within a few months, she was making $20,000 per month. How did she do it?
This is an October 18, 2011 interview with Amy Dunlap, who was said to be a "3 Star Golden Circle." (Large file!) She "advanced her business quickly," and the interviewer asked her how she did it, having been in network marketing before..
"The reason why I joined Isagenix was, definitely for – – and I mean I'm just going to be honest – it was for the compensation plan. That's 100% why…"
About Mary Kay (which she didn't actually name):
"We were really in a place financially where – – I was doing wonderful, but I was really in a place where if I was going to make a change I would need something were I could produce a high six figure income very quickly."
She said, "The people that I'm working with are ALL business builders. Every single one of them." She focused on these people for the first 90 days, and brought in people with "vision and ambition." She selected 10 "business builders" who were hard workers who wouldn't whine. They were told Amy's goal was to make $300,000 in her first year in Isagenix, and she needs 10 people to join the team with her right now. They created the same goal to earn $300,000 in their first year. Each decided on their top 10 business builders and mapped out a plan.
The word "Saturation" was thrown out as it relates to Mary Kay (referred to as her prior business). There are only 200,000 consistent users of Isagenix products around the world, so there is lots of opportunity to get people using the products. She calls it a "gold mine."
Amy feels like "… God just plucked me out of something and just put me into a place where literally we are in the right place at the right time." This a common phrase heard in Mary Kay any time a new product or initiative is announced… showing us how the same tired lines are able to be used as people jump from MLM to MLM.
I wonder exactly how many people on her Isagenix team were poached from Mary Kay? I suspect several, which is exactly why Mary Kay is going after Amy. If she had left and not bothered any MK consultants or directors, I bet Mary Kay would have left her alone.
Is Amy making $20,000 per month in Isagenix? Probably. Will her downline do the same? Probably not. The pyramid is set up for failure. If Amy gets her 10 business builders, and they each get 10, the pyramid already has 100 people in it. How would all 100 of them (who are going to be serious about this business, if we're to believe Amy) make $20,000 per month each? That would be $2 million in commissions per month for 100 recruiters, and this flies in the face of reality.
Do some people make big money in MLM? Sure. You will always have the "high earners," who are touted to show "what's possible" if you just work hard enough. The reality is that for each of those high earners, there are hundreds or thousands of other participants who lost money in the MLM.  And remember, the only way that high income is sustained is through a constant influx of new money-losers.