Back in May 2005, Allison LaMarr was flying high in Mary Kay Cosmetics. The company and its consultants couldn't get enough of her, because her fast ascent to fame meant that anyone could do it. Allison was the NEW face of Mary Kay, and the company used her every chance they could get to prove that MK was a legitimate opportunity.
In a May 2005 article in Applause magazine, the company touted Allison's accomplishments in this article. Here is the most interesting part, in which Allison professes that she "would never leave the Mary Kay life.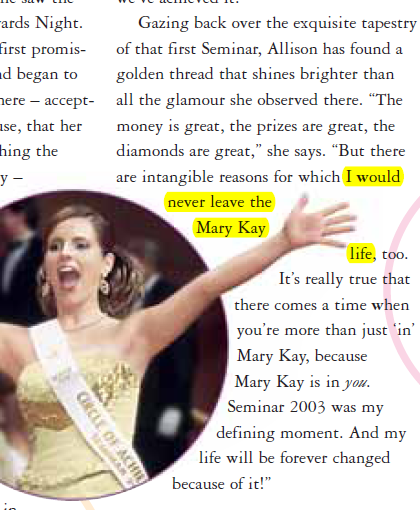 Yet five years later, Allison LaMarr quit Mary Kay with a flourish, saying:
So, after many months of prayer and consideration, examining the situation from
every conceivable angle, and seeking the counsel of my own mentors, it is time again
for me to begin a new chapter. Earlier this week I announced my intent to retire
early (at the "ripe old age" of 31!) as a Mary Kay Independent National Sales
Director to the corporate office, and now I would like to publicly share it with you.
So the company she "would never leave" became the company she left in a heartbeat because she thought she could make more money selling her training. Allison explained in her blog post announcing her "retirement" from Mary Kay:
Over the past several years, I spent a great deal of time traveling around North
America speaking to and working with thousands of women who had similar
desires of creating a life of freedom and abundance for their families. As I listened
to their stories, dreams, and frustrations, a specific theme began to resonate within
me, and I felt a new passion begin to boil. My message was attracting the attention
of women outside of direct sales into numerous varied professions, and I started to
realize that my true purpose expands beyond the walls of any one company or
industry.
But as some of us know, Allison LaMarr's story changes quickly depending on what "opportunity" she is currently hawking.
After her "true purpose" failed to "expand," she went to MLM Bellamora, and when that crashed, she went to MLM Seacret Direct as an "executive" and when that didn't work she went "back into the field" to recruit  a downline for Seacret.
And the strangest part is that women still follow this charlatan. Sad.