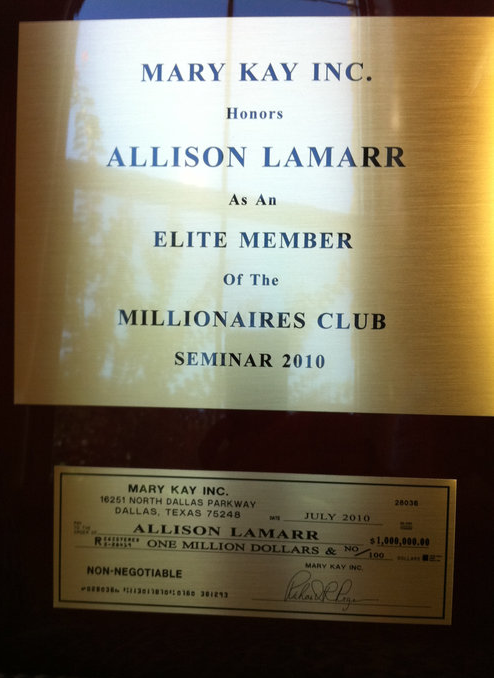 Have you ever wondered what life is like at the top of Mary Kay? Look no further than the standout beauty consultant Allison LaMarr, who quickly rose to fame within Mary Kay, and was put on a pedestal by corporate and sales directors.
We have documented on Pink Truth the meteoric rise of Allison LaMarr to the position of National Sales Director for Mary Kay Cosmetics. While being the fastest to reach NSD, she was also the fastest to quit. And now Mary Kay has sued Allison and her company Driven Inc. (also involving her husband James LaMarr) for breach of the NSD contract.
But was the fastest to reach "million dollar earner" status in Mary Kay Inc. also the fastest to broke? The evidence of Allison's downward spiral into financial hardship mounts, and this post is going to summarize what is known to date.
This is what Allison's commissions and bonuses looked like in Mary Kay:
Here was the big Mary Kay superstar, and her earnings were tanking. While I'm sure that there are plenty of people who would be happy earning $120,000 per year ($10,000 per month), there are a few important points to consider:
This was GROSS income. All business expenses had to be paid out of this, substantially reducing what is left to feed the family. As you can see in this post, Allison likely had $40,000 to $55,000 cash left each of the last two years with which to support her family.
You can see her income peaked at $223,000 and then steadily fell from there.
This is the highest position in Mary Kay. This is what tens of thousands try to achieve each year, and almost none actually succeed.
As Allison's income was falling, Mary Kay's patience seemed to be running out, and her financial troubles became apparent.
In late 2008, the house owned by Allison LaMarr and James LaMarr was put on the market. By that time, Allison's national area was down to only 14 sales directors (20 directors needed to enter and complete National in Qualification, but no minimum requirement after being appointed to NSD).
There was intense speculation that the home was being sold because Allison could no longer pay for it. She ended up telling the Mary Kay community that she and James were selling the house so they could move away and help start a church.
It now appears that the speculation about her inability to afford the house was right on target. According to Travis County, TX public records:
The LaMarrs owned a 3,600+ square foot home at 1426 Lofty Maple Trail, in Kingswood, Texas that they sold for $427,063 on 4/23/07. This home was originally purchased in 2005 for $308,560, with mortgages totaling $290,000 at the time of purchase.
Despite Allison's Mary Kay earnings being substantially lower in 2008 than 2006 or 2007, Allison and James LaMarr thought it prudent to get a new, expensive house.
They purchased a 5,000+ square foot home at 8201 Denali Parkway #3 on 7/25/07  for $1,307,722, with mortgages totaling $983,250. The first mortgage was at a 30 year note at 7% interest.
The home was sold by the LaMarrs on 12/1/08 for $412,500, or $895,222 less than they paid for it. Liens by the lender JPMorgan Chase Bank were released.
It is unclear how the unpaid balance on the mortgage was satisfied. While it would be possible for the bank to write off the difference, it seems that this would be too substantial an amount for the bank not to pursue. I have not found any court records indicating a suit or judgment against the LaMarrs, nor have I found any bankruptcy court records that would explain it.
A 30 year mortgage of $983,250 at 7% would require a monthly payment of $6,542 if both principal and interest were being paid.  If only interest was being paid, that would still be a monthly payment of $5,736. Annual payments on the mortgage alone would have totaled $69,000 to $78,000 per year. Property taxes in 2011 were approximately $22,000, so it is clear why Allison sold the house only a year and a half after purchasing it…. she couldn't pay for it.
If that wasn't bad enough, Allison and James LaMarr had tax troubles on top of that. On November 29, 2010, the Internal Revenue Service assessed taxes, interest, and penalties for unpaid personal income taxes for 2009. On April 22, 2011, the IRS filed a tax lien against James and Allison LaMarr for $37,315, the unpaid balance on the 2009 taxes as of that date. The lien was withdrawn on May 27, 2011, suggesting that the debt was paid.
It is impossible to know how much of that $37,315 balance was income taxes (versus penalties or interest) or what the Lamarr's total tax bill was for that year. It is clear, however, that this is just one more indication of the dire financial condition Allison and James LaMarr may have been in.
And then there's the little matter of Murray Smith. He is the guy that Allison hired to help her make millions as a motivational speaker, trainer, and business coach…. for the bargain price of $50,000: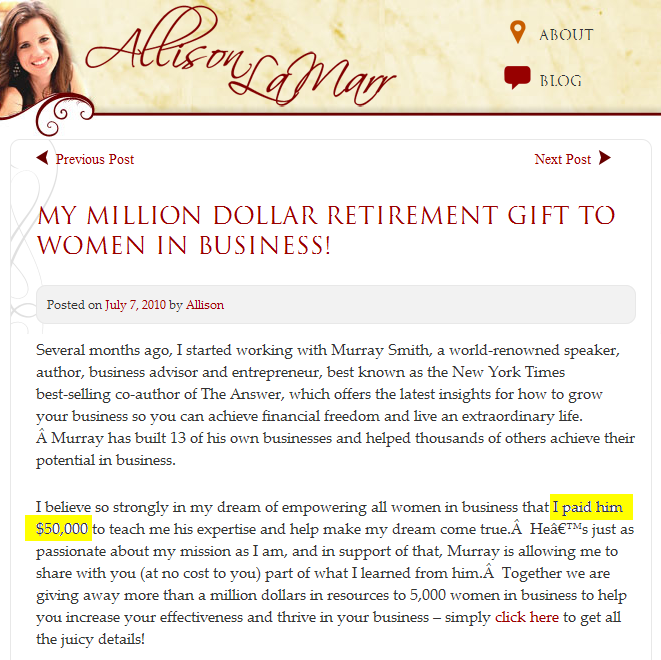 I'm sure Allison told everyone about the $50,000 to (a) make it seem like she was still financially successful and had this amount of money available, and (b) give the impression that the training was super-duper and everyone should buy her materials because of it.
So at a time when the Lamarrs were unable to pay for their home or pay their taxes, Allison was paying $50,000 to some guy who was going to teach her the secret of making millions "coaching" and "training" people. It seems this investment did not pay off, as Allison eventually took a job with MLM Bellamora, then went onto MLM Seacret Direct in a corporate position, and now is a representative for Seacret and is recruiting a downline.
This, my friends, is what extreme success in Mary Kay (and other MLMs) looks like. Claw your way to the top, and still fail to consistently make "executive income."  I can anticipate the responses from Mary Kay supporters: Allison is one person. She's just a bad apple. She's an exception.
Except she's not. The earnings you see are typical for the people at the top of the pyramid. Mary Kay and its sales directors sang Allison's praises, saying that if she could succeed (and do it so fast), then anyone could do it. She was held up as the example of someone "doing it right." Everyone wanted her training and guidance.
Buyer beware. Allison is not the kind of example you want to follow.