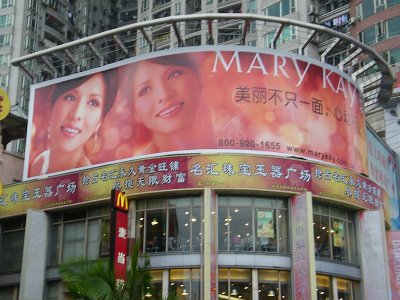 Earlier this week, I mentioned that Mary Kay is relying heavily on overseas markets to fuel its worldwide growth. Several years ago, the company stopped reporting revenue figures from the United States, and began only reporting worldwide revenue. I suspected then that this was because Mary Kay Inc. was focusing on growth in the overseas market.
A bit of research into Mary Kay China has confirmed this. In recent years, Mary Kay has appeared to spend a lot of effort marketing in China and India. These two markets were an easy mark for the company, simply because of the huge population size. To put this in perspective, the population of the United States is currently over 300 million, while China is over 1.3 billion, and India is over 1.2 billion people. While the spending power of consumers in India and China is lower than the United States, the sheer size of those markets still makes them attractive to Mary Kay Inc.
So where does Mary Kay China stand?
In 2008, Mary Kay had 200,000 consultants in China. The company reported that in 2009, China contributed 25% of Mary Kay's revenue.
In 2010, Mary Kay reported 500,000 consultants in China, with 20% of the company's revenue is from China. According to a company press kit, company sales were $2.5 billion in 2010, meaning that China brought in $500 million in revenue for Mary Kay.
In September 2011, Mary Kay reported 600,000 consultants in China and expected a 30% increase in revenue for the Chinese market. That puts Mary Kay's estimated revenue from China at
$650 million in 2011. Mary Kay says that in 2012 or 2013, China will bring in $1 billion in revenue for Mary kay, and overtake the United States as its largest market.
It's easy to see that China is an important marketplace for Mary Kay. In addition to the number of potential consultants there, the fact sit hat multi-level marketing is a much newer concept there. For years, China did not allow any such activity there. Only true direct sales were allowed, but now the regulations have been eased, allowing companies like Mary Kay to do something more akin to what they do in the U.S.
Consumers in China are simply not as aware of the pitfalls of MLMs and pyramid schemes. Sadly, there are plenty of unsuspecting marks in the United States, even with educational sites like Pink Truth and Pyramid Scheme Alert warning consumers. This type of educational material is not as readily available in China, so it is much harder for consumers to learn the truth about companies like Mary Kay.