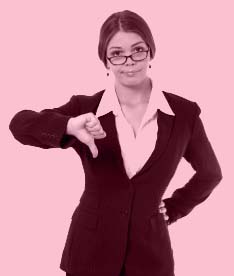 This article was originally published in March 2009. We are running it again to illustrate what happens to Mary Kay "stars" in a period of five years.
Written by The Scribbler
Curious about that title, dear seeker?  If you are, you've found the right flight!  Pass your battered Ziploc bag packed with 3 oz bottles to that TSA agent over there – the one with the barrel-chest and the Pop-Tart sized choppers – and we'll clear security in no time.  What?  You need one of us to volunteer to be searched?  Fair enough; I'll be the sacrificial lamb if it'll help get everyone else to the gate unspoiled.
While TSA agent Bluto swabs me from port to starboard, pass the time by flipping open this copy of Mary Kay Cosmetics' Applause magazine and heading for the section featuring the Go-Give Award recipients.  There'll be five of them, along with their Mary Kay accolades and current rank – got it?  Good, for it is there we will begin our great odyssey.  Well, you, anyway; mine is well underway – HEL-lo, sailor!
Bit O'Backstory, Honey:  I have a tidy selection of Applause issues dating back to 2004.  As I was thumbing through February 2005 recently, I wondered how these women were doing in their Mary Kay careers circa AD 2009.  Channeling Inspector Gadget (minus the whole "Dr. Claw-wants-me-dead-and-buried-but-can-never-send-anyone-smarter-than-a-fried-egg-to-do-it" thing) I tracked down fifty Go-Give recipients from the Feb 05-Feb 06 time frame, did a bit of number play, and am pleased to bring you my interesting findings:
Out of 50 women, 11 (22%) made rank, to include four higher-level directors (Executive and Elite Executives) making NSD.  The rank with the highest number of women moving up was that of Executive Senior Sales Director, while the lowest was that of Senior Sales Director.  While I applaud the determination of the women who managed to make it to the top, I don't applaud the mass recruiting, manipulation, and frontloading tactics I know it took to get them there.  Confucius say, "Many fall so one can stand."  And by Confucius I mean me.
24 women (48%) were still at the same rank they were back in 2005/06.  The rank with the highest stagnancy was that of Senior Sales Director, while the rank with the lowest stagnancy was that of Future Executive Senior Sales Director.  (Remember that last tidbit – it comes into play later!)

15 women (30%) lost rank. Interestingly enough, the rank with the highest demotion factor was that of Future Executive Senior Sales Director.  And it wasn't by a few, either; 7 out of the 15 demoted women were FESSDs!  Apparently, women didn't stay at the Future Executive level because they were movin' on up to the East Side; it was because they'd lost the position altogether!  The lowest demotion factor went to entry-level Sales Directors.
Now I wasn't about to stop there.  I wanted to delve a bit deeper and reflect on the achievements of the women who'd lost commissions, units, and Heaven knows what else as a result of their rank reduction.  Consider these three examples:
Senior Sales Director "Cara" was four-times Queen's Court of Recruiting, nine-times Sales Director Queen's Court of Personal Sales, and four-time Triple Star Achievement.  She is now a Sales Director.
Future Executive Senior Sales Director "Becky" was a four-times Queen's Court of Sharing and a 10-times Circle of Achievement recipient.  She is now a Senior Sales Director.
Elite Executive Senior Sales Director "Jen's" accolades include Queen's Court of Recruiting, six-times Circle of Excellence, 10-times SD Queen's Court of Personal Sales, and a pink car.  She currently holds the rank of Senior Sales Director.
Keeping those women in mind, I'd like to close it out today by presenting the Mary Kay community with a handful of questions:
How do women like now-SD "Cara" make the Court of Recruiting four times and still slip down the career ladder?  It takes 24 qualified women to make the QCR, so getting the title four times equals a grand total of 96 new (and qualified) recruits.  How can 96 new recruits – each of them coming in with at least a $600 order – not be enough to keep Cara on top of the heap?  Is it Cara's fault that she was demoted, or the fault of a company where promotions are based on the number of recruits dragged in and not selling proficiency?  This SD's situation speaks volumes about Mary Kay's turnover rate.
Do the 24 women that remained stagnant for the past 3-4 years just not want NSD badly enough, or do you think they ran mediocre businesses?  Please note that some of the accomplishments among these women included making the Circle of Achievement 16 times, making Queen's Court of Recruiting nine times (that's a whopping 216 new recruits, by the way), and hitting the Sales Director's Queen's Court of Personal Sales 13 times.  That's a tremendous amount of work with no promotion to show for it – are we talking about Mary Kay business owners or slaves, here?
Finally, what about the women who lost rank?  These aren't 6-month IBCs we're talking about; these are women in the top 2% of the company.  Can you women hot on the Mary Kay career path look me squarely in the computer monitor and tell me that Elite Executive "Jen" fell from MK grace because she didn't work her business hard enough?
Well, that's that.  Think I'll send Bluto a nice posy of roses once I make it to Albuquerque, which is considerably more than what NSD Milkem N'run will send you once she's done violating your dreams, your morals, and your good credit.  Now, who's up for some stale pretzels and a sticky copy of SkyMall?