Mary Kay's Motto is "God First…"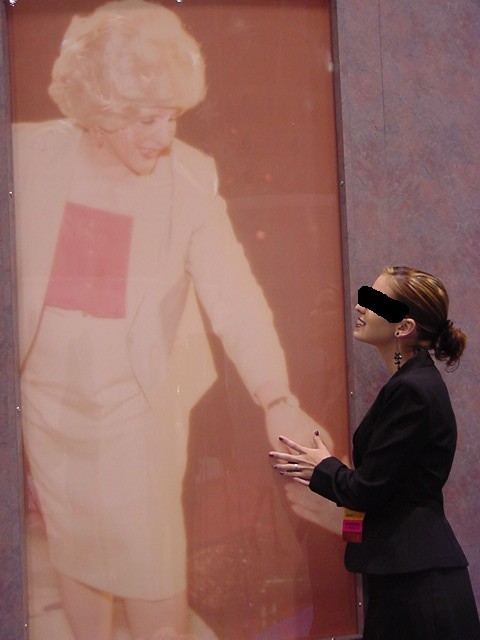 Written by The Scribbler
It's a line that's quick to be fired off at church, particularly post-service when recruiters are scrambling to grab sharp women and cart them off to the Golden Corral for their unit's weekly "Onion Rings and Opportunities" event. "Mary Kay puts God first," you may have heard them gush. "How many companies can make that claim?"
Well, Chik-fil-A, for one, but that's not the point. As I've explained in previous articles, when God is mentioned in Mary Kay, it is the God of the Bible that is implied, in accordance with the faith that Mary Kay Ash practiced. But is God really first in Mary Kay – or is that throne reserved for someone else?
Check out these quotes and hang onto your chairs, cowgirls; there's a new Messiah in town.
"What if Mary Kay visited us at our next sales meeting – WOW! Something to think about, isn't it? I like to pretend she's with me whenever I am representing our company. What would she see – how would I be dressed – what would she hear me saying?" ("Mary Kay is Watching!" training document)
"She called me her "Mary Kay daughter." Once she took my hand, I couldn't stop the tears from flowing no matter how hard I tried." (NSD Gillian Ortega "A Moment in Time With Mary Kay," Applause, Jun 2006)
"I read the daily MK quote in my datebook; it said something like "You might be the only Mary Kay someone will ever meet." Immediately, I thought, isn't that a Christian phrase, like "You might be the only Jesus someone will ever meet?" (Former IBC)
Referring to the act of IBCs signing a written promise to Mary Kay Ash: "Keep it close to remind you of the commitment you made to keeping her dream alive." (Lessons in Golden Rule Thinking: Signing "My Promise to Mary Kay Ash.")
Independent Executive Senior Sales Director Stephanie Valure's thoughts regarding an MK retreat: "The whole first night I sat there, starry-eyed and stunned… that was the night Mary Kay truly came into my heart." ("Dimensions of Caring" Applause Mar 2006)
Friends, while Mary Kay Ash overcame many challenges in her lifetime, she is not divine; none of us are. When mere mortals (and the companies they spearheaded) are hailed as redeemers, however, confusion and contradiction become the soul's bedfellows. These deceivers slip into your home, silently entwine their fingers around your neck, and squeeze until the light that once shone bright in your eyes flickers and fades to black.
While it's claimed that "God is first…" in Mary Kay, be absolutely certain you know which god that is.