Mary Kay NSD Dacia Wiegandt threw a tantrum yesterday because her Louis Vuitton bag was stolen off the baggage claim carousel in Atlanta. She was required to gate check her bag because there was no room in the overhead bins for it. She felt entitled to have her bag in the main cabin. I'm not sure how she thought that was going to happen if the bins were already full, but according to this complaint she submitted online, this is not Samsonite luggage, people!!!!
Dacia wants to be reimbursed by Delta for the bag and the belongings she carelessly left in it when she gate checked it, and detailed it in the Instagram story below:
Louis Vuitton carry on $3,798.59
Apple iPad $1,200
St. Johns Jacket $500
Gold Bracelet $350
Makeup $200 (it's MK, it's worth about $15, Dacia)
3 Kendra Scott earrings $300
Henri Bondelle Bracelet $120
2 bauble bar earrings $80
8 designer bracelets $320
Black spanks skirt $100 (it's Spanx, Dacia, and that's hilarious)
Printouts for business meeting $30 (It doesn't cost that much to print your MK handouts! And it's not a business!!!)
Other various clothes she lists
She totals it up to over $9,200. And if they don't pay her, she is going to "blast this on Instagram, Facebook and Twitter should this not be handled correctly. She has 26,000 followers!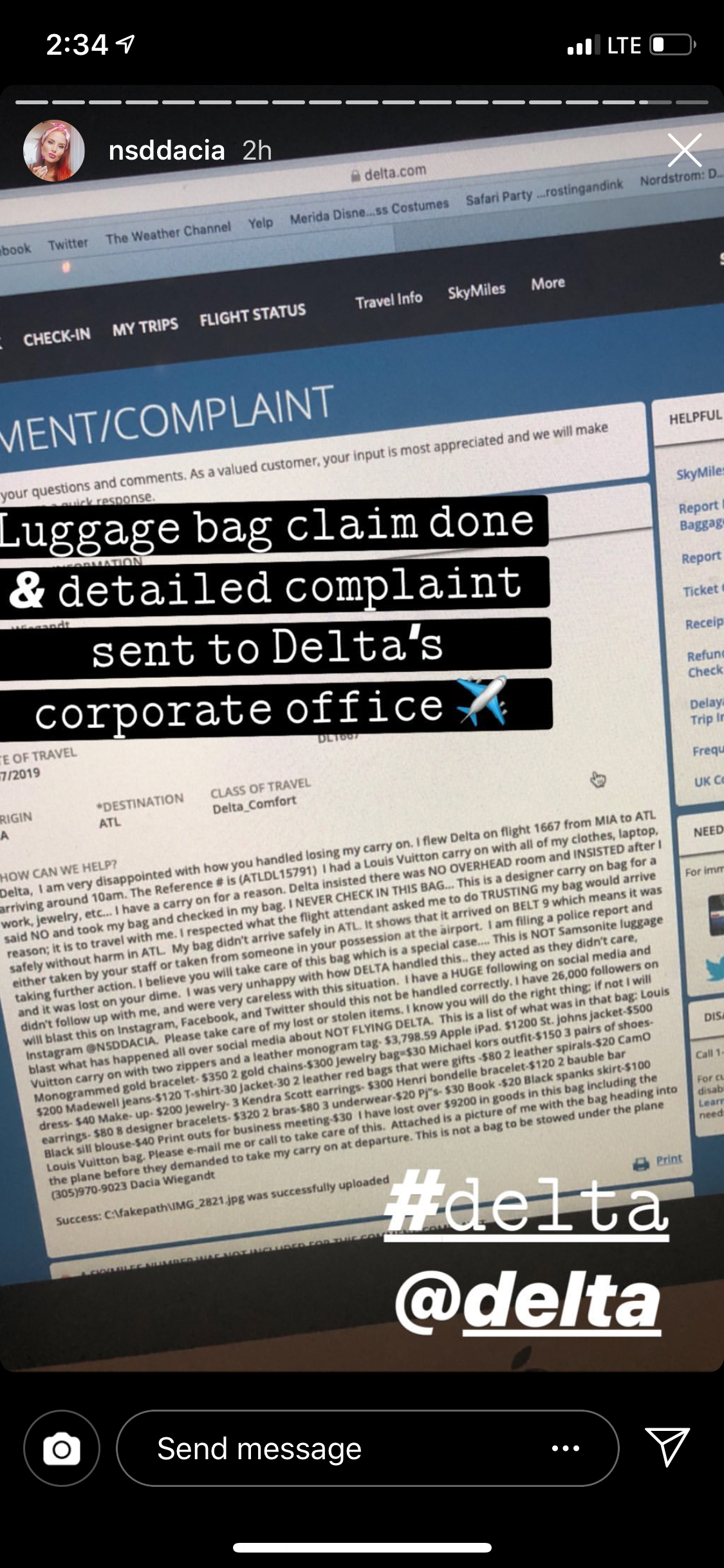 Tips for Dacia: If you're going to travel with a bag that MUST be with you, then buy a first class ticket so you're assured of overhead bin space. If you're too cheap to do that (despite the millions you've made off your MK victims), at least upgrade your economy ticket to get a better boarding group and get there early so you board with them. (How much you wanna bet she got there at the last second?) If you have to gate check your bag due to the CHOICES you've made…. take your small valuable items out and keep them with you. And buy travel insurance if you travel with items that are so important to you.