How to Fail at MLM and Teach Others to Succeed
The big thing these days in Mary Kay is to become a "coach" of one sort or another. Start a lifestyle blog and do affiliate links and sponsorships on Instagram. Teach people how to live their best lives by flaunting your material goods on social media and selling a life planner. Teach MLM participants (tip: call them direct sellers) how to be successful in MLM, even if you crashed and burned.
Is it because they know the future of MLM is precarious and they want a backup plan? What happened to burning your bridges and being all in with Mary Kay???
Michelle Cunningham is a former top sales director with Mary Kay. There is no word on why she is not in Mary Kay anymore. She is no longer with the company, but she never announced her departure (which would suggest that she was unceremoniously booted by Mary Kay Inc.), although she did scrub Mary Kay pictures and references from her social media accounts. Fortunately, she was already building her MLM coaching business and now she pretends she made a choice to just be all in with the coaching. (Interestingly, she hasn't removed references to Mary Kay and her pink Cadillac from her site.)
Naturally, the bragging has to include lies about her time in MLM. For starters, she claims her team "sold" $10 million in products the past 3 years. No, your team and all of the offspring units below you ORDERED $5 million of products from Mary Kay in the last 3 years. They didn't sell those products, and the products they sold were discounted. She also claims she only works 10-15 hours a week away from her kids. Ha! A "top director" in Mary Kay easily works 50 to 60 hours a week. I suppose she'll claim that the hours worked at home don't count in those hours "away from her kids." But working is working. If you're spending 20 hours in your home office, you're not "with your kids."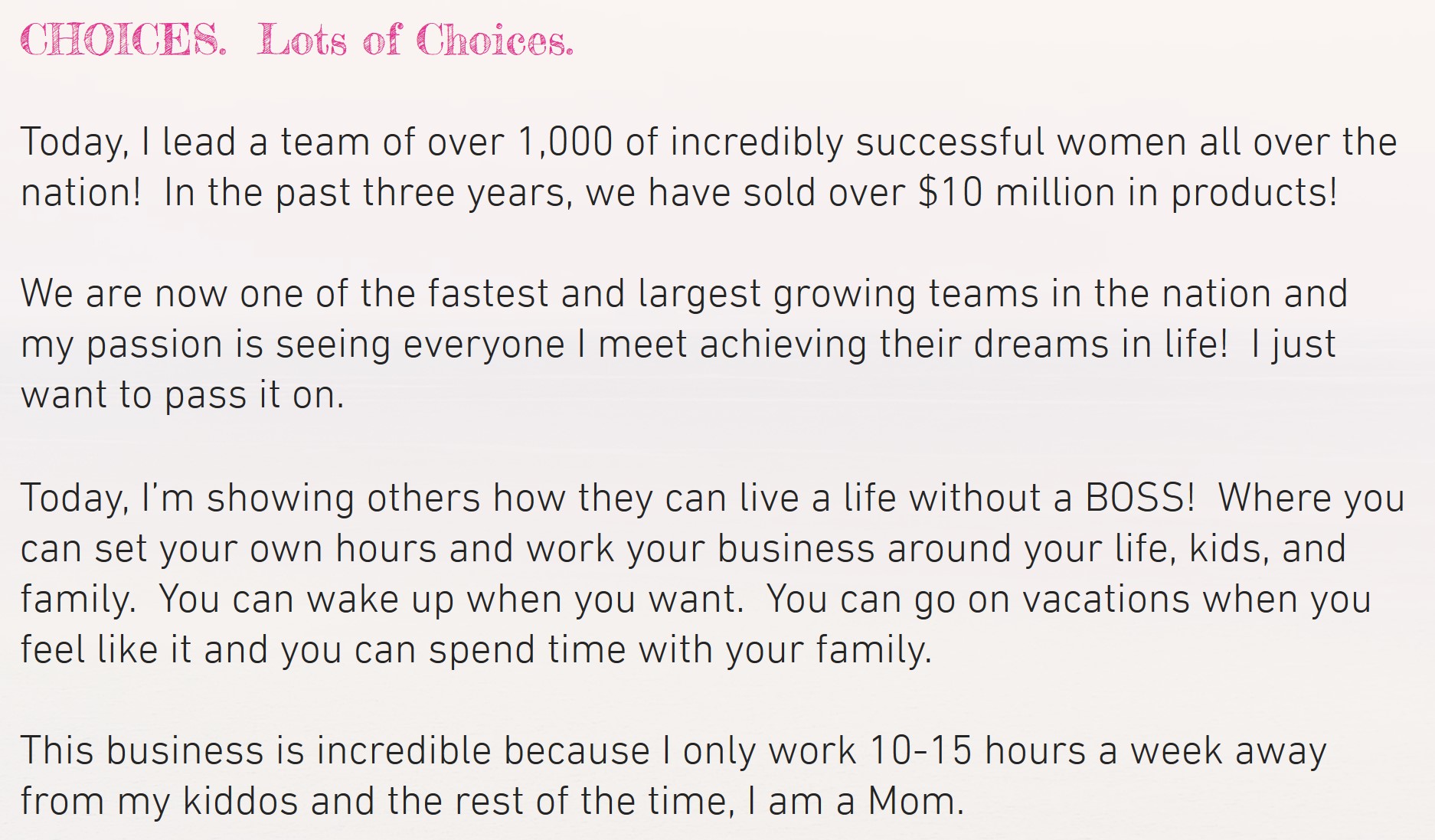 Michelle's contract with Mary Kay prevents her from selling her services to women in Mary Kay for two years after her termination. (Technically she can sell to them, but she's not allowed to use lists of names from Mary Kay or to encourage women to quit Mary Kay.) She has a disclaimer with her materials in an attempt to protect herself, because she knows Mary Kay ladies are going to be buying her stuff.
Here's the kind of content you can get from Michelle. It's the same old same old: Tell people the secret is to talk to lots of people, but never tell them how you're going to find those people. (We went through the numbers here… you need an astronomical number of new people as targets and it's nearly impossible to meet this many new people to solicit for Mary Kay.)
Oh wait, if you want to know how to get those people, you can buy her lead generation materials for $15. You'll never have to stalk friends and family again… you can just go meet with business owners and have them hand over contact information for THEIR friends and family so you can stalk them. (How are you going to find those business owners and get them to meet with you? There is only so much you can squeeze out of your local chamber of commerce, so I hope she has other ideas!)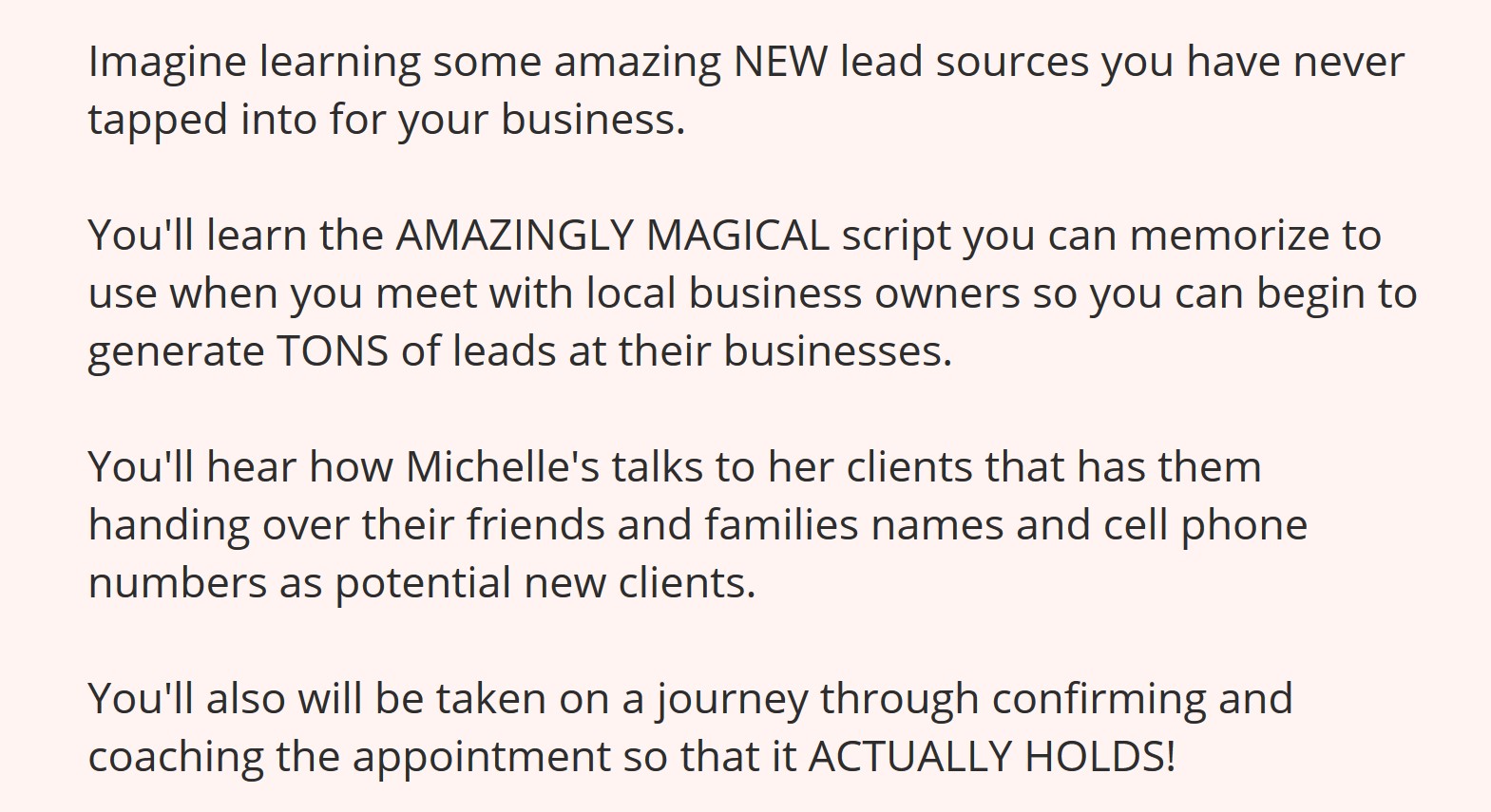 You don't have to watch Michelle's video on recruiting… here are the 6 tips she gives if you want to recruit 5 people per month (that's called a Gold Medal in Mary Kay):
See a lot of faces – I recruit 1 out of 10 people who try our products. So to recruit 5 people, she has to see at least 50 new faces in a month.
Be patient – People don't join right away. What's in your funnel? Who did you meet in the last two months who is thinking about it? They'll eventually drip in one by one. Stick with it.
Invite everyone to coffee – At the end of every appointment I give two options: 1 – join my team, 2 – take home products. Joining my team gives you the best deals and saves you the most money. If she looks like she's thinking about joining, I tell her I'm taking her to coffee. I give her information, tell her to look at things on the internet, and I set a date for coffee right then and there.
Send information – If they say they're going to do research, tell them you're going to give them information. Don't let them research on their own, because they might find negative things.
Invite them to be a fly on the wall – Invite them to any event so they can see what we're all about.
Never give up – If they haven't joined, it doesn't mean they won't. They might be in their funnel. Keep following up with them, even if they're ignoring you about recruiting. Get back in their presence at least two more times because then you seem like a friend.
I wish people wouldn't fall for this "training" stuff. It's the same tired stuff that everyone is recycling, and no one should pay for this.