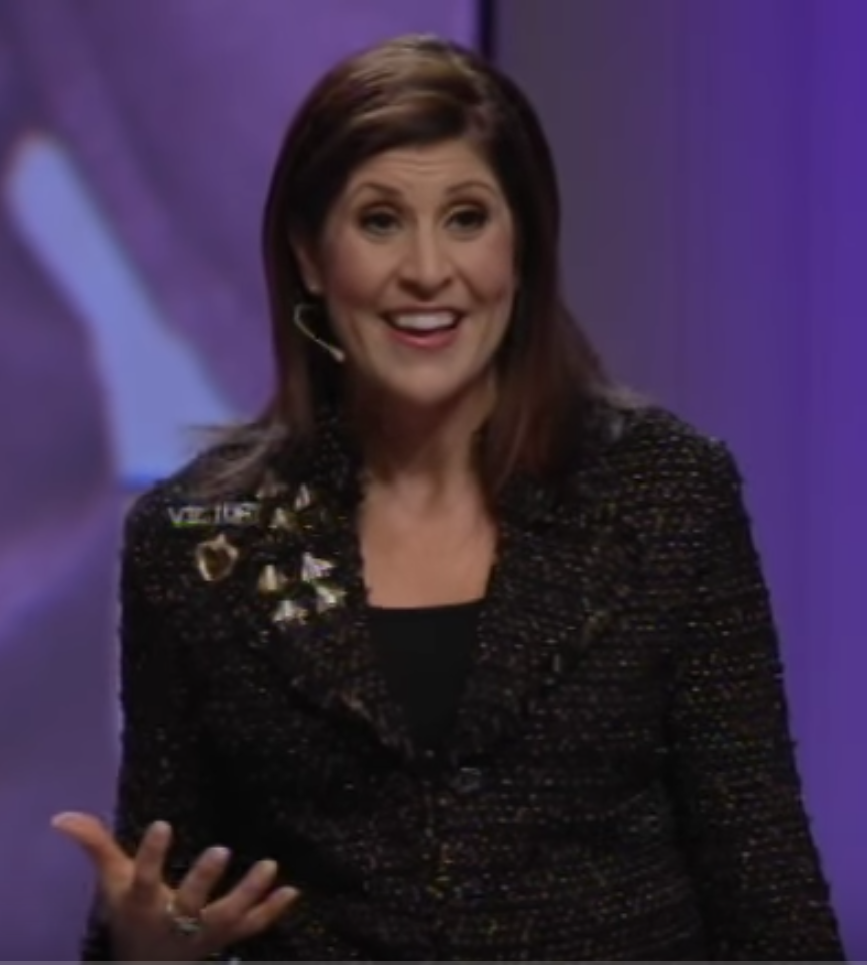 Amie Gamboian is a former national sales director for Mary Kay. She left MK in 2018 after almost 20 years with the company. And while with Mary Kay, she sang its praises all the time. If you can stand to listen to her, check out this video of Amie's MK story.
She parrots the lie of "#1 selling brand of skin care and color cosmetics in the United States." Amie was looking for an opportunity to work with women who were goal-oriented and value oriented, and God answered her prayer with MK!  As a "success coach" in Mary Kay, you're like a professor! A professor of the MK philosophy and a professor of teaching women how to build a business. You're also a life coach! You help them with goal-setting, time management, spiritual development, and personal growth.
But now that Amie is long gone from Mary Kay, she dishes the dirt!!! (pdf here) Her formerly beloved Mary Kay is now trashed as she seeks to sell her coaching services.
In this article, Amie says her Mary Kay experience was part of her performance addiction. She describes the MK culture, and this is not meant to be a compliment:
"The environment heavily promoted fame, fortune, lifestyles of the rich and famous, unlimited earning, unlimited recognition, stage time in front of thousands of people, prizes, awards, recognition, and all those kinds of things."
Even "success" in MK, such as earning top director trips, led to feelings of obsession and anxiety:
"There was never a moment to really celebrate because it was a scoreboard-based business and the scoreboard monitored my performance minute by minute, hour by hour, week by week, month by month, year by year. Truly from a realistic standpoint for the outside looking in, I perhaps look like a hamster on a wheel who is continuously running never able to figure out how to get off.
It looked like obsession and anxiety; it looked like a mindset of success at any price. It looked like a life being lived in-harmoniously; it was exhausting; it was challenging. Yet, those fleeting moments of success would very deceptively present themselves at the most opportune times."
This might be a good time to remind you that in 2009, Amie was spreading vicious lies about Pink Truth. She called us dream stealers, evil wicked, and tearing down MK.  I wonder if her discussion of "fleeting moments of success" in MK, by someone who got to the very top of the pyramid and had what is considered the ultimate success in MK, now makes HER a dream stealer?
Coach Amie had says there was a tremendous pressure around creating an image of perfection in Mary Kay. And she had her epiphany:
"I was standing on a stage in front of 10,000 people where I was being recognized for being #2 in a division out of 4 million people. Worldwide that would have placed me top 4 at that time."
(Would this be the time to mention that the consultant count has never been 4 million worldwide?)
"Of course, any number of those individuals would have easily traded places with me, everybody except for the person who was #1. It wasn't good enough for me. #2 wasn't good enough. Because for years and years I had been going after being #1. What for? It wouldn't have lasted more than one minute because as soon as the deadline hit, it starts all over again and the scoreboard clears back to zero. At that moment in front of 10,000 people, God just revealed His beautiful grace and love and His truth and I heard Him whisper to me as tears were falling down my face on stage. He said, "This race is over. I have so much more for you."
I shifted my focus at that time and I began a new ascent within the same career, but with a slightly different focus. I continued in the same old patterns, pouring my all into this new focus.
That was a step into the pinnacle position of the company and I stepped into a position at age 37 falsely believing this minor shift in direction would change the scoreboard focus. In this new role, I would instead be able to have a different key focus than just how the scoreboard was ticking. In reality, it didn't change at all, it just became a bigger scoreboard."
So becoming an NSD at age 37 was supposed to change things for Amie. Of course! They teach you that you get to "top director," and then you become NSD, and then you have it made for life.
Amie goes on:
"I falsely believed that because that's how the pinnacle position was always promoted throughout the company. So when I reached that position and found that the same race was being run and that there was very little that I changed, and instead there was even more significant pressure for perfection, I began to crumble internally."
And how did Amie get out of Mary Kay?
"It was extremely terrifying at first–which I believe is normal. Change is difficult and challenging and I had fooled my family and they were also fully caught up in everything thinking my lifestyle was a forever decision. 95% of my career had been invested into all this. So to look at a new picture was really difficult.
What compounded that situation was that I was the first person ever in the history of the company in the position to exit by choice."
Let's talk about this. Every NSD who "retired" early did not leave by choice. Remember the former Allison LaMarr (now known as Chaya Ben-Shabat)??? She "retired" from MK in 2010. But according to Amie, this was not voluntary.
What was it like to leave MK?
"In the process of coming to that decision, I had to realize what leaving meant. Leaving meant I am walking away from a retirement plan, all the perks, the privileges, the totally secure six-figure income, a platform of influence that I built for nearly 20 years, and comfort. All those things were the things that were so hard to walk away from initially."
Note: The six figure income was not "totally secure" and Amie knows it. It was wholly dependent on the performance of the downline and continuously curating new sales directors.
And Amie knew she was going to be shunned when she left:
"The harder part was walking away from the relationships. I began to realize that when you're in a culture that really struggles to do exits well (because no one leaves, you're either in or you're out), there was a likelihood that I would lose relationships that I've invested in for a very significant amount of time and very deeply. That was the hardest part, knowing that would most likely become a reality."
She mentions feeling trapped in Mary Kay, and feeling free once she left.
Oh how I wish for other little birdies (former top directors and NSDs) to sing too. Tell the world about this sham of an opportunity that they call Mary Kay Cosmetics!