Every so often we like to take a look at the money women are making (or not) in Mary Kay. Today we are looking at national sales director Debi Moore. According to her unitnet website, she has 37 directors in her area. She posted the year-to-date retail of the top 15 directors through June 29, 2012. Of course, there was one more day left in the seminar area to convince women to order products they didn't need, but for all intents and purposes the annual totals were in.
And here's how the numbers shook out. I'll explain more below.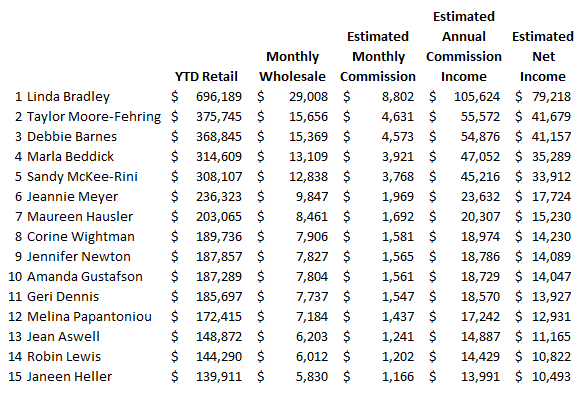 So Debi published the year-to-date retail of the top 15 directors in her area, and I took the liberty of doing the math for you to see how much those directors are actually making in Mary Kay. Go all the way to the column on the far right, and what do we see?
Of 37 directors in the Debi Moore area we have (using estimates based on substantial research):
0 making executive income of $100,000 or above per year
1 making $79,000 per year
2 making $41,000 per year
2 making $35,000 per year
1 making $17,000 per year
1 making $15,000 per year
8 making $10,000-$14,000 per year
22 making less than $10,000 per year
Now let me get this straight… Mary Kay sales directors are in the top 2% of the company. They can make executive income (for part time hours!) and they can promote themselves whenever they want. They can give themselves a raise whenever they want. And yet 30 of the directors in the Debi Moore area – – or 81% of the 37 directors – – are making $14,000 or less per year.
Oh wait. I forgot. They  can make money on product sales, can't they? Well I can tell you from experience that little money is made from product sales. It's difficult to sell the products, and even more difficult to turn a decent profit from selling them.
Sure, these ladies are probably making a little bit of extra money from selling products. But directorship is where they make the real money (if you can call it that), which is why Mary Kay is always pushing recruiting and moving up.
And what about the prizes that these women get? Prizes don't pay the bills. Sure, a Mary Kay car is nice, but even with the "free" part of it, the amount that a director spends on gas and upkeep for business purposes wipes out the car income showing on the 1099 from Mary Kay. And the low quality diamond rings and dollar store quarterly prizes? Those are worth little and they don't feed your family.
So I prefer to focus on actual money in hand that sales directors have with which to support a family. As you can see, of the 37 sales directors in the super-duper-successful Debi Moore area, only 5 of them would be able to feed, clothe, and put a roof over the heads of a family. The other 32 are out of luck.
Don't be fooled when a Mary Kay sales director tells you she is supporting her family on her Mary Kay earnings. The reality is that almost none of them make enough to support a family.
 UPDATE: Note that the top 5 directors are Cadillac directors, but only Linda Bradley is making production to support the Cadillac. That means Taylor, Debbie, Marla, and Sandy are all making co-pays. Directors 6 through 13 are all "premier club" directors, but only Jeannie and Maureen are making production to support that car. So Corine, Jennifer, Amanda, Geri, Melina and Jean are making co-pays on their cars too!