Written by The Scribbler
After Virgina Sole-Smith's insightful article, "The Pink Pyramid Scheme: How Mary Kay Cosmetics Preys on Desperate Housewives" was published in Harper's, it didn't take long for Mary Kay supporters to ride in and angrily denounce the piece as being one-sided, imbalanced, and other knee-jerk accusations that contained exactly 0% forethought before being expressed.
One of these violently vocal supporters was Cynthia Ruccia, a 28-year Senior Sales Director with Mary Kay who – among other things – claimed she "made a 6-figure income for many years."  Naturally, I'm not one to take Mary Kay leaders at face value, and so I promptly set out to uncover the truth.  Join me on this journey and before the end, you will see that it's easier to put lipstick on a shark than it is to get a Mary Kay Sales Director to prove her income claims.

It all started when  Ruccia left a windy tirade on Virginia Sole-Smith's Facebook page which blasted Sole-Smith, defended Mary Kay, and included the tidbit that Ruccia "made a good living doing Mary Kay."  Ruccia would later continue this pattern on her personal blog, trumpeting her "wonderful income" while dismissing naysayers as "disgruntled" consultants.

One of the first things I wanted to know was why Ruccia hadn't made it higher on the Mary Kay career ladder after almost three decades in the business.  I had a theory that the reason was due to Ruccia's inability to keep her shanghaied selectees from jumping off her sinking ship per a blog post by Ruccia dated 19 July 2012:  "Plenty of people come into my business and discover that it's not for them, but so what?"  Ruccia later insisted, "I am right where I want to be!" then changed gears, played the Cancer Card, and admitted that she "had to take some time off for 18 months."  That's fine, but we still need to account for the other 26 ½ years of Ruccia's Mary Kay business.
Before I go any further, I want the readers to understand that I am not unsympathetic towards anyone who's ever had to stare into cancer's dark eyes; God forbid, my husband is a three-time cancer survivor himself.  However, when the telling of personal tragedies has absolutely nothing to do with the matter at hand, I see them as little more than tools to elicit emotion and draw attention away from the real issue.  Providing proof of one's income has absolutely nothing to do with cancer, and yet the potential is great for directors to use such a story in recruiting interviews as a means to swing the odds in their favor.
The crowning moment came when Ruccia dropped this bomb:  "I still have won 16 pink cars and made a 6-figure income for many years."

When I pointed out that Ruccia hadn't been featured among Mary Kay's top 500 commission-making directors in Applause magazine, Ruccia replied with, "I have a HUGE customer base and I move tons of product.  THAT figure isn't reflected in the Sales Director commissions and as such, you can't get an accurate read on what anyone is making in Mary Kay…you look pretty stupid making the claims you make."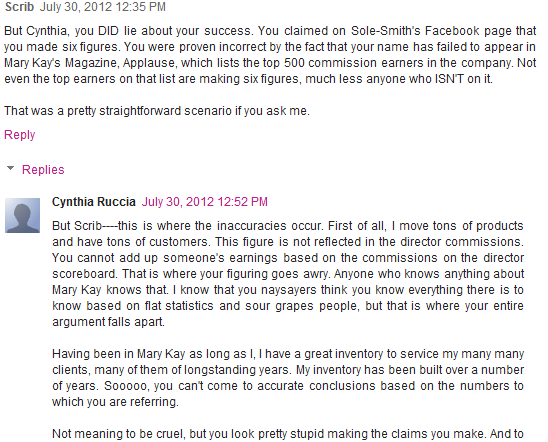 Since my facts came straight from an official Mary Kay publication, Ruccia might as well be calling her Mary Kay bosses stupid, too.  But they're not stupid, as they've managed to con Ruccia (and countless other women) into trading their birthrights –  consistent money from a real job, insurance benefits, and retirement benefits – for paltry bowls of pink pottage: decades of blood, sweat, and credit cards put into a business that never belonged to them in the first place and as such, cannot be sold or willed to their kin.  "Enriching Women's Lives," indeed.
A poster going by the name of "Stevie" offered this thought-provoking breakdown:
"For Seminar 2012, Marsha Morrissette's top producer (Cynthea Herreid) is in the Top 5 of the Diamond National Court of Sales with a retail total of $96,906 – this makes her wholesale total $48,453…Ruccia would have to have an annual retail sales total of at least $98,020.40 to hit the "six figure income" that she so proudly boasts about…Cynthia does not even appear on the Queen's Court of Sales, let alone at the top of the Court…[Ruccia] isn't mentioned once [in Applause Magazine] from April 2011 to March 2012. So we know that she earned less than $5,000 per month in the last year…if I'm very kind and assume that Mrs. Ruccia JUST missed that $5,000 per month mark, and that each commission check was $4,999 for the 12 months, she would have been at $59,988 for the year – before any charge backs, car co-pays, or expenses of running her business. If I am again, kind, and assume a very low expense rate of 15%, totaling $8,998.20 for the 12 months, her net income from commissions is $50,989.80. Cynthia would have to now add $49,010.20 of retail sale profit to her commissions total to get to her "six figure income"…I highly doubt she had $98,020.40 in retail sales in this 12 month period. Also – that would have to be $98K in retail sales before ANY product discounts, etc."
Ruccia's gave Stevie the typical blow-off:  "You might think yourself thoughtful and intelligent, but you really don't come across that way…you just sound disgruntled…"
Ruccia's consistent failure to divulge information (a talent undoubtedly developed and honed by both her Mary Kay business and her adventures in politics) had posters asking for Ruccia to pony up tax returns and a Schedule C.  Ruccia wedged herself into the corner like a rabid cat and hissed, "You show me yours.  It's clear that you are a bunch of sour, unsuccessful bullies.  Go back under your rock and bitch among yourselves…your "facts" are wrong, skewed, made up, with holes bigger than the big black hole in outer space.  It is beneath me to hang out with such vengeful hags."
Ruccia would later add that "It is improper to ask someone to produce their tax returns…to make someone cough them up by request is bordering on rude."  But of course, it's not rude for Ruccia to demand that others show their tax returns and Schedule Cs.
I was amused at Ruccia's defensiveness for two reasons.  First, I marveled at the fact that Ruccia was quick to tell people they were wrong, yet refused to say what exactly was wrong or provide specifics.  Second, Ruccia had stated on her blog "…when young folks can't win on the facts, they resort to ridicule, name-calling, and character assassination."  Wasn't this exactly what Ruccia was doing when she called her inquisitive audience a bunch of "vengeful hags?"  For crying out loud, nobody was asking Ruccia to strip down and do the hula at a major intersection while blaspheming the God of Abraham, Issac, and Jacob.  All she was being asked to do was give a straight answer.
One frustrated poster asked, "Why is [giving the complete truth and facts] hard in the MK world?  Personally I think MK people don't actually prove their income claims because they know it isn't as good…they need women to think they are making the money so they will sign up."  Ruccia intelligently replied, "Boring. Yawn…."
"Dana" had also had enough of Ruccia's games.  "When pressed for true income facts you continue to lash out. Why?  If you are SO proud of your executive-level income, one would think you would be shouting it from your rooftop."  Ruccia reminded everyone how bored she was and told Dana to "…go ahead and continue on your bitter path."  Wait, what?
Do you see how the Mary Kay mentality works, friends?  If you challenge or offer any view that does not glorify Mary Kay Cosmetics, you are accused of having been unsuccessful, sour, having your facts wrong, being bitter, and a host of names ranging from the humorous to the profane.  I have written for Pink Truth for over five years and I can tell you that this behavior is not rare.  It happens frequently.  Mary Kay leaders are not used to being challenged; they are steeped in a culture that rewards blind belief and ignorance.  It is what keeps the company going, and the people (and their credit lines) perish for lack of knowledge.
And so our journey brings us to an examination of Ruccia's commission numbers (again, as found in Applause magazine) only this time we're heading clear back to the 1990s and early 2000s.  Note that Ruccia joined Mary Kay in 1984, so these figures offer financial snapshots of Ruccia's Mary Kay business at 7, 9, 12, and 19 years into the game.  Note that these are GROSS monthly commissions; the amount listed is before the subtraction of any business expenses, chargebacks, and car co-pays, so in reality, her personal income is lower.
Jun  1991:       $3,800.30
Oct  1991:       $3,383.65
Feb 1993:        $4,035.32
Mar 1993:        $3,048.94
Aug 1993:        $2,789.22
Jun  1996:       $3,714.48
July 1996:        $5,421.76
Sep 2003:        $6,525.41
Remember that these are her best checks. The other checks in these years were undoubtedly lower. Most months Ruccia's name was not found in Applause and therefore, whatever she managed to pull in via her MK business was too low to be featured in the company magazine. Even if Ruccia is making substantial retail sales as she claims (and is her word really worth anything at this point?) that still doesn't bring her into "six figure" territory.  Even with her highest commission check listed above, Ruccia would have to make retail sales that would put her in the very top of the company's "Court of Sales," yet she doesn't appear to ever have made it there.
Ruccia stated on her blog that she "…never made false income claims," but as we've seen, these are not the numbers of a woman that has "made a 6-figure income for many years" by any stretch.  Furthermore, it's disturbing to see how easily the 6-figure claim slid right off of Ruccia's forked tongue. If she's lying about something as simple as this, what other lies is she telling the women who get roped into her recruiting interviews?
Cynthia Ruccia, here's a bit of gentle guidance:  If you don't lie, you never have to worry about someone calling you out on it later.  You may wish to keep that in mind for future reference lest it bite you in your rump.  Again.