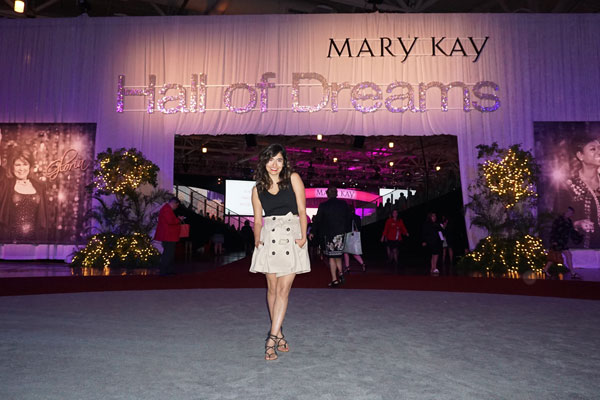 Ah yes… another tale about how a life was changed just by going to seminar! Well, not really. If going to seminar was the "key" they claim it is, wouldn't everyone at seminar be on the stage instead of sitting in the arena?
Seminar-1987
My First Trip to Dallas, Texas
Dan Madson (Husband of NSD Lisa Madson)
When Lisa began her career with Mary Kay in the fall of 1986, her Sales Director kept talking about this event called Seminar in Dallas, TX. She told Lisa that we both should go. I told Lisa we couldn't afford it. Lisa's Sales Director was persistent, however, and kept talking about how great Seminar was. I insisted that it was too expensive and that it wasn't necessary. In the end, Lisa held a couple extra skin care classes and earned enough money for both of us to attend. Looking back, I now realize that attending Seminar in the summer of 1987 was the single most important decision that we made.
We drove to Dallas that summer in our un-air conditioned Ford Tempo and we both had a wonderful time. I'll never forget the first morning that we rode the escalator up to the entrance of the Convention Center. The place was HUGE! There was a Dixieland band playing as we streamed into the building with thousands of other people. We were ushered into an enormous lunch hall for a quick breakfast and then found our seats in the arena to await the 8:00 o'clock start. What really impressed me was that everything started on time.
Mary Kay Ash made a spectacular entrance and then it began. For the first time I saw the impressive line-up of National Sales Directors. I saw women being recognized and rewarded for various achievements. Some had earned diamond rings. Some had earned free cars and lavish trips around the world. I listened to their stories and wondered if it was possible for my wife to achieve the same success.
There were all sorts of activities for husbands to do. I played in the husbands' golf tournament that first year and attended the husbands' classes. I met some great friends, asked a lot of questions, learned as much as I could, and thoroughly enjoyed myself. On Awards Night as I watched Lisa being recognized for achieving the National Court of Sales, I leaned over and asked her Sales Director, – Do you think Lisa could earn a car???
She sort of laughed and said, "Earn a car? She'll be a Sales Director by next year!"
I'll never forget the drive home after that first Seminar. It was 110 degrees when we left Dallas. We rolled down our windows and it felt like we were driving through a blast furnace, but I don't think either one of us noticed. We were too excited about the possibilities that we now knew existed. We talked non-stop for 10 hours about who Lisa could facial and who we thought might also be good at this business. When we got home, Lisa got busy. A few months later she had earned her first company car and was on her way to becoming a Sales Director. The rest, as they say, is history.
Whenever a new consultant asks me what she can do to get her husband behind her, I always tell her the same three things: Earn some money for him, talk about your dreams and goals together, and take him to Seminar.
After 18 trips to Seminar in Dallas, I still remember the first one like it was yesterday. It showed me the big picture and I realized if ONE other person could achieve all the things I had seen there, then it was possible for Lisa to do the same.
Note from Tammy Crayk: Lisa and Dan Madson now make in excess of $40,000-$50,000 / MONTH with Mary Kay……….. I think Seminar was "worth it" don't you??