Mary Kay is deep into its "All In With 8" promotion, which lets consultants enter DIQ (director in qualification) with 8 active team members instead of the usual 10. In addition, the requirements to complete DIQ have been reduced, but only if you qualify within 3 months instead of the usual 4 month maximum. If you can do it fast, you can become a sales director with only $13,500 total wholesale production, rather than the usual $18,000. Here are the details, with the relaxed requirements highlighted in red: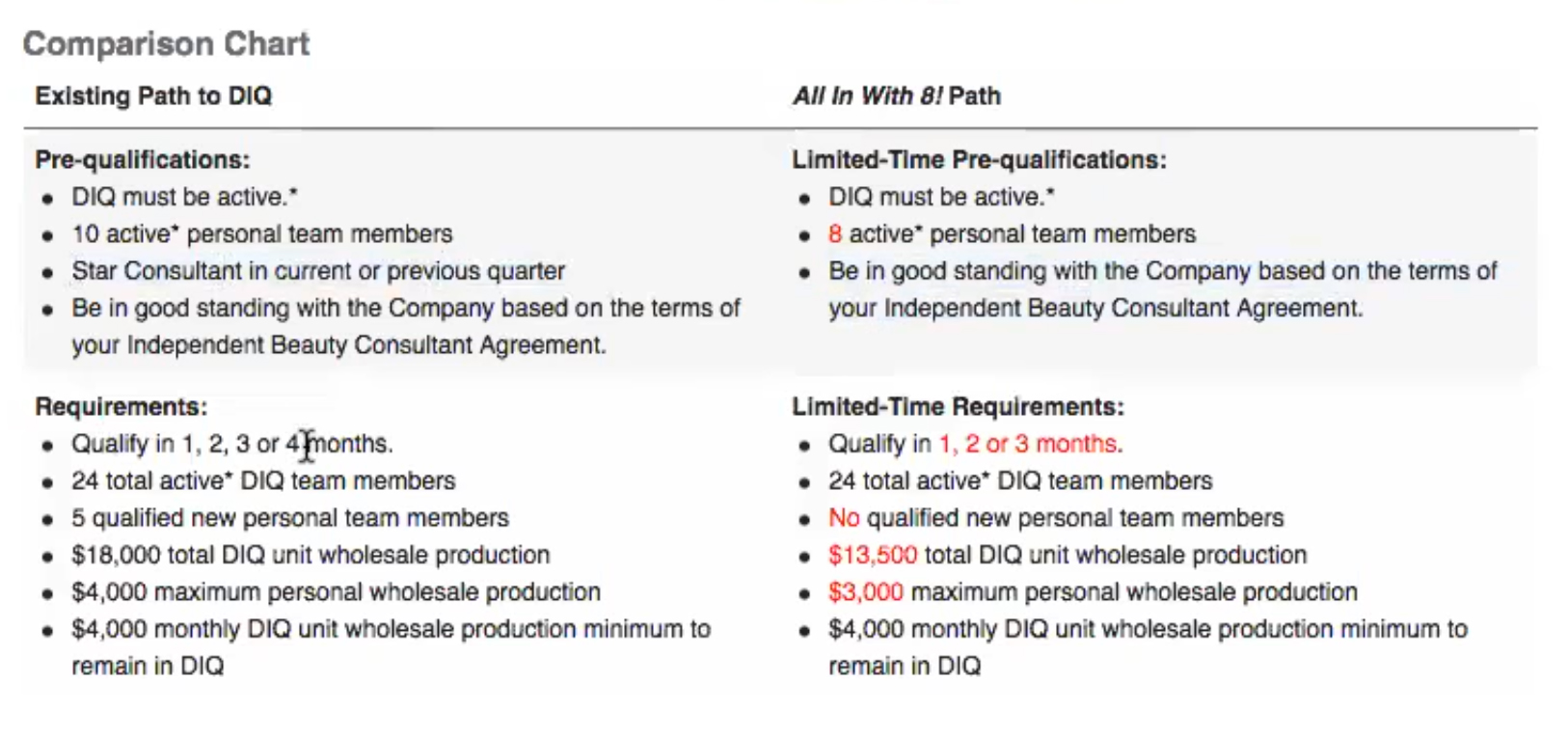 The promotion sounds great, doesn't it? It offers an opportunity for consultants to move up faster. That has to be good???
Of course it's not good. It's already hard to make the minimum monthly production of $4,500 with a new unit. When the rules are relaxed like this, women are recruiting people who are not as strong. When I say strong, I mean less likely to pretend this is a business and go hard at it to generate sales. So even if the DIQ makes it to sales director, she is probably starting out with a weak unit.
Mary Kay is setting women up for failure with the relaxed DIQ requirements. Sure, you can start with only 8 recruits, but you still need to make the minimum monthly production of $4,000 to stay in DIQ. That's harder with a smaller group.
What happens when the DIQ fails? The company and the upline benefit from all the recruiting and the orders. The DIQ gets a tiny little commission check (that doesn't even put a dent in paying for the inventory she probably ordered to help meet requirements). Anyone on the DIQ's team who is not a direct recruit of hers goes to the unit of her sales director and doesn't come back if she goes DIQ again.
So is this a clever ploy to get consultants to recruit and push inventory orders, knowing they probably won't succeed?  It certainly creates a bunch of quick orders and money flowing up the pyramid!