Last month we talked about whether you could make a living selling Mary Kay products. Just selling skin care and cosmetics, not recruiting. If you sold $1,000 per week every week, you'd be lucky to profit $14,500 per year after expenses. But who is really even selling that much? Almost no one, because if they were, they'd all be on the Queen's Court of Sales at Seminar. We know the number of women who get there is very low.
So how much do consultants in the real world sell? Well it's hard to say, because Mary Kay intentionally does not track actual retail sales to customers. Instead, they track what consultants order from MK, and pretend all of that was sold at full retail price. This means the sales numbers tracked by Mary Kay and sales directors are complete fiction, but we can still use them to get somewhat of an idea of the level of activity of consultants. The "sales" figures you'll see quoted are therefore the maximum amount a consultant could have sold, assuming she sold every single thing she ordered, and she didn't give any discounts.
Sales director Caitlin Griffo offers us some insight in her most recent newsletter. Catilin is a Cadillac driver.  If you're like most people, you think that because the unit is a "Cadillac Unit," they must be successful. You would be wrong.
Here's the header from the newsletter:

Caitlin's goal for the seminar year is $650,000 retail ordered. From July through January (7 months), they've got $198,890 in. This is $99,445 wholesale, or an average of $14,206 per month. Cadillac production is $17,000 per month, so they're not even making their minimum production to keep the Cadillac without a copay.
But what about the ordering by consultants? The newsletter shows the following numbers for July 2017 through January 2018 (7 months):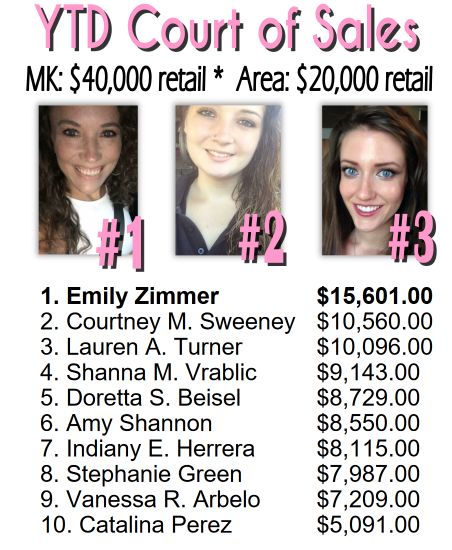 The consultant who ordered the most did $15,601 retail. That's $2,229 per month, which might sound pretty good. But let's look further. If she sold everything and if we estimate 30% profit after she pays all her expenses, she could make $4,680. That's $668 per month. That's certainly not a "living" from selling products.
Just go down the list and think about how little money these "top 10" consultants are making even if they sell everything they have ordered. (And #3 simply ordered a lot of products to finish her car qualification, but we'll get to that another day. )
So who is making a living selling Mary Kay products? No one in this Cadillac unit!
Check out this article if you're wondering why it's almost impossible to make money selling MLM products.