Pam Shaw Needs First Line Directors
Mary Kay ladies will never tell you the truth about being a sales director: You're likely to make only minimum wage. You're likely to miss the minimum monthly production over and over, so if you want to keep your unit, you'll have to order products you don't need to fill in the gaps.
Mary Kay Ash always said that recruiting was like trying to fill a bathtub with water while you have the drain open. You're adding new recruits, but others are leaving just as fast. (Remember this one, when Mary Kay reported that 40,000 women a month were signing up for MK, but 40,000 per month were leaving at the same time?)
There is a revolving door of sales directors in Mary Kay. Even the NSDs at the very top lose directors quickly. Sure, there are a handful in each area that are "lifers" who have been around a long time (and can't bring themselves to admit that they'll never make it to NSD themselves). But there are a ton of directors who are on a merry-go-round, hanging on for dear life, and ready to drop off at any moment.
Even Pam Shaw needs sales directors. Here she is on her Instagram stories after the NSD Summit in Dallas a couple of weeks ago (thanks to BestDecision). She was showing the notes she took, and lo and behold, she wrote:
Need to increase our recruiting
I need First line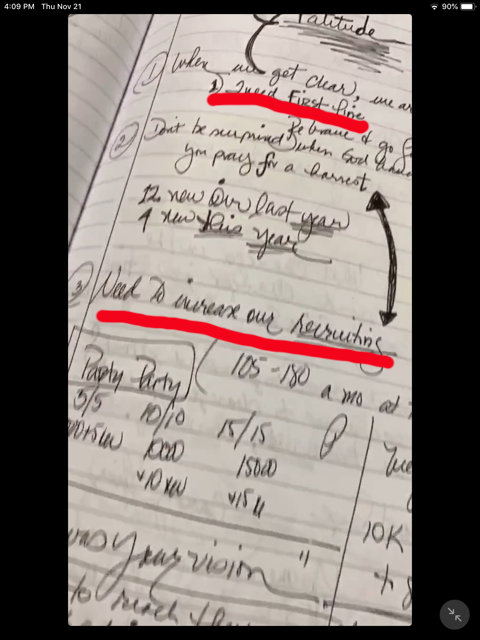 If a top national sales director in Mary Kay is feeling the pressure to recruit (rather than sell), so are you, young consultant or director.
Here's another fun tidbit: Below are the top producing units in the Shaw area. On the left are July 2018 numbers, on the right are July 2019. Minimum production is $4,500 wholesale per month, or $108,000 retail per year. Notice how many units are below that figure for the year.
And in July 2019, Pam said she had 23 units in her area (excluding her personal unit). Thirteen units below were meeting the minimum production for the year. That means Pam had 10 sales directors in her area who were not meeting the minimum.