Remember when Career Conference used to always be sold out? This is the spring rah-rah event for Mary Kay, meant to get consultants excited and get them ordering lots before the seminar year ends on June 30. Everyone gets excited about goals and they're more likely to over-order, all in the name of staying on target! A few hundred dollars here, a thousand dollars there (ask Chelsea about this!) and before you know it, you've bought your way into a not-so-free car and have thousands of dollars of products in your basement.
Career conference is just a couple of weeks away and there are hundreds of seats available at most of the locations. The worst is Atlantic City with 798 seats available. (see below) A few locations have over 500 seats available. Of 28 locations, only 2 are sold out, and lots of locations have 300 or 400 seats still empty. Take a look at the complete list here.
As we know, Mary Kay is struggling, and I would love for all of these seats to remain empty.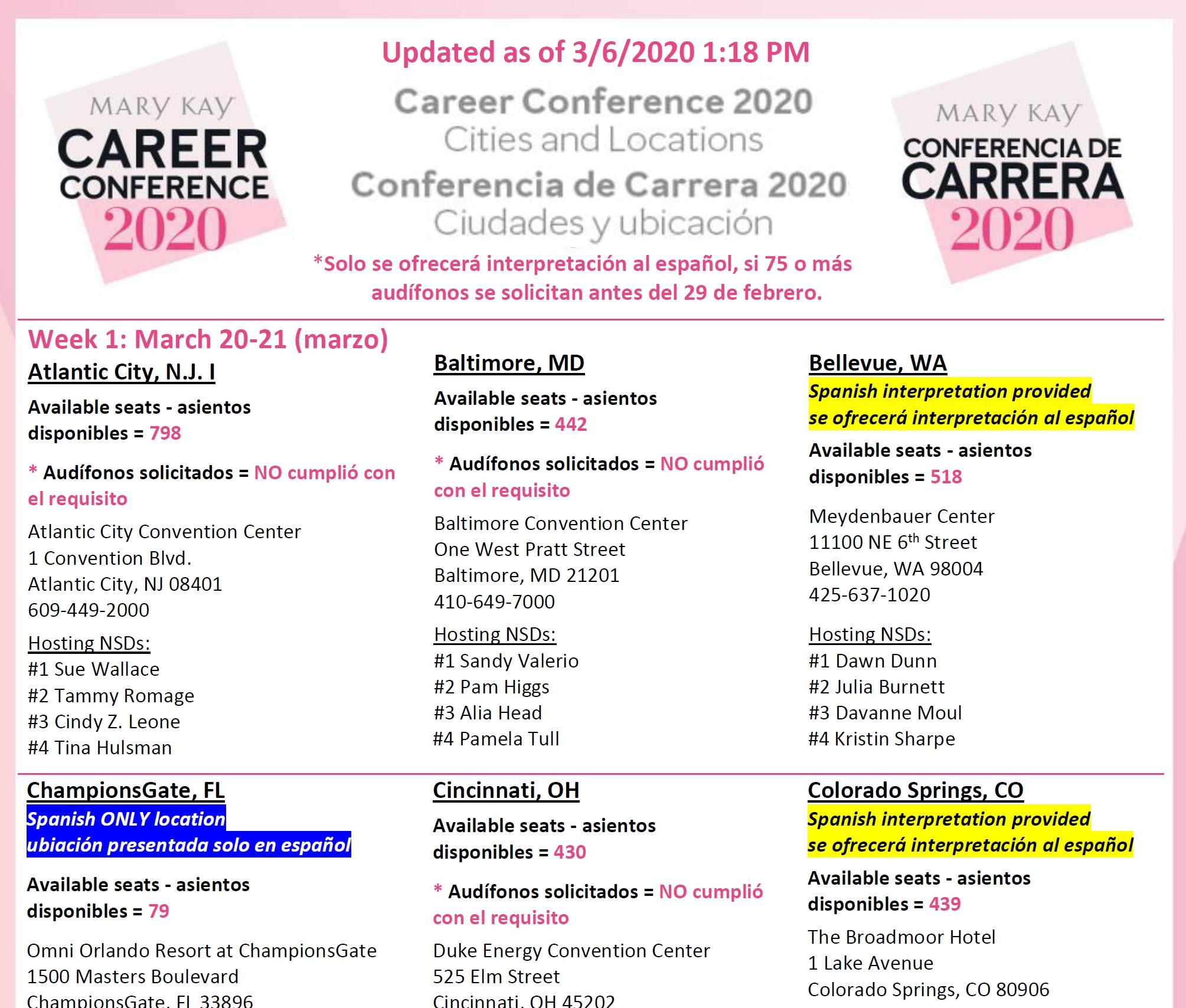 And if you've never been to Career Conference before, you might enjoy this advice from sales director Leanne Sexton. She wrote this in 2014… and "the future Sexton area" is still just a future area, 6 years later.  I'm amused by a couple of her concepts… No drinking alcohol, even if you're not at a MK function. And you must stand when an NSD is introduced. Big no to both of those.
You will come home with a lot of renewed enthusiasm for your business…with a greater level of determination and commitment to make your business a strong success.  If there is one piece of advice I could give, it would be to make sure that the week you return home is filled with bookings for facials/parties.  You will immediately come home and put into practice what you have been taught so I urge you to begin now making that week solid bookings—start now so your momentum is going strong!  This is something I learned the hard way.
I have always been so proud of our unit because each of you is so considerate of other people!  You display a caring spirit and a warm heart and there are many units that could learn from us.  Absolutely no drinking alcoholic beverages—even if you go out on your own.  You are to be at every session—do not skip or come late—that shows your lack of commitment to your business and your lack of self-respect.  Please remember that we are representing Mary Kay Cosmetics and the image we portray is passed to everyone.  Please keep it clean and professional!  I know of your integrity, otherwise you would not be a part of the Legend Maker unit.  Thank you for the incredible example you are to others!  It means a lot to me to know I can always count on you!  You represent the Piro National Area and our Future Sexton National Area everywhere you go!!  Thank you for respecting me as your leader by keeping these simple requests!!  We really do stand apart from the crowd and I appreciate you so much for your integrity and professionalism.  We will all be carrying Mary Kay's name and I know I can count on each of you to leave a good impression everywhere you go.
Plan to travel in a suit or dress.   You are representing Mary Kay from the time you leave home.  The most confusing part will be getting in and out of the hotel.   Plan to stand in line to check in and enjoy meeting others in line.  The people working the registration at the hotel really have a job to do when Mary Kay women come to town so let's please be patient with them.
 A few other tips:
What to pack:  We will have 2 days of business attire (get in your Red Jacket & that's all you'll need).  Pants and split skirts are inappropriate.   Watch the length of your skirt/dress.  No higher than an inch above your knee is the most professional.  Tights or textured hose are very trendy and look way more professional than leggings and bare legs.
 For business, I suggest you wear a solid-colored suit for consultants; red jacket, black skirt and white blouse for Star Team Builders and Team Leaders (Future Directors add the scarf and D.I.Q.'s wear a black blouse). Don't forget:  driver's license, camera, paper & pen, extra business cards, extra hose/tights and comfortable shoes (that look professional).
During the classes and general assemblies, please be kind to those around you who are listening and learning and hold your comments until there is a break.  Try to stay seated as much as possible and not move around while speakers are teaching.  They have spent a great deal of time in preparation to help YOU!  I hope it goes without saying that you should be on time and in your seat when the program begins and allow time for lines.  I am certain you know to always stand when a National Sales Director or Director is introduced.  These women have earned our respect.
I know that this Career Conference will be the very thing you need to take you to the TOP in your business!  I can't wait to be a part of the excitement that awaits you!  Congratulations on your decision to attend!  This can be a life-changing experience.